Sequels are tough. They almost always can't live up to the original.
Samsung seems to hope that lightning will strike twice with its latest smartphones, the Galaxy S9 and S9+, which it announced at last week's Mobile World Congress trade show in Barcelona. They look almost identical to the S8 models it released last year. Will revamped internals, an updated camera, and AR gimmicks be enough to convince people to switch to its latest devices?
Quartz spent the last week or so with the S9+, testing to see whether it proved to be a worthwhile successor to the S8. Here's what we found:
What's good
Excellent camera. The S9+ has one of the best cameras I've ever used on a smartphone. I spent a few days on vacation while reviewing this phone, and it was the only camera I needed. My meager Instagram following seemed pretty pleased with the results:
The S9+ features two 12-megapixel cameras, one of which has a mechanical aperture, which allows the camera to pull in varying amounts of light depending on the situation, much like a human eye does. Samsung also beefed up the phone's ability to take photos in low-light—the shots it produces in bars, restaurants, or at night aren't perfect (they're quite grainy), but they're miles ahead of anything I've seen on any other smartphone.
While some might argue that the coloring of the photos Samsung's phones produce is too cool (especially when compared to the exceedingly warm photos that iPhones tend to produce), you can always edit them after they're taken. What you can't edit is the sharpness, detail, and clarity they capture from the outset.
Great camera modes. The S9+ introduces a new "super slow-mo" mode, where the camera captures 960 frames per second. The resulting footage turns even the most mundane activity into something epic. Here's a set of spinning hologram projectors I saw at Mobile World Congress, massively slowed down:
All the old camera modes are back too, including Live Focus, which allows you to change the level of background blur after the shot is taken (that I think does a better job of creating portrait shots than Apple's iPhone X), food mode (which is perfect for brunch Instagrammers), and the wide-angle selfie mode, for when you're trying to take a group shot. There are also built-in filters that attempt to rival Snapchat's, if you're into that sort of thing:
Live translation. Samsung incorporated Google's Lens technology into its camera software, which means you can press the Bixby button on the camera screen, tap "Text," and watch foreign words in front of you magically turn into your spoken language. It works pretty well on things like signs and menus, but less well on dense text like the page of a book. It can be a life-saver in a pinch.
AR magic. Other than translations and filters, the camera can be used to try on makeup (from Sephora in the US), figure out how many calories are in the food in front of you, what wine you're drinking, or more information about the places you're in—although I couldn't seem to get that one to work. When the AR software works, it feels like magic, but Samsung definitely needs to tighten up the reasons to actually be using Bixby and AR.
Great display. The S9+ features a 6.2-inch AMOLED HD display that's as sharp as any on the market. The phone, like its S8 predecessor, has curved edges on the side that make it feel much larger than it is. Whether you're stuck on the subway, riding on a train or plane, or just killing time at home, the screen is so large that it really is all you need to watch videos and play games. I brought a tablet with me on vacation and because of the S9+, I didn't touch it once.
Solid battery life. The phone sports a large 3,500 mAh battery, which is more than enough to get you through the day. I often would run the phone all day, turn it off, and have enough battery left for the entire next day.
More than one way to open the device. One of the biggest annoyances I have with Apple's flagship iPhone X is that other than the passcode, the only way to open the phone is to hold it up and unlock it with the FaceID scanners. With the S9, I can use the fingerprint scanner, the iris scanner, the face scanner, or the passcode to unlock it. Sometimes, I want to unlock my phone without holding it in front of my face, and with the S9, I can do that.
All the hits from the S8. Everything I liked about the S8 is back: This phone is water resistant, it still has a headphone jack, wireless charging, the curved screen, split-screen apps, expandable memory (now up to a whopping 400 GB), and the great design.
Relatively affordable. The S9 starts at $720, and the S9+ at $840. The iPhone X starts at $1,000, and the iPhone 8 Plus at $800. They're not directly comparable, but Samsung's current flagship phones are a bit more affordable than the competition from Apple. That being said, whenever Samsung releases its next Note phone, that will likely be priced close to $1,000 as well.
What's not so good
Bixby. Samsung's voice assistant is slow, speaks with a weird overly robotic lilt, and often doesn't seem to catch what I'm saying. Google's own Assistant is far superior, but it doesn't have a dedicated button on the side of the phone like Bixby does.
I also seem to press that button all the time when the phone is in my pocket, so about half the time I take the phone out of my pocket, I'm on the Bixby homescreen, greeted with the message, "You're at Bixby level 2." I have no idea what that means.
AR emoji. One of the biggest things Samsung is pushing with the S9 is its ripoff of Apple's Animoji, which it's calling AR Emoji. Using the front-facing sensors, the phone creates a cartoonish version of you that looks like a 3D version of a Snapchat Bitmoji. They're pretty creepy looking, and for some reason, won't pick up beards. They also seem to have trouble with glasses, meaning mine seems absolutely mad. Much like Apple's Animoji, I wouldn't send this to anyone on purpose:
Minor design update. The S9 is nearly indistinguishable from the S8 at first glance. On the front, there's an additional sensor on the S8, and on the rear, the fingerprint sensor has shifted places, and there's a second camera on the S9+. The new phone is also a little less smooth, a little sharper around the edges, than its predecessor.
Apple has been criticized for releasing phones with the same designs every other year, and so it doesn't seem fair to not give Samsung the same treatment. But I also really liked the design of the S8, so it hasn't bothered me too much so far.
It's a large phone. The S9+ is a massive phone, nearly as large as Samsung's Note 8 phablet. It's over 6.2 inches tall, and will almost certainly stick out of all but the deepest pockets. Apple has managed to (pretty much) get rid of the bezels around the top and bottom of its phone—when will Samsung do the same?
The iris scanner is not Apple's FaceID. While it's nice that there are multiple ways to unlock the S9, the iris and face scanners aren't as quick as the iPhone X. The iris scanner requires you to hold the phone pretty much at eye level and takes a few moments to scan, whereas Apple's FaceID technology seems to work almost instantaneously, at a range of angles.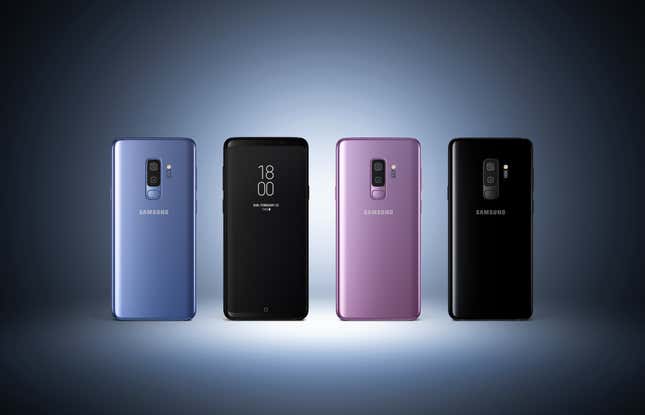 Should you get it?
Last year, I wrote that Samsung's flagship phones were the best of 2017, and I would say that if you're looking for a top-of-the-line Android smartphone right now, this is the one to get. All of my complaints with the S9+ were minor, and nothing really detracted from my experience using the phone, other than perhaps Bixby—but you can turn that off.
For the price, I don't think there's another Android phone worth considering. There are others that are definitely more affordable but with less impressive features and build quality—OnePlus's phones immediately spring to mind as cheaper alternatives—but if you want the best Android experience right now, this is it.
If you're an Apple user who wasn't thrilled with the iPhone X and have been waiting for a Samsung phone, this may be the one to buy. It might not look wildly different than the S8, but Samsung refined a lot of what it got right last year, and unlike the iPhone X, there's no buggy software, there's still a home button and headphone jack, and no weird notches.