Barcelona
At a press event on the eve of the Mobile World Congress trade show in Barcelona, Samsung unveiled its latest flagship smartphones, the Galaxy S9 and S9+.
The Korean tech giant took a year off from unveiling new hardware at the expo in 2017, still reeling from the fallout of its Note 7 phones exploding around the world. Samsung returned to Barcelona with a bang this year. (A metaphorical bang, that is.)
Here's a rundown of what's new with what's likely to be one of the most popular smartphones released this year:
Refined design
The new Galaxy phones build from the designs of the well-received S8 and S8+ phones released in March last year. The design of the new models closely matches those flagship devices, although Samsung told Quartz it aimed to make the device's "infinity display" feel, well, more infinite. Last year's models featured displays that curved at the edges of the phone, making it tough to see where the screen ended and the phone began. This year, Samsung blended the color of the screen with the bezeled edges to make it even more difficult to notice the screen's edges.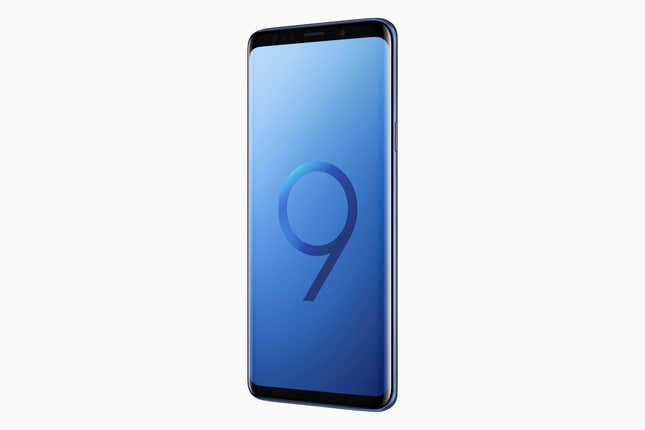 The result is a refined version of last year's design, rather than a new paradigm. But given how good last year's phones were, that's not necessarily a bad thing. But will it be enough to woo over customers who only recently picked up an S8, or those with older phones who were on the fence about upgrading last year?
What's new
A better camera. As you might have guessed from all the photo-centric promotional material around its launch, the focus for the S9 has been around improving the camera. Both of the new models feature a 12-megapixel rear-facing camera. The S9+ features two of them, and can be used for optical zooming and taking super-sharp portrait photos. The cameras on both have been engineered to work better in low-light situations than their predecessors.
New camera modes. Both phones have what Samsung is calling a "super slow-mo" mode. Unlike the slow motion function that's found in many modern smartphones, which tend to be able to capture up to 120 frames per second, the S9 can capture 960 frames in a second, meaning actions that happen in a blink of the eye can be turned into epic slow-motion shots. Samsung gave me a party popper and filmed me popping it. The result was pretty spectacular:
Samsung has also, for some reason, tried to emulate one of the sillier features of Apple's latest flagship smartphone, the iPhone X. That launched with "Animoji," which deploy the sensors on the phone to animate emoji to make it look like you're a talking fox, alien, or poo. Samsung has created "AR Emoji," where you can use the phone's front-facing camera to create a cartoonish version of yourself, which you can use to record short clips and send to your friends (or enemies, depending on the results). It didn't work great for me, though I'm guessing it got flummoxed by my giant glasses:
Improved battery life. Both phones feature relatively large batteries for their size (3,000 mAh and 3,500 mAh for the S9 and S9+, respectively). Coupled with some software and hardware optimization, the phones should get you through a day of normal use without too much trouble.
Surround sound. The S9 and S9+ feature stereo speakers—one on the bottom of the phone, and a receiver at the top that can also emit sound—along with Dolby's Atmos tuning technology. That means that phone can pump out (relatively) loud sound that can seem like it's moving around the device (which could be fun for games and videos).
What's the same
Many of the best features on the S8 are back. The new phones feature sharp AMOLED HD displays, are water and dust resistant, still have speedy wired and wireless charging, and an SD storage slot (expandable up to 400 GB). The phones also still have analog headphone jacks, with fingerprint scanners, iris scanners, and facial recognition technology.
Both phones have 64 GB of internal storage, and the S9 has 4 GB of memory, while the S9+ has 6 GB.
Pricing and availability
The S9 will start at $720, and the S9+ at $840. There were rumors that the new device will cost upwards of $1,000, matching Apple's iPhone X, but mercifully, Samsung's new flagship phones cost roughly the same as last year's models did.
Samsung also said that customers will be able to trade in their old phones on the company's website and receive up to $350 in credit towards a new S9 or S9+.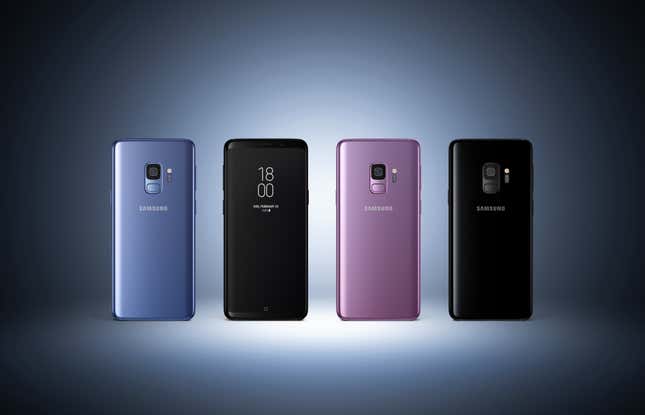 The new phones will come in black, blue, and a new color Samsung calls "Lilac Purple," which looks like a metallic mauve to my bespectacled eyes.
They'll be available for preorder on March 2, and available at retailers on March 16.
New DeX workstation
Samsung also announced a new version of its DeX workstation. This is the little dock that can turn your Samsung phone into a relatively full-featured desktop computer. When Quartz tested the previous model, we found it to be a pretty useful device. The new version puts the phone flat in the dock, allowing it to be used as a touchpad, meaning all you need to turn your phone into a workstation is a monitor and a keyboard.
Now, the dock can be managed remotely by a company's IT department, and loaded up with company software. That means in the near future, offices could theoretically cut out the expense of supplying staff with computers, just giving them a screen, a keyboard, and a DeX instead.