That's the plan, at least.
Last summer, Samsung unveiled the Galaxy Note 7, its latest massive phablet with a tiny stylus. It was a great device, and felt like a solid improvement on the Galaxy S7 Edge that it released earlier in the year. I even said it was the best big phone you could buy at the time. Then they started blowing up.
Due to faulty batteries from two different suppliers (including Samsung itself), a significant number of devices short-circuited and started to smoke or caught fire. Samsung issued a global recall and introduced a new eight-point safety inspection that all its phone batteries must now undertake before they reach consumers.
And now Samsung is ready to try again.
At an event in New York today, Samsung unveiled the Galaxy S8 and S8+, its first new flagship phones since the Note 7 recall. The devices have just about everything you'd expect from a brand-new premium smartphone. They both have powerful processors, 4GBs of memory, 64 GB of storage, large batteries, and beautiful high-definition screens—which are 5.8 and 6.2 inches, respectively. (For reference: the Note 7 had a 5.7-inch screen, and the iPhone 7 Plus has a 5.5-inch screen.) They are impressive looking phones: The screen appears to bleed around the edges of the phone (which Samsung calls an "infinity display"), and the non-screen bezel area has been dramatically reduced, nearly giving the impression you're just holding a single, solid, and slightly curved piece of glass.
Samsung is hoping these good looks can help it overcome the stigma of its exploding Note 7—which at one point caused pilots on just about every major airline to inform passengers to switch them off, and eventually saw them banned on all US flights. The S8 and S8+ look good, feel good, and have inherited some of the features the Note 7 introduced, such as iris-scanning to unlock the devices. If prospective customers can get over what happened with the Note 7, it's likely that these phones will sell as well as any previous flagship Samsung phone.
The phones have picked up some new tricks, as well. The S8 and S8+ don't have physical home buttons—they just have digital ones at the bottom of their screens—which help free up some real estate for their giant displays.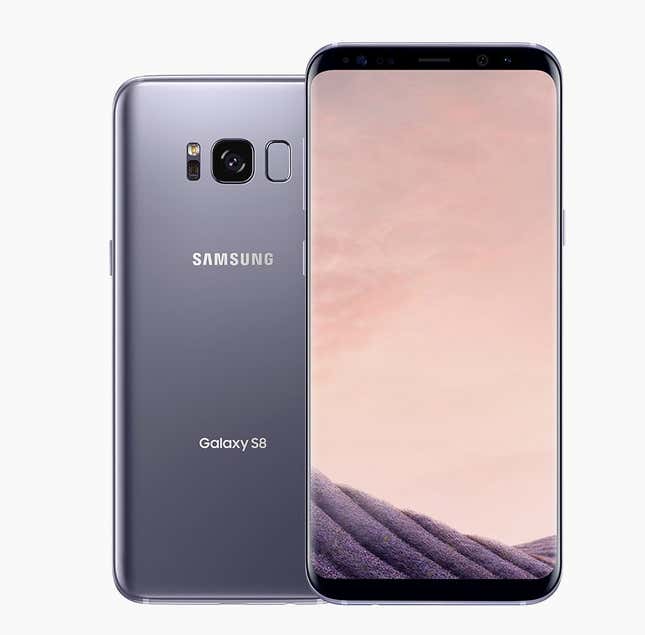 These two models will also be Samsung's first that feature Bixby, the company's new virtual assistant (which, confusingly, won't initially feature any of the AI technology it bought from Viv, the original startup behind Siri). It'll let users take pictures and have the AI find them more information on the objects captured, and suggest apps they may want to use. In the future, it'll have a voice-recognition function that Samsung expects to be more robust than any of the popular assistants on other smartphones right now. Bixby will also be able to communicate through the phone (and a new protocol called Samsung Connect) to myriad smart devices, made by Samsung and others, so owners can turn on their lights, run the dishwasher, send out their robot vacuum, and check on what's in the fridge, from wherever they are. In the future, owners of any Samsung smart device might be able to use Bixby to chat with other Samsung smart devices, essentially allowing them to have one voice assistant to control their lives—assuming people only buy Samsung products, and that they don't also catch fire, of course.
Samsung hasn't announced when the new phones will ship , or how much they will cost—although it's likely they'll be in the same $600-700 range as their predecessors.
Samsung also unveiled a few other devices aimed at locking people into its ecosystem. It's launching a dock for the S8 and S8+ called DeX, which, when hooked up to a computer monitor, keyboard and mouse, will allow the smartphones to function as a relatively powerful desktop computer. Samsung said this setup could be ideal for workers who spend most of their time outside, but still need to check emails, or work on spreadsheets and the like, from time to time.
For the new phones, the company also refreshed the Gear VR headset that comes bundled with its new handheld controller, designed in collaboration with Facebook's Oculus. It also unveiled a new version of its 360-degree camera, the Gear 360, which Samsung says will work with the last few generations of its flagship phones, and newer iOS devices. Pricing and availability for these devices wasn't immediately available.