Update: Samsung announced on Sept. 2 that it was recalling the Galaxy Note 7 following reports of the phone exploding and catching fire. As a result, we caution prospective buyers to hold off on purchasing the phone until Samsung fixes the problem.
"Who wants a stylus? Yuck."
The world—including Apple—has moved on since Steve Jobs eloquently denounced the stylus nearly a decade ago. Last year, the most-loved phone in the US was Samsung's Galaxy Note 5, stylus and all. And Samsung's other flagship phones, the Galaxy S7 and S7 Edge, received generally great reviews when they were released earlier this year. So the new Note—which is confusingly the Note 7, instead of the Note 6—had a lot to live up to.
I spent the last week with the Note 7 and found it to be pretty fantastic. If you're in the market for a bigger new device, there's not much else out there that tops it. Here's what I found:
What's good
The design. This is a big phone—just marginally smaller than an iPhone 6S Plus—but it doesn't feel like one. It has a similar design to Samsung's other flagship phone, the Galaxy S7 Edge, but the curved edges don't feel as egregious as they did on that phone, and the Note 7 actually sits nicely in your hand. And it just happens to be a really nice-looking phone.
Your eyes are your password. On top of regular password options and fingerprint scanner, the Note 7 has a built-in infrared camera that can scan your irises to unlock your phone. Even with my giant—and apparently very sparkly—glasses, the iris scanner picked out my eyes every time and opened my phone.
It's waterproof. Like Samsung's other flagship phones, the Note 7 can withstand taking a dip in the pool. And given how powerful the phone is, you could even open an underwater office if you felt so inclined.
The camera. When the Samsung Galaxy S7 and S7 Edge were released earlier this year, I said they had really excellent cameras, and the Note 7 is right up there with them. The 12-megapixel rear camera takes crisp shots, even in low lighting, and even has a manual mode that lets you change aperture, focus and other settings as you prefer. The phone has a plethora of different modes to shoot in, whether you're trying to take the best food Instagram ever, or capture an entire landscape in a 360-degree photo: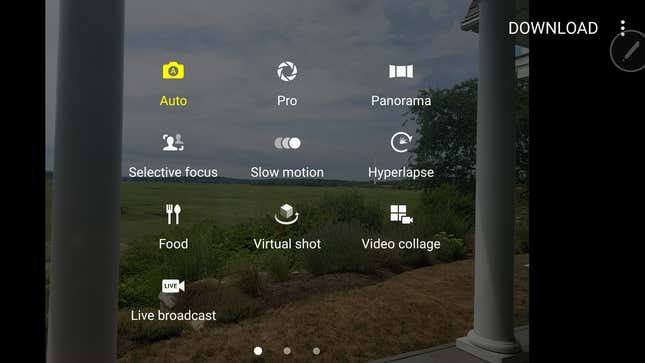 The stylus. Writing with the new S Pen feels easy, and it has tons of features, such as being able to grab any part of the screen, take a picture and draw on it, translate words in real time, and take notes from wherever you are. The only downside is that—unlike the stylus on the iPad Pro, for example—the screen stays active while you're writing, so if you rest your hand on the screen while penning something, you may screw up your note.
There's also a super-helpful mode that can be activated through the S Pen, called Magnify, which allows the pen to, unsurprisingly, magnify the part of the screen that it's hovering over, which is a boon for anyone struggling with far-sightedness.
GIF everything. One of the best features of the new S Pen is the ability to snag part of a video, record it, and turn it into a GIF in seconds. Samsung told me that the phone will recognize if the video you're trying to record is copyright-protected, but if not, you make GIFs out of whatever videos you find or record. Here's my view the other evening:
Quick notes. When you're at a bar or in a meeting and someone wants to give you their contact information, you might not have a pen and paper to hand, or the patience to open your phone, add the person as a contact and save it. With the Note 7, you can just pull the S Pen out of the phone while it's locked, and write on the screen, and save the note to the phone when you're done.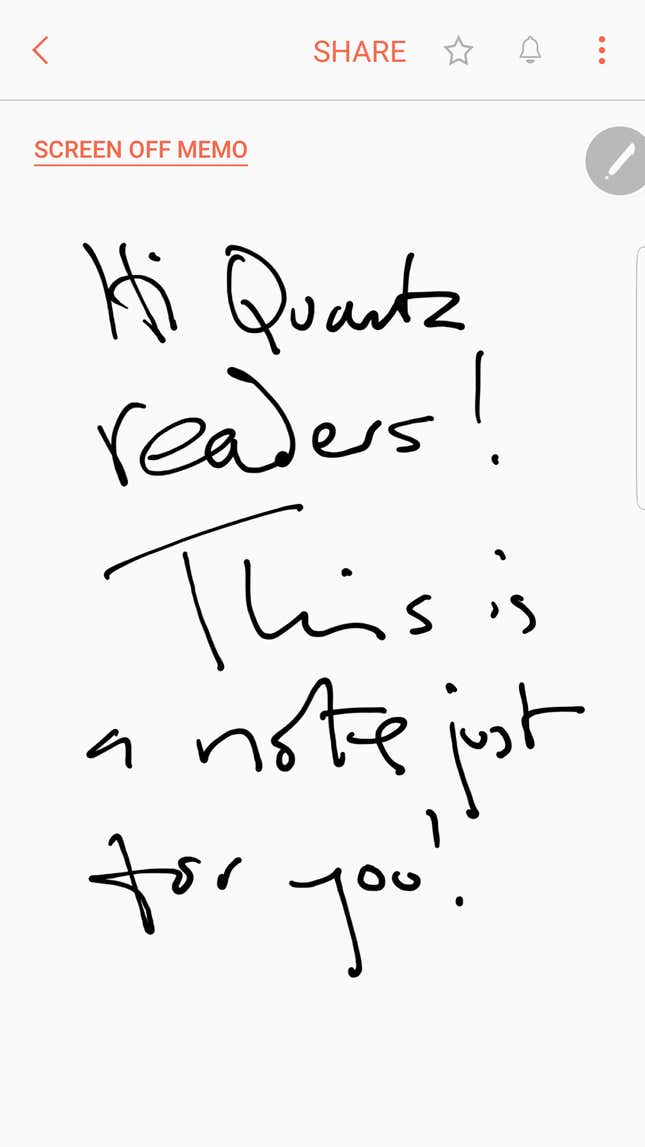 New security features. Aside from the iris scanner, the Note 7 has an added layer of security for files and apps. The Secure Folder is a password-protected repository for things you'd rather kept private from anyone that might be using your phone. That can be photos, sensitive documents, or even apps: The folder can create an entire second version of an app that will store information just in the folder itself, so you could have two instances of Gmail running—one with your personal email accessible, and one with your work account secured.
What's not so good
Iris scanner is a little slow. While I found the iris scanner to be pretty reliable, it did seem to be quicker just to use the fingerprint scanner open the phone, instead of holding the phone up and positioning it a certain way so that the iris scanner could properly see my eyes.
It's not cheap. The Note 7 costs about $850, which is roughly $50 more than the also excellent Galaxy S7 Edge and about $100 more than the starting price for an iPhone 6S Plus.
Battery life is just OK. The phone tended to last me an entire day, flitting between wifi and cellular connections, but for such a powerful device that may lead some to consider leaving tablets (or even laptops) at home in certain situations, it would have been great if the battery could have lasted a little longer. But it does charge very quickly when it does run out of juice.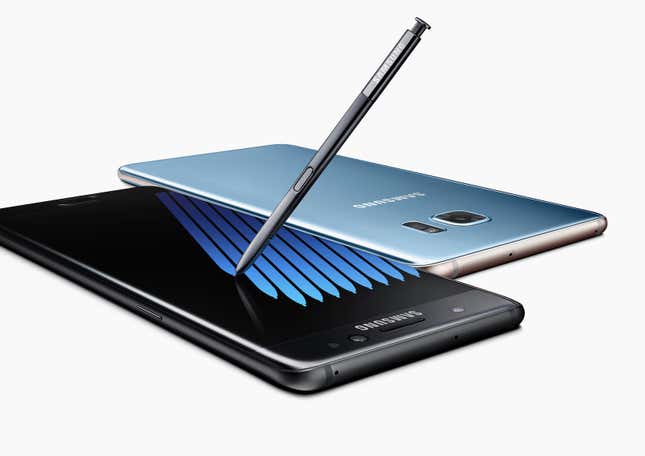 Still a Samsung. Although the company has started to dial back the sheer number of random gimmicky apps that it preloads onto every one of its phones, there is still a palpable veneer that it puts over the standard Android operating system that can be annoying.
Lots of other junk. This phone, in the US at least, also comes preloaded with tons of (relatively unhelpful) carrier-specific apps that you can't get rid of. (The phone Samsung provided was from T-Mobile, and came preinstalled with eight T-Mobile apps, and for some reason, the Amazon app.)
Should you get one?
The gripes I had with this phone were minor. If it sits well enough in your hand, or you're a fan of a stylus, then you should absolutely consider the Note 7. It's probably the best phone on the market right now, and certainly the best Android phone. If you're an iPhone user you may want to wait to see what Apple announces next month—there's talk of a "phablet" size phone and waterproof devices—but otherwise, if you're in the market for a phone right now, this is a great choice.