Thousands of reporters, Apple employees, and spectators crammed into the Bill Graham Civic Auditorium in downtown San Francisco today (Sept. 9) for what Apple CEO Tim Cook called a series of "monster announcements." Apple definitely had a lot to share, detailing updates to its watches, phones, tablets, and set-top box.
Quartz rounded up absolutely everything that happened—and everything you need to know—at today's big show.
iPad Pro
Apple introduced a new, 12.9-inch iPad Pro, which Cook called the "biggest news in iPad, since iPad."
It's big. It's as wide as the height of the iPad Air 2, which marketing head Phil Schiller said was the inspiration for the width of the bigger tablet. Schiller said it has "desktop-class performance," 10 hours of battery life, and four separate surround-sound speakers.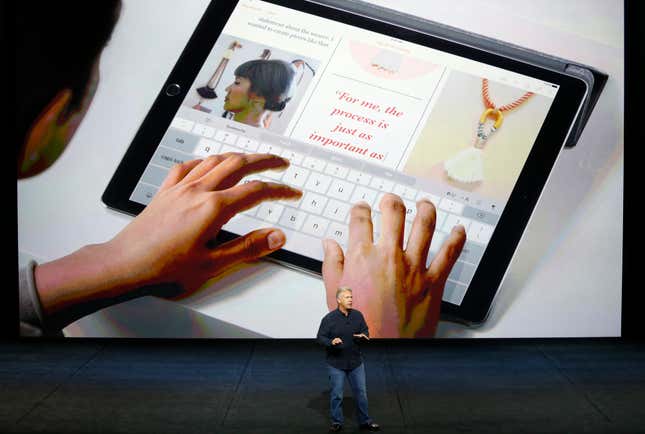 Looks good. The iPad Pro is 6.9 mm thick and weighs 1.57 lb—about the same as the original iPad, but with a 78% bigger screen than the tablet first introduced in 2010. The Pro's screen has 5.6 million pixels—more than a 15-inch MacBook Pro with a Retina display.
It's powerful. Apple called executives from Microsoft and Adobe onstage to show how the tablet stands up against tasks often completed on desktops and laptops, such as editing Word documents and PowerPoint slides, or touching up photos in Photoshop. The Pro handled them all, well, like a pro.
Out for the holidays. It'll be available in November, starting at $799 for the 32 GB model.
Smart Keyboard
Like a cross between the iPad Smart Cover and a Microsoft Surface keyboard, Apple's Smart Keyboard snaps magnetically onto the iPad. It uses the same button technology as MacBook keyboards, and will only work with the iPad Pro.
It'll cost $169 and will also be available in November. No word on whether there will be a non-keyboard version of the cover as well.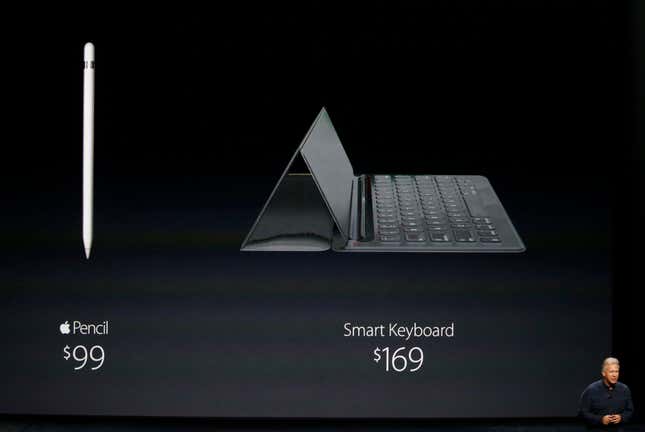 Apple Pencil stylus
To round out the Surface-like experience, Apple announced a pressure-sensitive stylus that can be used along with your fingers on the iPad Pro. The Pencil allows users to draw like a pencil—different levels of pressure will draw lines of different thickness. Drawing at different angles will also change the level of shading.
Pencil will let users mark up emails and notes with drawings, as well as make and edit Microsoft Office documents on the fly.
According to the launch video, the Pencil has "a responsiveness like a true drawing instrument." The battery apparently lasts for "hours," and can be charged off the iPad Pro's lighting bolt port.
The Pencil will cost $99 and will be available in November.
Next generation Apple TV
"We need a new foundation for TV," Tim Cook said during the event, right before announcing the next generation of Apple TV. The company's set-top box has been redesigned with a new operating system—tvOS—and a new Siri-powered remote.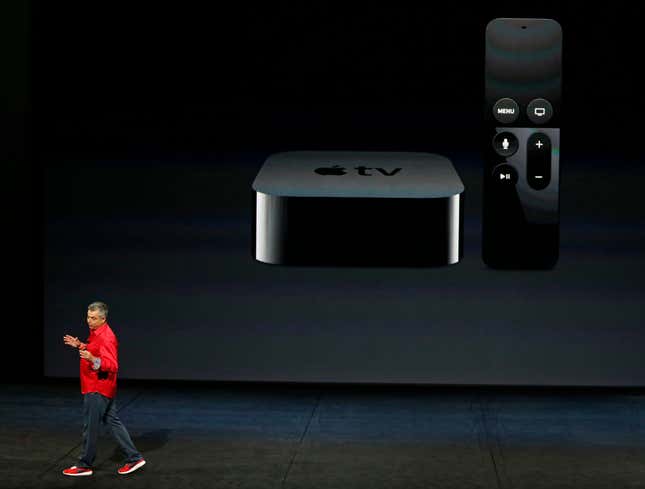 Siri makes her TV debut. Siri will search across apps to find you the content you're after, including iTunes, Netflix, Hulu, HBO, and Showtime. Siri searches deep: You can ask Siri to search for "that Modern Family episode with Edward Norton," and go right into the episode. Siri can also figure out what you mean contextually—you can ask for action movies, then Bond films, then "just the ones with Sean Connery" without having to repeat all of the earlier steps of your query. Siri can answer questions about what you're watching ("Who starred in this?") or other Siri-y questions ("What's the weather in Juneau, Alaska?") without disrupting the show you're watching.
New remote. The new touch-sensitive Apple TV remote lets you swipe at different speeds to control the redesigned Apple TV operating system, and happens to double as a video-game controller.
New apps. Apple Music—including Beats 1—is now on Apple TV and cord-cutting favorites including MLB At Bat, HBO, Hulu, and Netflix have all redesigned their Apple TV apps. Schiller said Apple TV will run tvOS, a new operating system that makes it easier for third parties to develop their own apps for the device.
Out for the holidays. The new Apple TV will start at $149, and will be available in late October, although developers can start building new apps for it today. (You can check out an in-depth look at the new Apple TV from Quartz's Adam Epstein here.)
Gaming on Apple TV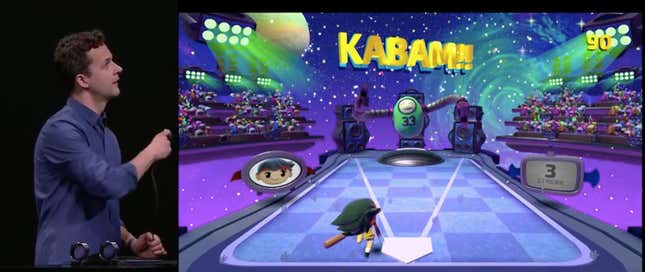 Apple is also bringing games to the living room. Disney's Infinity Star Wars, Activision's Guitar Hero, and iOS favorite Crossy Road (with a new multiplayer mode) will all soon be available on Apple TV. Users will be able to use the Apple TV remote, or iOS devices, to play together. The remote also has a Nintendo-Wii-like function that recognizes motion, allowing for games like Beat Sports, a new game exclusive to Apple TV, which appears to be a lot the game that originally came bundled with the Wii—Wii Sports.
iPhone 6S and 6S Plus
Cook said the new iPhones "may look similar, but we've changed everything."
New ways to touch. The new phones, now also available in a rose gold model, have a new version of force-touch sensitivity, not unlike what's in the Apple Watch. Called 3D Touch, the new "taptic engine" can recognize how hard you touch the screen. Long touches will bring up shortcuts around the iPhone, much like right-clicking does on a computer mouse.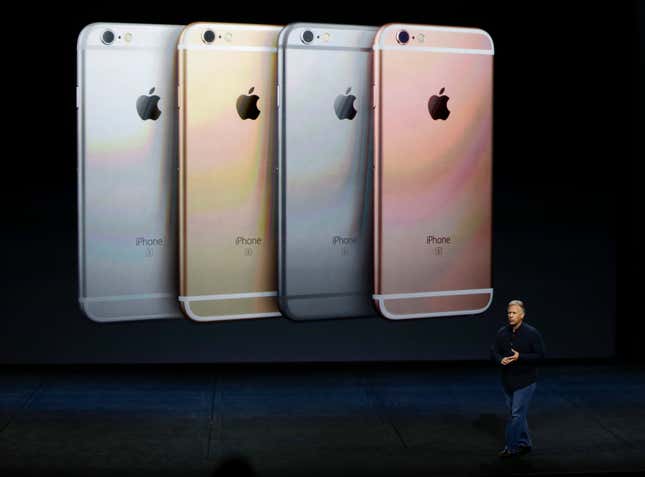 Like right-clicking on a phone. 3D Touch will allow for quicker interactions in apps—glancing at email without having to open them, peek in on your calendar inside a message to see if you have free time, or live previews of websites without having to open the internet. You now don't need to launch apps to use them—force touches on apps will bring up functionality right from the home screen. You'll be able to start a playlist from the home screen through the iTunes app, and get right to the front-facing camera from the camera app. 3D Touch will also bring new ways to interact with games—in a demo of Warhammer 4000 3D Blade, a tap might fire your gun, but force touch will zoom in on your enemies.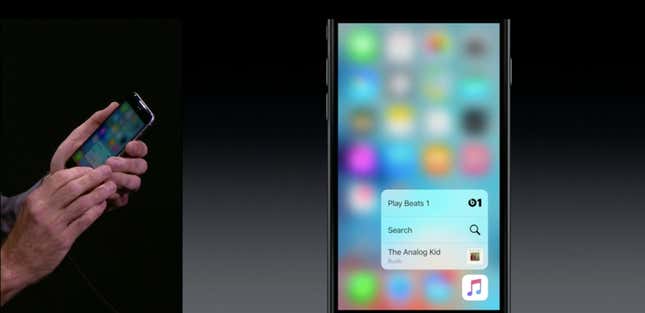 Siri's always listening. Siri's handsfree functionality can now be accessed whether the iPhone is connected to power or not—just yell out "Hey Siri" at the phone—but no word on whether the voice-activated assistant will be any more useful on the new devices.
Better camera. The new 12 megapixel cameras on the phones have a bigger sensor and can take larger panoramas, and apparently stand up to the challenges of low light better. They can also shoot 4K video, which can be edited directly in iMovie on the phone.
Better selfies. The front-facing camera boasts 5 megapixels, and the phone's screen now doubles as a front-facing flash, which Schiller says matches the tone of the light you're trying to take a photo in. Your selfie game just got upped.
Live photos. Schiller also introduced a mode called "Live Photos"—force touch on a photo you've already taken, and it'll turn into a short, animated image with sound. When you open the camera app, the iPhone will automatically record 1.5 seconds' worth of footage on either side of the picture you've taken to make live photos, which look similar to the photos in Harry Potter, and a popular web image format.
New accessories. Apple also announced leather and silicon covers in a range of new colors, as well as docking stations to match the finishes on the phones.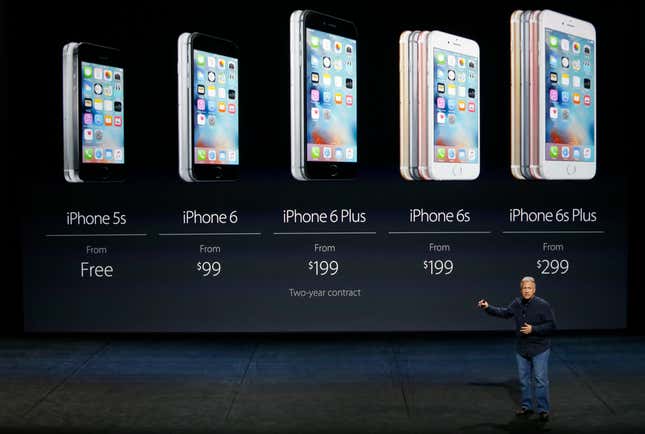 Same price, shipping soon. The new phones will cost the same as the 6 and 6 Plus, starting at $199 and $299 through mobile carriers, and will be available September 25 in 12 countries.
New ways to buy. Apple also introduced a new way for US customers to pick up a new iPhone every year through an upgrade program that starts at $32 a month, including Apple Care and an unlocked phone. (For more on the phone, check out what Quartz's Dan Frommer has to say here.)
Cloud backup gets cheaper. The company also dropped the prices of its cloud storage offering—50 GB of monthly storage now costs $0.99, and 200 GB costs $2.99.
New Apple Watches
New chic. Apple introduced a few new models of its Apple Watch, including three new watch designs with high-quality leather straps designed by French fashion house Hermès. They run between $1,100 and $1,500.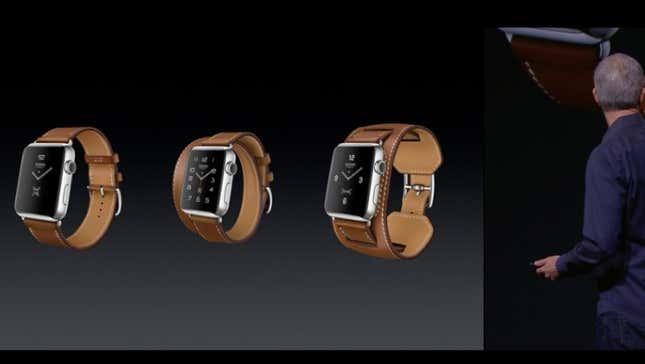 New colors. The Apple Watch is now available in gold and rose gold, matching the lineup of the iPhone 6 and 6S phones.
New straps. Apart from the Hermès collab, Apple also introduced a bunch of new straps, including a red one, extending the company's long history with Product(Red) charity.
Get them now. The new straps and designs are available to order from Apple's site today. No word on when they'll be available in stores.
New operating systems
WatchOS 2. Apple's update to the Watch operating system, which will allow for third-party "complications," public transportation on maps, and lots of new apps, will be available to download September 16. Apple showed off a few new apps, including Facebook Messenger, GoPro (which will act like a wrist-mounted viewfinder for the cameras), and AirStrip One—a HIPAA-compliant app for doctors.
iOS 9. The new operating system for iPhones and iPads—which will have huge upgrades for messaging and multitasking on iPad—will be available for download from September 16.