Messaging apps will get a whole lot better with iOS 9.
Two of the most significant upgrades to Apple's mobile operating system weren't announced on stage at the company's keynote last week, but have emerged in the first beta versions and tutorials for developers. Both concern notifications. Another upgrade was discussed on stage, but its true import for messaging is only now becoming clear.
Notifications Center gets some order
First, the Notifications Center, traditionally a black hole for messages, will now be ordered chronologically. In previous versions of iOS, notifications have been grouped by app and those apps sorted manually by default, making it difficult to track down incoming messages. It was a strange choice and common frustration among iPhone owners.
In the first beta version of iOS 9, the Notifications Center is—hallelujah!—ordered by recency, and messages are commingled regardless of what app they came from. You can change the order and opt to group notifications by apps, if you truly prefer the old experience (i.e., if you are history's greatest monster).

All kinds of apps send notifications, but this change is probably most significant for messaging applications like WhatsApp, Snapchat, Facebook Messenger, etc. As these apps proliferate, users have been forced to bounce from one to another in order to keep up with their friends. It's been an open question whether one messaging app will come to dominate simply because it has the most users or if people will continue negotiating more than one at a time.
With iOS 9, Apple has an opportunity to become the layer that aggregates all of these messaging apps. You will no longer have to open iMessage, then Kik, then Viber… If messages are ordered by when they arrived, you can simply check the Notifications Center and go through them as you would an inbox.
Quick replies for all
This utility will be heightened by the other significant change to notifications in iOS 9: "quick replies" are coming to all apps.
Quick replies allow users to respond from within notifications. The feature is currently limited to Apple's own iMessage app, and anyone who makes use of it knows that quick replies are extremely handy.

Developers will need to add support for the feature, but you can be sure they will. By the fall, when iOS 9 is scheduled for broad release, you should be able to respond to Twitter direct messages, Skype chats, maybe even emails—all without ever opening their corresponding apps. Notifications could become the primary interface for most messaging platforms, a longstanding prediction that may now be realized.
The same feature, by the way, is coming to the Apple Watch, which seems designed primarily for receiving notifications. Users will be able to respond by tapping canned replies or dictating to the device.
Messages finally get decent search
Notifications may be "the third runtime," as venture capitalist Benedict Evans recently put it, but Apple is adding another feature in iOS 9 that has the potential to become a fourth runtime: search.
There are a bunch of new search capabilities, but the most interesting aspect is that apps can now be indexed by the operating system. That of course includes public content, like a travel app's listing for a coffee shop, but it also includes private content, like your conversations in a messaging app. (Private content is only stored on your device.)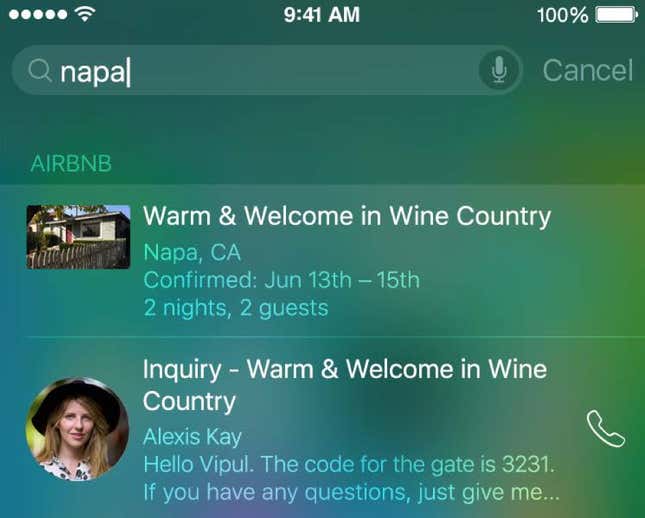 This could be a huge boon for users because many popular messaging apps don't offer search at all or aren't very good at it. And now it won't matter if you converse with a friend across multiple apps; finding your conversations could be as simple as searching for a name.
The great messaging battle
These changes will make the lives of iPhone users a little easier, and Android users will of course point out that Apple is just catching up to their reality. But it also represents a more fundamental shift that's reshaping mobile development: What happens when you can enjoy an app without ever opening it?
If you ran Line, the dominant messaging app in Japan and some other parts of Asia, you would obviously prefer if everyone used your app. And in one scenario, if you can persuade a majority of a user's friends to switch to Line, then the rest are likely to follow for convenience alone, and you win. But if the mobile operating systems on which you rely for distribution make it easier for users to message with multiple apps—in fact, entirely blur the distinctions among them—then there's little cost for someone to use Line with some friends and WeChat with others.
That will threaten winner-takes-all strategies but could be great for upstart messaging apps. If you are launching one today, you can easily create a social graph with users' address books, and you can worry less about getting people to open yet another app as long as they use notifications. On other other hand, messaging apps could easily become commoditized, at least those that deal primarily in text. (Score one for snaps, stickers, mobile payments, and all the myriad other features of some messaging apps that go way beyond text.)
And then there's Facebook. It moved messaging into a separate app, Facebook Messenger, and has recently tried to make it more of a platform by letting other apps send content, like videos and GIFs, through Messenger. The company also owns WhatsApp, which dominates messaging in Europe. All of these moves seem intended to ensure Facebook's role as the operating system for mobile messaging.
But it may turn out that the best kind of operating system is an operating system.