Good news: North Korea indicated it's willing to return to the negotiations over denuclearization. Following a year of stalling and name-calling, that comes as a relief. US officials remain wary, however, with the secretary of state cautioning, "It is not our goal to have talks about talks, but to have progress in the talks."
The above news is not from this week, but from July 2005. The secretary of state was Condoleezza Rice, and the US president was George W. Bush.
It could just as easily be today. This week, North Korean leader Kim Jong-un told visiting South Korean officials that he's willing to negotiate with the US about abandoning his nuclear weapons. He also indicated he's agreeable to a summit between the two Koreas at the end of April. Donald Trump reacted on Twitter yesterday with wariness, cautioning about "false hope."
US intelligence first detected signs of a nuclear program in North Korea in the 1980s. Over the years, North Korea has repeatedly raised hopes—and then dashed them—about either ceasing to develop or getting rid of nuclear weapons. Some denuclearization agreements Pyongyang previously acceded to:
Treaty on the Non-Proliferation of Nuclear Weapons (1985)
Joint Declaration on the Denuclearization of the Korean Peninsula (1992)
Agreed Framework between the United States of America and the Democratic People's Republic of Korea (1994)
Six-Party Talks agreement on verifiable North Korean denuclearization (2005)
"Leap Day agreement" (involving US food aid), part of the possibly resumed Six-Party Talks (2012)
The caution of 2005 proved warranted. Though in September of that year North Korea agreed in principle to abandon its nuclear weapons project—a move seen by many as a major diplomatic breakthrough—in July 2006, it conducted more missile tests, and in October 2006 held its first nuclear test, prompting the United Nations to impose a variety of sanctions.
A summit in April would be the third between the two Koreas. The first was in 2000. North Korea hadn't tested a nuclear weapon yet, but the world worried that's where it was headed. Kim Jong-il, the leader in Pyongyang at the time (and the father of current leader Kim Jong-un), appeared suddenly friendly.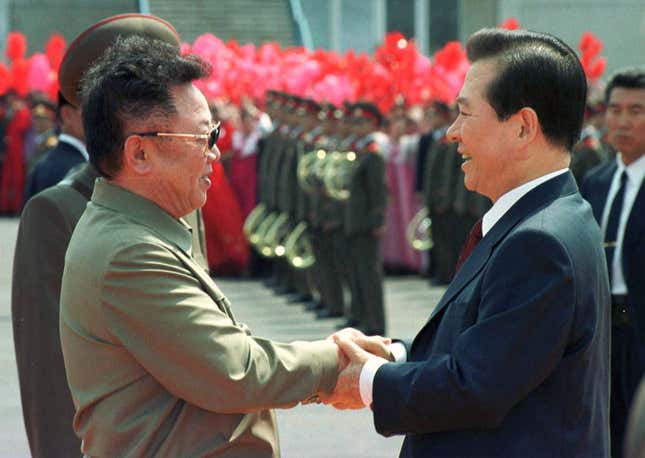 The summit achieved little, except that North Korea scored cash and food for its teetering economy. Today Kim Jong-un might be repeating the pattern, looking disconcertingly receptive after years of causing alarm, all in the hope of gaining economic concessions while not giving up his nukes after all.
Ultimately, none of the past agreements or meetings stopped North Korea from its nuclear progress, even as sanctions on it deepened. Last September, it conducted its sixth and most powerful nuclear test, saying it was a hydrogen bomb. That same month it suggested it might explode such a bomb over the Pacific Ocean.
The news coming from North Korea this week will make some observers feel hopeful. It could indeed be the beginning of denuclearization by Pyongyang. History, however, suggests otherwise.