While luxury fashion brands were generally slow to embrace e-commerce, shoppers have made it clear that they're more and more comfortable buying even their high-end stuff online.
A number of e-commerce models have emerged to sell those customers their luxury goods, and McKinsey took a look at how each of them is faring. In a recent report titled "The age of digital Darwinism," the management consulting firm identified some approaches seeing continued success.
While monobrand e-commerce—sites like Gucci.com or Armani.com, set up to sell a single brand—still brings in the largest volume of sales, marketplaces aren't far behind, and they're growing much faster. These include sites such as Farfetch, Drexcode, Etsy, The RealReal, Vestiaire, and Asos.
What McKinsey calls "techplaces" are also growing quickly, though they lag in sales volume. Among the sites that fall into that model are Lyst, Rent the Runway, Inturn, Le Tote, Stitch Fix, Slyce, and Wheretoget.
Where both types have an advantage, according to Antonio Achille, a senior partner at McKinsey and its global head of luxury, is their ability to "offer a curated assortment without the risk of carrying the full inventory needed to fuel their growth." Other models often require the retailer to invest in purchasing all the items they then try to sell, which risks losing money if shoppers aren't buying.
Marketplaces and techplaces are more like conduits that connect shoppers with products. They might be technology platforms, such as Lyst, or consignment sites, such as The RealReal, but either way, much or all of their inventory isn't really theirs. Farfetch, for instance, offers one centralized site where customers can shop boutiques around the world. (There are some exceptions to this rule, such as Rent the Runway, which owns the products it rents out.)
McKinsey thinks the models that will prosper into the future are the ones that are more scalable, agile, and tech-savvy. "The most forward-looking brands," Achille says, "are focusing on three things: They are digitizing their businesses—building a 'Luxury 4.0' operating model that increases their speed and agility. They are using data to take customer knowledge and relationships to a new level. And fast-moving leaders are forming partnerships across the luxury ecosystem to accomplish what they cannot do on their own."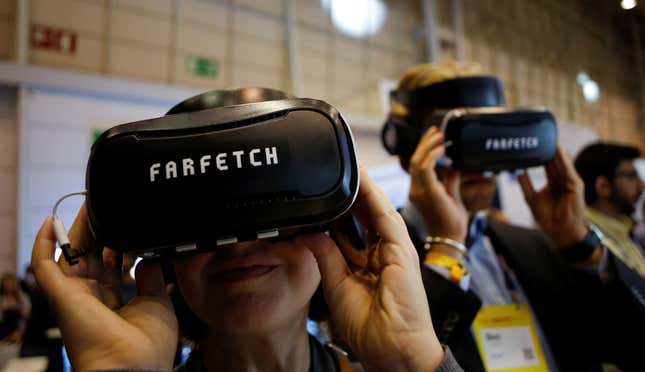 The stakes are high. McKinsey projects that online sales of personal luxury goods, which are currently about €20 billion ($25 billion), or 8% of the total luxury market, will more than triple by 2025, reaching about about €74 billion. There will be clear winners, but also clear losers, the report predicts.
There's another big wildcard in all this: sites such as Amazon, Europe's Zalando, and Alibaba's business-to-consumer platform, Tmall. McKinsey categorizes these as multibrand retailers, though they can also work like marketplaces. Right now, their presence in luxury is small, but that could change. Last year, Tmall launched a Luxury Pavilion that has already attracted labels such as Saint Laurent.
Amazon is on track to grab nearly 16% of the US apparel market by 2021, Achille says, showing it's a "winner-takes-all game." While Amazon has struggled to break into luxury in the past, it still has an advantage in sheer scale. Achille warns: "Since disruption has become the new normal and boundaries are blurring, brands should be prepared for the unexpected."