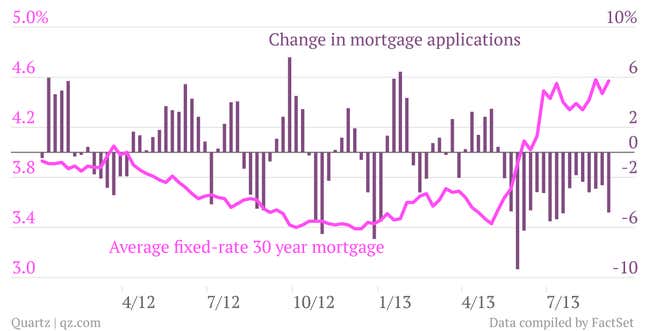 The evidence has been mounting for a while, but it now seems pretty clear: Rising interest rates appear to be hurting America's appetite for home loans.
Mortgage bankers in the US reported that the number of home loan applications  fell 13.5% last week over the week before (the chart above shows a four-week moving average). That continues a trend begun earlier this spring, when interest rates started rising on reports that the US Federal Reserve was contemplating tightening its monetary policy. The Fed is now expected to announce a "tapering" of its $85-billion-a-month monetary stimulus next week.
The clear sign that it's interest rates, rather than something else, driving this trend is the precipitous drop in applications for refinancing existing home loans—some 71% since May. That's because the decision to buy a new home depends on a lot of factors, but the decision to refinance one you already have depends almost entirely on whether you can get a better interest rate. (The US, of course, is one of the few countries that offers 30-year fixed rates.) President Barack Obama recently promised a re-doubled effort to encourage consumers to refinance, giving them more money to save or spend, but it appears that the golden opportunity has been missed.
Last week the average rate for a 30-year fixed-rate mortgage hit 4.57%, near the highest in two years. New housing starts have been falling since their peak of 1 million in March 2013, but remain fairly steady. Housing has been a key driver of the American recovery thanks to construction work (though we won't see pre-bubble employment levels) and the wealth effect of higher home prices driving consumption spending. A major fear is that the Fed's "taper" next week will cramp the recovery just as it's really getting going.
But mortgage loans are still cheaper today than they were in the five years prior to the financial crisis. Then, despite the massive demand driven by the housing bubble, rates averaged above 6%. That's cold comfort to anyone who missed the chance to seek a loan in the last few years, but a hopeful sign that housing may continue to keep the US economy's head above water.