Long queues for chairlifts and hours-long traffic jams on highways to Japan's mountains characterized the ski boom that accompanied the economic bubble of the 1980s and early 1990s.
With the bursting of that bubble, so went the country's ski industry. According to the Japan Productivity Center, a non-governmental organization, the number of people skiing and snowboarding in Japan hit a peak of about 1.8 million in 1998, the year of the Nagano Winter Olympics, but fell to less than 800,000 in 2013, the latest data available.
Japan's ski resorts are on the upswing again, thanks in large part to the boom in foreign visitors. The country saw tourists cross 20 million for the first time in 2016. Many flock to Japan for its famous powder snow (during the recent Winter Olympics in South Korea, some US athletes snuck out of the opening ceremony to ski in Japan). In December, the country opened its first new ski resort in 14 years in Hyogo prefecture in western Japan.
The skiing revival is also key to the Japanese government's plan to boost local economies, as populations in small towns dwindle. The country hopes to capitalize on knowledge of its "quality snow" and easy access to ski resorts to ride a winter sports boom in Asia, with South Korea recently hosting the Winter Olympics and China due to host the next one in 2022, according to a recent policy paper (link in Japanese).
Vegemite and après
It's a strategy that's worked for at least one ski town.
Niseko in the northern island of Hokkaido—known as one of the best spots for powder in the world—has even seen its population increase (paywall) in recent years, defying the trend across rural Japan.
Australians have been going to the town since the mid-2000s, drawn by the proximity and lower cost of Japan, though more and more money from places like Hong Kong and Singapore is also pouring in. Evidence of the Australian presence can be felt everywhere in Niseko, in bars, cafes, and not least in a local convenience store which stocks Australian snacks like Vegemite spread and Tim Tam chocolate biscuits.
In Nozawaonsen in Nagano prefecture, in the heart of Japan, known for its centuries-old public hot springs, the growing presence of foreigners has helped slow the pace of population decrease, its mayor told the Nikkei newspaper in a recent interview (link in Japanese). Foreigners, some of whom inherited Japanese businesses with no successors, now operate 10-20% of accommodation facilities and restaurants in the town.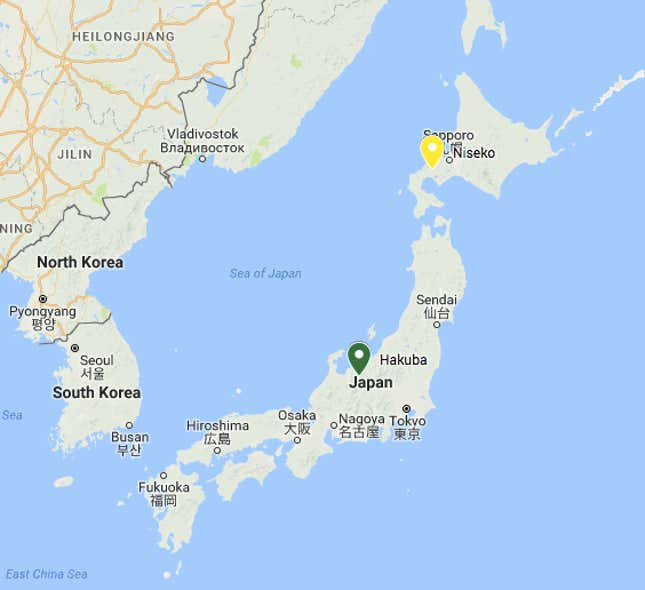 The new arrivals are also changing ski culture in Japan. Places like Niseko, and Hakuba in Nagano, with their range of dining and nightlife options increasingly resemble the skiing experience of Western resorts. Après-ski had never been a big part of Japanese ski holidays, which usually only last for a weekend and are quiet affairs.
"The Japanese thing is they go on holiday for a couple of days with friends, they smoke and drink, watch TV, have breakfast and dinner in the hotel," said Nic Klar, the Australian owner of a guesthouse in Myoko in Niigata prefecture. Sensing the demand from Australians for a guesthouse with self-catering facilities, in 2012 he purchased a lodge formerly owned by IBM during the bubble era.
One artificial ski resort near Kobe is even installing facilities (link in Japanese) such as places to perform pre-prayer ablutions and prayer rooms to cater for the ballooning number of Muslim tourists, particularly those from Southeast Asia, to Japan and its slopes.
Taking some risks
On the same day that the new resort in Hyogo opened in December, South Korean conglomerate Lotte reopened a ski resort (paywall) in Myoko that had been closed for 11 years, a testament to the growing importance of Asian tourists—and money—to Japan's ski industry. Foreign investment could help overhaul Japan's ski infrastructure, with many chairlifts and gondolas in desperate need of upgrading.
Convincing conservative, and often elderly, Japanese business owners to make upgrades like connecting different resorts under one ski pass, however, can be an "immensely frustrating" experience, said Klar, the Myoko guesthouse owner.
At least in one way, however, Japan's ski resorts are upping their appetite for risk.  Once seen as reckless and too "Western," off-piste and back-country skiing are now increasingly being promoted on Japan's mountains, said Adrian Bell, an Australian who operates 30 chalets in Hakuba. Ski-slope operators who once zealously stopped people from skiing through trees are now realizing, "That's the marketplace, and they want to attract the people who do it."