As bitcoin's price cools, so has interest in gigs related to the original crypto asset. However, job seekers' attraction to blockchain—the distributed, digital ledger that tracks bitcoin transactions—has remained fairly stable, according to job site Indeed. The trend mirrors a widely held view that crypto assets have been in a speculative mania, but the underlying technology is a promising innovation that could transform industries.
Job seeker interest in "bitcoin" peaked at 39 searches per million during the week of Dec. 14, as did searches for "cryptocurrency" at 46 searches per million, according to Indeed. Bitcoin's price also reached a record that month, climbing to nearly $20,000, before falling by more than half since then to about $7,800. Job seeker enthusiasm also waned in that time: Searches for "bitcoin" declined by 76% and "cryptocurrency" by 41%.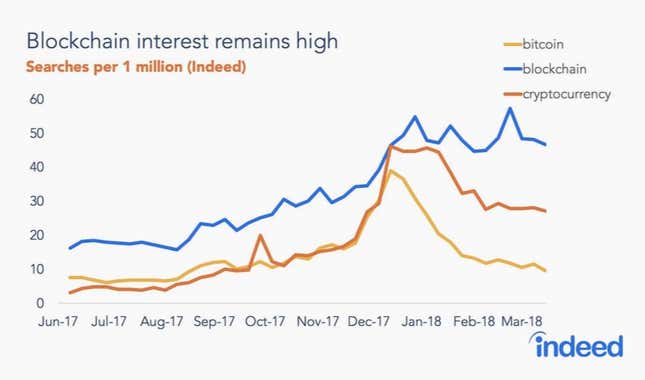 Interest in blockchain appears to be less fickle. Searches referencing the digital ledger are down slightly from the late-February peak of 47 searches per million, but has been essentially unchanged during the three-month period to March 15. "Blockchain is seen by job seekers as a viable innovation whether or not bitcoin and other cryptocurrencies are," Indeed said.
This view has a lot of company. Sharmin Mossavar-Rahmani, chief investment officer of the private wealth management group at Goldman Sachs, told Business Insider that while blockchain technology will evolve into a useful tool for companies, the current incarnation of crypto assets is a bubble. "Blockchain not bitcoin" was an informal theme at the World Economic Forum in Davos this year, as though all the high-flying execs had received the same memo of talking points.
Of course, the elite consensus isn't always right, and some even see it as a contrary indicator. If that's the case, then maybe it's time to brush up on bitcoin maximalism.