Some drone-delivery startups are trying to revolutionize the way we get pizza or packages. Others are trying to save lives.
Zipline, the California-based startup that has been flying delivery drones in Rwanda since October 2016, announced today (April 3) that it's launching a new fleet of drones that it says are likely the fastest in the world. The autonomous, fixed-wing devices have a top speed of 121 kmph (75 mph), can fly 160 km (99 miles) in one round trip, and can carry 1.75 kg (roughly 4 lbs.) of cargo. The company's CEO, Keller Rinaudo, told Quartz that the new drones will allow each of the company's distribution centers in Rwanda to increase the number of deliveries they can make from 50 to 500 per day.
Rwanda is about 10,000 sq. mi., roughly the size of the US state of Massachusetts. Zipline's drones provide access to urgent medical supplies to many of the country's millions of residents who live outside of the more densely populated area around the capital of Kigali. Rinaudo says Zipline is now delivering 20% of the country's blood supply outside of the capital, having so far completed over 4,000 flights, delivering around 7,000 units of blood. Roughly one-third of those deliveries have been life-saving missions, he adds. "Rwanda is basically writing the history books of showing what's possible," he says.
Zipline's new drones will likely help it expand further afield. The company announced in August that it planned to expand into neighboring Tanzania, and Rinaudo has discussed the possibility of moving into even larger, more populated countries, including the US. "Even in the US, hospital services are closing at a record rate," he notes. "But you've got to start somewhere—the US is a big country."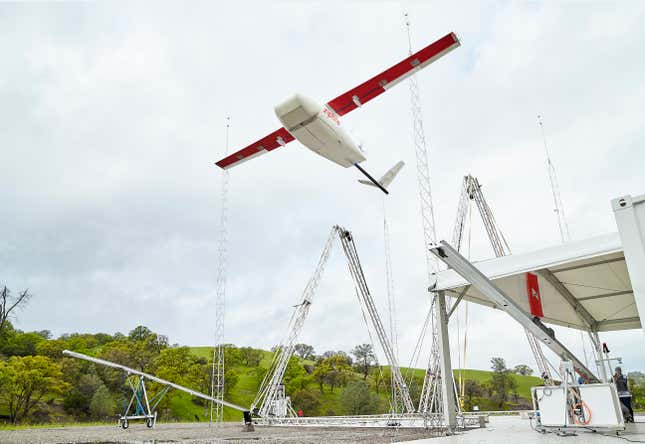 Rinaudo says that his company is currently working with six US states—he declined to say which—to bring them services similar to what it provides in Rwanda. The US doesn't have a national healthcare service like Rwanda, however, so the company would be working with individual healthcare companies to provide delivery support, much in the same way that UPS (which is partnered with Zipline) might currently deliver blood from a hospital to a lab today.
Much like any other courier service, Zipline plans to commercialize its operation in the US by charging for its deliveries.
The US Federal Aviation Administration (FAA), under the guidance of transportation secretary Elaine Chao, a Trump administration appointee, last year announced a pilot program that allows state and local governments to regulate how commercial drones are flown in designated areas within their airspace, while the FAA figures out how to manage drones at a national level. The new regulations allow for tests of drone services where drones fly beyond the line of sight of a person piloting or managing, which had been disallowed (other than under very controlled situations) under the previous administration. This opens the skies to localized tests of all sorts of autonomous drone delivery services, like Zipline's, or Amazon's much-heralded service.
Rinaudo argues that Zipline's history of proven deliveries at a national scale should set the company up well for FAA approval once the first pilot programs go live, which would likely be before the end of 2018. "We strongly believe that the promise of this technology isn't delivering tennis shoes to your backyard," he says.