Long before apps that could bring anything to you in a matter of minutes, Domino's Pizza had a pledge to deliver a pizza to anyone in 30 minutes or less. But its delivery people were reportedly getting into too many accidents trying to hit their deadlines, so Domino's stopped.
If UPS has its way, we may soon be able to have anything delivered to our homes in a half hour. The logistics and shipping giant today announced that it's invested $800,000 as a grant in Zipline, a robotics and drone delivery company that recently started working with the Rwandan government to deliver medical supplies to hard-to-reach hospitals around the country.
Zipline will partner with UPS and Gavi, an international public-private partnership that aims to immunize people in the world's poorest countries as well as deliver blood, medical supplies, and vaccines to clinics around Rwanda. Zipline and UPS plan to start delivering to 21 clinics around Rwanda later this year.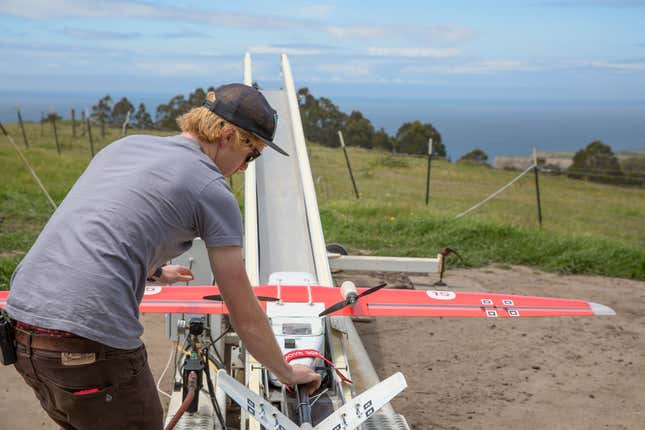 At a recent press event, Zipline CEO Keller Rinaudo said that many roadways in Africa will flood or otherwise become inaccessible at some point every year, cutting off access to many villages that need life-saving medicines. Zipline's drones don't need roads. "People don't wait to get sick in good weather conditions," Rinaudo said.
The fixed-wing drones can fly in pretty much every weather condition, and because they offload their cargo while still flying (using a parachute connected to the delivery), they don't need to worry about landing, either. Rinaudo said the company chose to use fixed-wing drones—instead of helicopter-shaped drones like those Amazon appears to be testing—because they can fly much faster, and for longer.
To use Zipline's service, hospital workers send the company a text message, and once the order is confirmed, it texts back with an estimated delivery time. When the drone is approaching, the worker receives another text to come outside to pick up their package. "A lot like Uber," Rinuado added, except that Zipline works with any mobile phone, not just smartphones.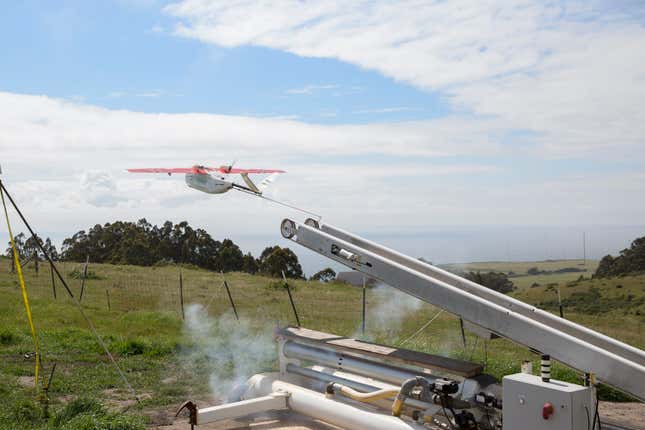 Rinuado said the cost of each delivery would be comparable to the price of delivering something by motorbike, but he wouldn't give specifics.
The UPS/Zipline drones could potentially make up to 150 deliveries per day. UPS, which loves to remind TV watchers that it loves logistics, will provide its decades of shipping expertise to Zipline, but when asked what that would specifically entail, UPS representative Eduardo Martinez said at the event that this would boil down to "consulting."
If the pilot program proves successful in Rwanda, Zipline and UPS will consider expanding into other counties. Zipline conducts much of its drone technology research out of its Bay Area headquarters, and Rinaudo said that it works with the US Federal Aviation Administration (FAA) closely. However Zipline chose Rwanda, in part, because it has a relatively uncrowded airspace, especially when compared to the US. When it's complied enough data from programs in other countries, it wants to present it to the FAA about trying something similar in the US. But only after many, many flights with no incidents. "The beautiful thing about logistics is that it's actually very boring," Rinaudo said.
There's no guarantee that Zipline or UPS will be able to bring its system, which calls a "railroad in the sky," to the US. If it does, it will likely face competition from companies like Flirtey and Amazon. Still, one day we may one day be able to press a few buttons on our phones, and have anything we need brought to us within 30 minutes, without putting a single pizza delivery person's life at risk.