Sometimes you need a new pair of shoes right now, and Amazon wants to make sure you can get them. The online retailer, which has been working on a drone delivery service for roughly two years, announced a new drone design on Nov. 29.
In the announcement video, narrator Jeremy Clarkson—formerly of Top Gear, soon to be of Amazon Prime Instant Video—tells a story set in "the not too distant future." A suburban family's daughter has had her soccer cleats ruined by the family dog. The mother buys a new pair on Amazon, and a drone is deployed to deliver the goods immediately.
According to the video, the new drone has nine propellors and has the ability to sense and avoid objects nearby as it flies. It can pick out where exactly to land, thanks to what appears to be a plastic mat with Amazon's logo on it that the customer puts on their lawn. (This presumably wouldn't work for shoppers who don't have a lawn with lots of space for drone landings.)
Amazon's new aircraft is seen taking off, landing, and hovering like a quadcopter. It also has a propellor at the rear, enabling it to fly forward at up to 55 mph, according to the video.
The technology needed for a drone that can autonomously avoid objects in the air is still in its early stages, and the Federal Aviation Administration (FAA) is still testing out how delivery drones can be introduced into the US airspace. While the drone also appears to be piloting itself in the video, the FAA still requires drones to be piloted by human pilots, and they can only fly them as far as they can see them.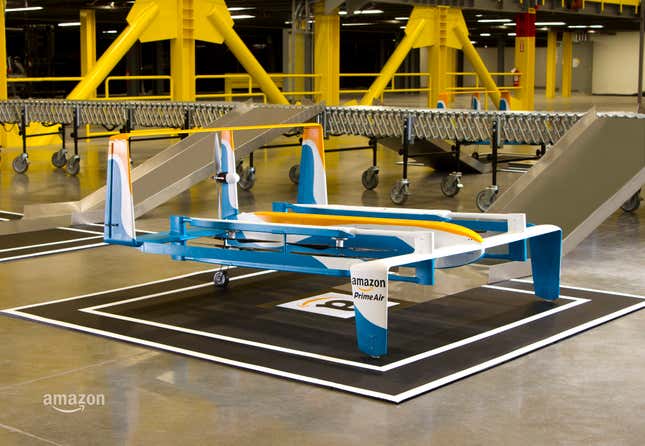 Amazon's CEO Jeff Bezos first showed off the company's drone delivery program in 2013 on US television show 60 Minutes. Since then, Amazon has been patenting the technology behind its proposed drone system, and has previously said that as soon as the FAA sorts out its regulations for commercial drone use in the national airspace, it'll be ready to fly its drones. But the FAA has missed its congressionally mandated date to have regulations in place, so it's not clear when that will be.
Jeff Bezos has had quite an aviation-heavy week: His Blue Origin space tourism company showed off its reusable rocket Nov. 24, and hinted at a near future where we'll be able to see the stars from near space. But like Blue Origin, it seems that the future of Amazon Prime Air is still very much up in the air.