Contemporary readers looking for respite from US political news won't find it on Amazon's best-seller list.
Details from former FBI director James Comey's new book A Higher Loyalty are surfacing, setting off another firestorm of allegations about Donald Trump's official conduct, and making it a best-seller.
Just behind Comey's book is former US secretary of state Madeline Albright's Fascism: A Warning, followed two places down in fifth place by John Oliver's picture book A Day in the Life of Marlon Bundo, which imagines vice president Mike Pence's pet rabbit falling in love with another male bunny.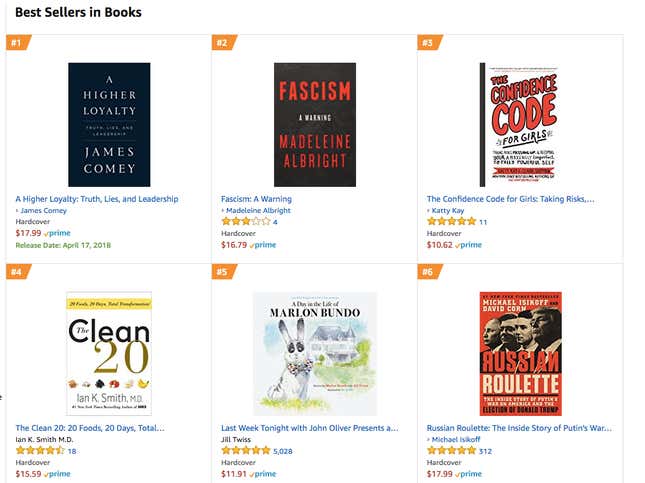 Comey's memoir doesn't offer much new hard news, according to the New York Times review of the book, but instead adds color and shape to infamous interactions he had with Trump.
"This president is unethical, and untethered to truth and institutional values," Comey writes. "His leadership is transactional, ego driven and about personal loyalty."
The US president stepped up his attacks on Comey via his preferred platform.
One headline-grabbing revelation in A Higher Loyalty comes in Comey's recounting how Trump thought out loud about having the FBI investigate a report in an intelligence dossier that alluded to Trump purportedly paying Russian prostitutes to urinate on a Moscow Ritz-Carlton hotel bed.
"He brought up what he called the 'golden showers thing'…adding that it bothered him if there was 'even a 1percent chance' his wife, Melania, thought it was true," Comey writes, according to the New York Post. "He just rolled on, unprompted, explaining why it couldn't possibly be true, ending by saying he was thinking of asking me to investigate the allegation to prove it was a lie. I said it was up to him."
Trump's criticism of Michael Woolf's Fire and Fury, the last best-selling book on his presidential tenure to top the charts, helped make it a runway hit.