The world has gone gaga for Gangnam. By one estimate, Psy's video has made $50 million for those along its viral path. For most of the 359 million-and-growing viewers on YouTube, the dance video surely represents their foray into Korean pop music, the phenomenon better known as "K-Pop." And the New Yorker magazine made K-Pop's acceptance official this week with a novella laying out the genre and its business model.
Us Koreans, of course, already know all this. Still, the publicity matters. Everyone in Korea, and much of Asia, listen to K-Pop, but the most desirable market has always been the West, especially the US. A number of major artists from the biggest record labels have made focused efforts to break into mainstream American music with very little success. Psy's unexpected and frankly, unintentional success in the US is a huge win for K-Pop.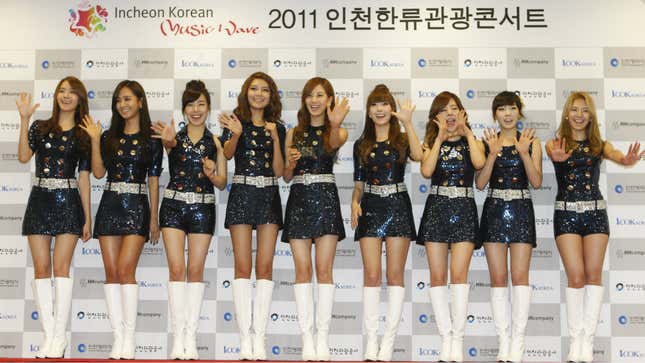 The biggest factor in his global breakthrough is without a doubt the music video. Visual humor speaks louder than words (and translates across cultures and languages). The song also has the catchiest of hooks in an easy-to-learn dance that is characteristic of many K-Pop tracks. The fact that Psy studied in the US and speaks English definitely helped him get booked onto many American talk shows, further fueling the Gangnam-mania.
K-Pop is very different from American pop music, namely in the content of songs. South Korea is still a rather conservative country, and there are strict regulations on what is deemed appropriate to be broadcast on TV and radio, so the lyrics tend to stay "PG." Sonically, it is a mishmash of Western dance, rock and hip-hop, mixed with some traditional Korean intonations.
Psy really is an anomaly in the K-Pop industry, especially among those acts that are popular outside of Korea. There are basically two types of K-Pop stars – the first being a member of a same-sex group of four or more members (seven seems to be a popular number), between the ages of 16 and 21. The other is the solo singer known for powerhouse vocals, focusing on ballads. These artists are often recruited and groomed from a young age. Talent agencies have been known to scout kids off the streets, though most are found through auditions held around the world and online. The training process is a rigorous one that averages three to five years, even up to seven, where young teens are schooled in vocals, dance, foreign languages, and acting before they can even dream of making a debut.
In this way, Psy stands out. He is the 34-year-old son of the chairman of a publicly traded semiconductor company. He is an accomplished songwriter who studied at Berklee College of Music. He doesn't wear guyliner. He might not be emblematic of K-Pop, but he's certainly become its poster child.
A few other BGS (Before Gangnam Style) groups that may pique the palate:

They just may become the first K-Pop group to intentionally break into the US market. The four-member girl group has the advantage of having three members fluent in English, as well as a swagger that fits well with the new global economy. Their song I Am the Best is a good introduction.

From the same label as 2NE1 and Psy, this five-some has a great blend of hip-hop, dance and ballads. Bad Boy is very easy on the ears, and Knock Out, by the sub-unit group made up of two of its members, GD & TOP, will get stuck in your head.

They toured with the Jonas Brothers a few years back with their song Nobody, but Be My Baby is another favorite. The video was choreographed by the same person who choreographed Beyonce's "Single Ladies," hence the similarities.

This nine-member group promoted their song The Boys on several high-profile American talk shows, but Gee is their money song. SM Entertainment, Korea's top talent agency/record label, is behind this mega-group. It cost them a reported $3 million to $5 million to train each member of the group. Before Gangnam Style, they were the most viewed K-Pop artist on YouTube by a landslide, and thrilled fans when they appeared on The Late Show with David Letterman and Live with Kelly, but dropped off the American radar soon after.

This project group includes the girl from the Gangnam Style video, HyunA, who made her own splash on YouTube last summer with her video for Bubble Pop, and is also a member of the popular girl group, 4minute.