No taper.
That's right. The US Federal Reserve decided now was not the time to begin the long journey toward unwinding the extraordinary actions it undertook during the financial crisis and the deep recession that followed.
To put it mildly, the market was not prepared for this. Interest rates plunged as traders were forced to rethink how quickly the central bank will allow rates to rise. Wow. This is what it looks like when the entire market misreads the Fed.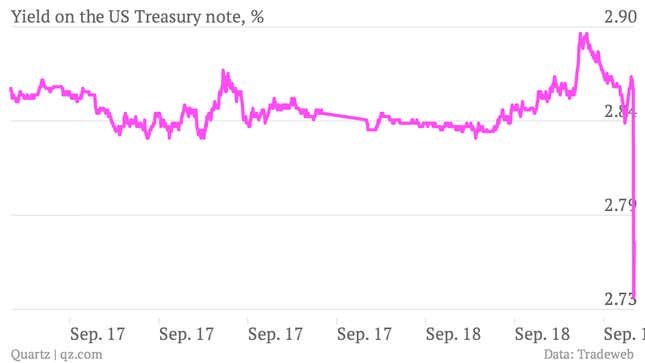 The US stock market was equally surprised. It exploded higher, with the S&P 500 index etching a new all-time high.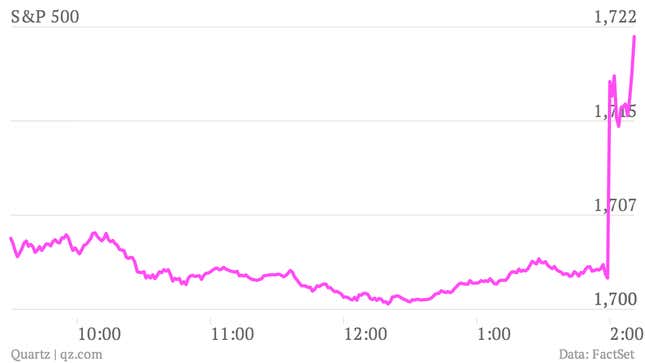 Not only did the Federal Reserve not announce the beginning of the taper. It also refrained from making any changes to its forward guidance saying it isn't going to raise interest rates until the unemployment rate gets to at least 6.5% and inflation expectations doing get out of control.
There are plenty of red faces among the ranks of interest rate strategists who are well-paid to predict what the Federal Reserve will do next. They pretty much all got it wrong. And the fact that the Fed was willing to hold off on the taper despite well entrenched expectations from the market suggests, to some, that the Fed is much more worried about the state of the economy than was previously thought. The recent rise—or to use the bond market jargon, "back up"—in interest rates, since Ben Bernanke first raised the prospect of the taper back in May, was much more than the Fed intend, it seems.
"The Fed is very worried that recent tightening of financial conditions is sizable, and, probably more important, the back-up in yields is too swift to be able to comfortably conclude that the economy will not slow too much," wrote Alan Ruskin, who follows currencies for Deutsche Bank.