Depending on who you ask, the electric, internet-connected scooters appearing all over California are either the future of transportation or a public nuisance on par with a biblical plague.
Over the past few weeks, scooters primarily from three startups—Bird, LimeBike, and Spin—have flooded the streets of greater Los Angeles and San Francisco. The companies, which have collectively raised $255 million from venture capitalists, believe scooters are the next step toward a multimodal future, in which the typical person doesn't own a car, but cobbles together shared rides, bikes, public transit, and, yes, scooters, to get around.
The main electric scooter players
There are three main companies dumping scooters in California: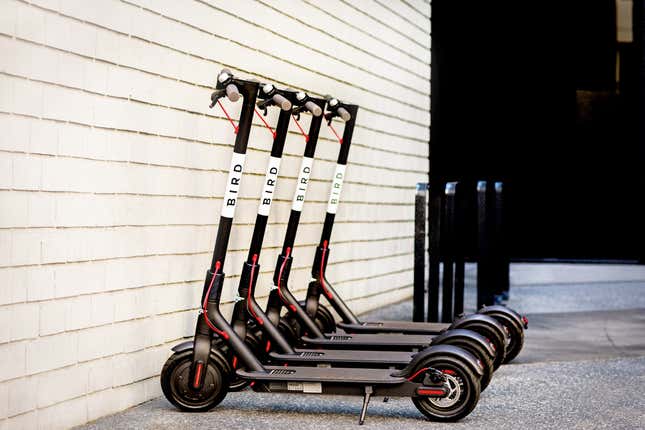 Bird, based in Santa Monica, was founded in 2017 by Travis VanderZanden, a former chief operating officer at Lyft who left for Uber and was sued for allegedly stealing confidential information. Bird has raised $115 million from investors that include New York-based Tusk Ventures. The service launched in September in Santa Monica, just outside Los Angeles, and promptly ran afoul of local regulations. (VanderZanden reportedly alerted Santa Monica's mayor to the scooter deployment via LinkedIn message.) VanderZanden has compared Bird to revolutionary technologies such as electric cars, autonomous vehicles, and the jet engine.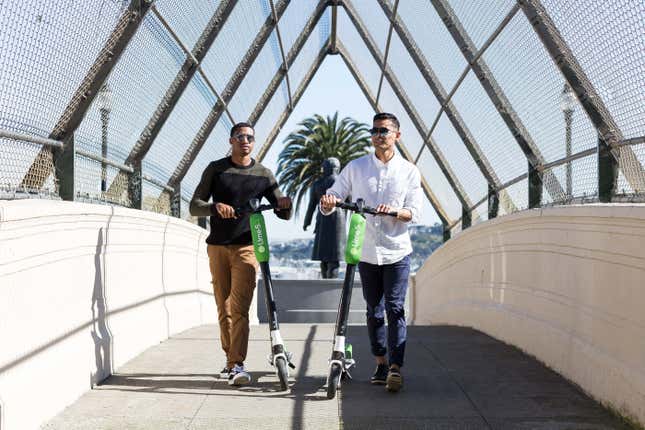 LimeBike is a San Francisco-based dockless bike and scooter company. It started in July 2017 with 500 bicycles in Seattle and has since expanded to many other US cities. LimeBike has scooters in cities including San Francisco; San Diego; Washington DC; and Austin, Texas. Its three co-founders have backgrounds at Pepsi, Square, Facebook, and Tencent, and it signed on NFL star Marshawn Lynch as a sponsor. LimeBike has raised $132 million from investors that include Andreessen Horowitz. It has deployed more than 35,000 bikes and scooters across the US since June.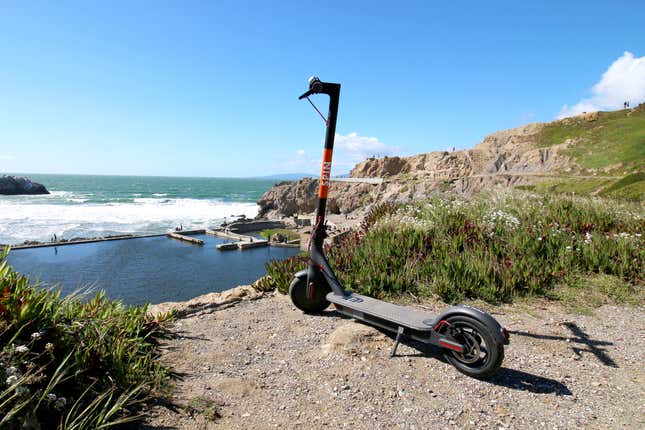 Spin, like LimeBike, is a San Francisco-based dockless bike and scooter company. It was founded in 2016 and operates in dozens of cities and college campuses. Its three co-founders, who worked at Lyft and Y Combinator, have raised about $8 million.  
How do the scooters work?
Internet-connected scooters are managed through smartphone apps. With Bird, for example, you open the app to see a map of nearby available scooters, from which you can select one, scan a QR code on the scooter, tap "unlock" in the app, and start your ride. Once you've scooted to your destination—Bird says most rides are less than 2 miles—you lock the scooter up again. Some companies track their scooters' entire rides using built-in GPS trackers, while others use your phone's GPS to keep tabs on scooter pickup and drop-off locations.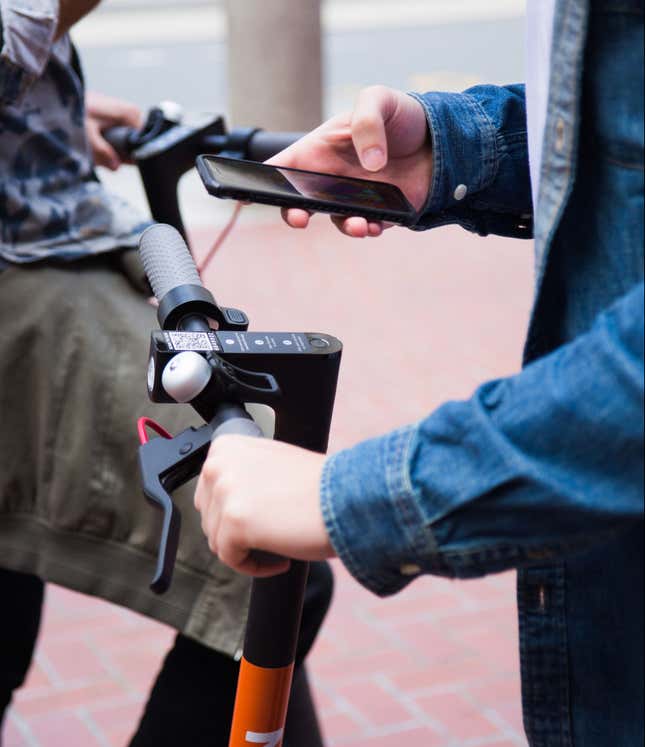 Where are scooters available?
San Francisco seems to be bearing the brunt of the scooter craze, but they're actually all over.
LimeBike launched in Seattle, but now has bikes or scooters in dozens of locations across the US, as well as in Germany and Switzerland. It also operates on about 20 college campuses, including the universities of Notre Dame, Georgetown, and Duke.
Spin's website says that it's in 18 US cities, and provides a map showing bikes and scooters in California, Colorado, Arizona, Texas, Florida, and a few others. It too is on college campuses, including Duke, La Salle, the University of Washington, and Wesleyan.
Bird is predominantly in the San Francisco Bay Area, and doesn't list out where its scooters are located. But according to the company's Instagram, it has bikes in Los Angeles, San Diego, Austin, Texas, and Washington DC.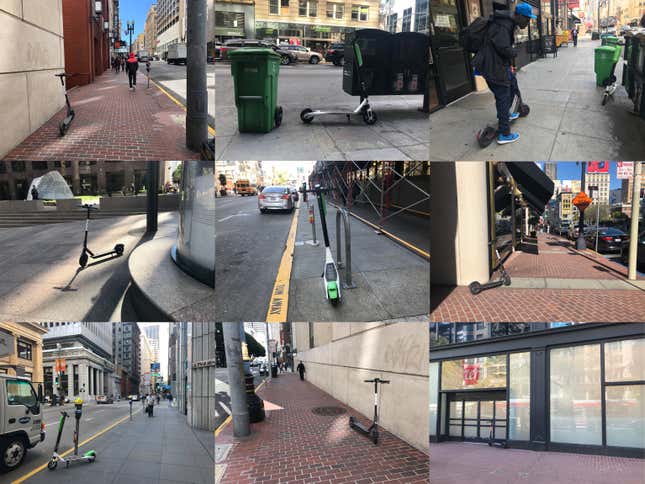 What are the rules?
There are a lot of rules! Bird details them in its rental agreement and terms of service, which riders are required to agree to before being able to use the app. Of course, it's an open question whether users actually do read these agreements, which is why we've highlighted some of Bird's most specific rules of the road:
Riders must…
Be at least 18 years old
Have a driver's license, though this is not stated explicitly in the rental agreement
Wear a helmet as required by law
Beware of weather conditions, "including, without limitation, rain, fog, snow, hail, ice, heat or electrical storms," that may make it dangerous to operate a scooter  
Park in a legal parking spot
Ride only in "metropolitan areas"
Riders must not…
Carry any "briefcase, backpack, bag, or other item" if it impedes safe operating of the scooter
Drink and scoot
"Carry a second person or child on a vehicle"
Tamper with the locking mechanism on the scooter
Use the scooter "for racing, mountain vehicle riding, stunt or trick riding"
Operate the scooter "on unpaved roads, through water (beyond normal urban riding), or in any location that is prohibited, illegal and/or a nuisance to others"
Weigh more—including baggage!—than 200 pounds
How much do scooter rides cost?
Most of the services cost $1 per half-hour ride, and then several cents (usually around $0.15) per mile or minute. Some offer monthly subscription rates.
Why would grown adults ride scooters, ever?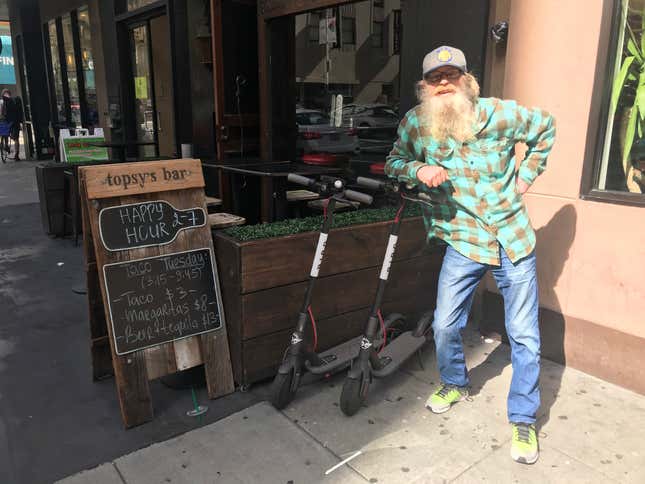 Some people see scooters as a useful addition to cities struggling to meet the transit needs of their residents. Scooters can fill gaps in first- and last-mile transit, such as getting to a subway or bus stop, or from a parking lot to an office. Scooters can also traverse pretty much every urban terrain and are light enough to be picked up and carried, which can't be said of the typical bike in a bike-share program.
Critics say electric scooters are essentially overgrown children's toys, ridden solely by out-of-touch tech elites who carelessly dump the vehicles wherever they feel like after riding. They argue that scooters aren't actually improving deficiencies in public transit, but rather making it easier for men in Patagonia vests to get from their meeting at Blue Bottle Coffee to their meeting at Peet's Coffee
Controversies
People are leaving the scooters everywhere, creating a mess and nuisance in the process. The cities feel like the fault lies with the scooter companies, and the companies blame their users, insisting that they have made clear in their apps where riders are to park (reasonable, out-of-the-way spots). The struggle echoes similar issues in China, where dockless-bike riders frequently abandon their bikes in crowded streets.
Santa Monica filed a criminal complaint against Bird in December, alleging that the company began operations without city approval and failed to remove the vehicles from sidewalks. Bird pleaded no contest in February and agreed to pay more than $300,000 in fines.
San Francisco's city attorney on April 16 sent cease-and-desist orders to Bird, LimeBike, and Spin, demanding they halt their businesses and take stronger steps to keep riders off of sidewalks and parked scooters from obstructing roads and pathways. A week earlier, San Francisco's Public Works department impounded 66 scooters in response to complaints.
Bird, meanwhile, has circulated rumors that San Francisco is "considering banning its scooters and other electric vehicles, despite the local board of supervisors saying they have no plans to do so. "Rushing through a moratorium on Birds and similar vehicles, without the input of San Franciscans and without careful deliberation, ignores the fact that thousands of city residents love using Birds to get around," the company wrote in a statement to local news outlets, before comparing the alleged ban to an assault on democracy.
Bird is also working on legislation in the California state assembly that would make it legal for people to ride scooters on sidewalks, and would only require minors to wear helmets.
The two-pronged strategy is similar to tactics Uber used, to great effect, to legitimize its ride-hailing model. Uber rallied riders to its cause when cities attempted to ban its service or enact stringent regulations, while also pushing legislation that made ride-hailing legal. That Bird is using a similar strategy with scooters isn't surprising; its CEO, and many other people at the company, used to work for Lyft and Uber.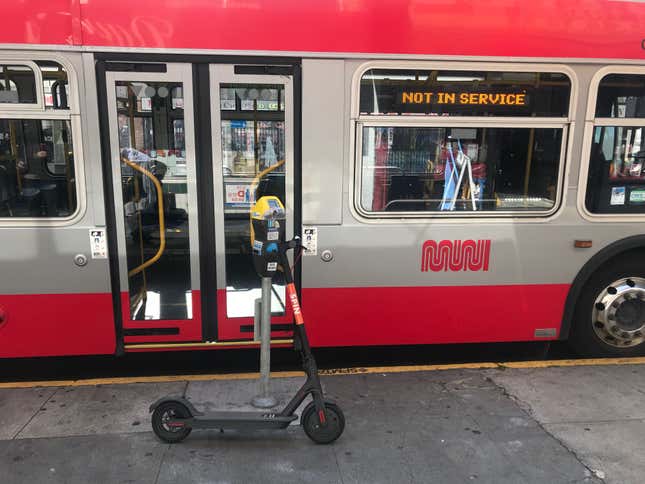 Are the scooters safe?
Quartz uncovered that Bird and Spin use rebranded versions of the Chinese company Xiaomi's Mi electric scooter, and LimeBike uses a proprietary design that appears to be based on one copied by dozens of Asian companies.
It's not clear in every case whether the scooters have been through the sorts of rigorous tests that other motorized vehicles go through to be able to ride on US streets. There are images on the web of scooters that have broken, presumably through regular wear-and-tear. 
As is often the case with tech trends, the scooter surge has outpaced potential regulation. Quartz asked all three companies what tests they've performed on their batteries—remember exploding hoverboards?—and only Spin confirmed that its scooters have been certified safe by UL, a lab for electronics safety standards.
There are also concerns about rider safety. None of the scooter companies provide helmets for each ride (although Bird does hand out free helmets to people who request them in the app). The scooters can travel around 15 mph, which would be enough to cause injury if a rider were to fall off, take a hill too fast, or get hit by a car.