If you've been in downtown San Francisco, Los Angeles, or Washington DC recently, you've probably noticed an influx of scooters—electrified versions of the longtime children's toy—on street corners and sidewalks.
Startups including Bird, founded by former Lyft-then-Uber executive Travis VanderZanden, LimeBike, and Spin, have been dumping internet-connected scooters on city streets over the last year, ostensibly in an effort to fill the gaps in municipal transit.
These startups market their fleets as a cheap and easy way to get around cities plagued by congestion and poor public transit. They've been richly funded by venture capitalists, raising a collective $255 million. VanderZanden has implied electric scooters are part of "the biggest revolution in transportation since the dawn of the Jet Age."
Quartz took a closer look at the technology littered across city sidewalks: a scooter, retailing for $500, made by Chinese electronics company Xiaomi.
Xiaomi is perhaps best-known in the West for producing low-cost smartphones and wearables, but the company actually produces a litany of gadgets under its Mi brand, from cameras and TVs, to computers, appliances, headphones, and even sofas.
A Bird scooter recently inspected by Quartz in San Francisco bore a product sticker on the base that read, "Mi Electric Scooter." The sticker listed the scooter's maximum speed at 15.5 miles per hour, and maximum load at 220 pounds. The product was made in Changzhou, China, by Xiaomi's subsidiary Ninebot, which also owns Segway. Bird states on its online safety page that scooter speeds are "throttled to 15 mile per hour" [sic] and says in its rental agreement that riders must not exceed a maximum weight of 200 pounds. The average weight of a US man is about 196 lbs.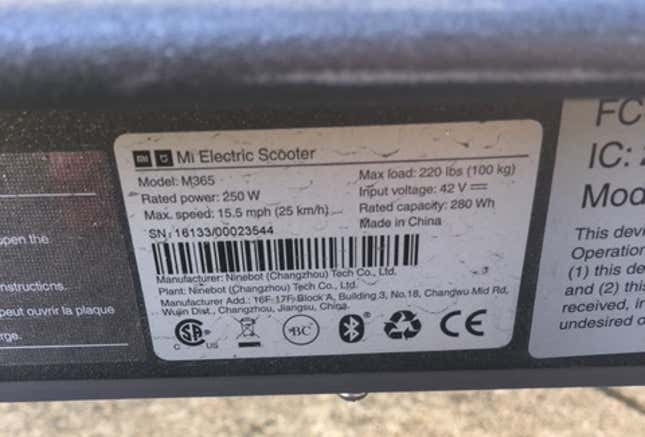 In China, the Mi scooter sells for 1,999 yuan (roughly $320), but in the US, on sites like Amazon, it can cost about $500. It weighs just shy of 27 lbs and can connect wirelessly over Bluetooth to other apps. The scooter has a maximum travel range of about 18 miles "under specific conditions," which include mild weather conditions, a load of about 165 lbs, and a "flat road without strong winds," according to a product description on Amazon. (San Francisco, of course, is not exactly known for its flat roads.)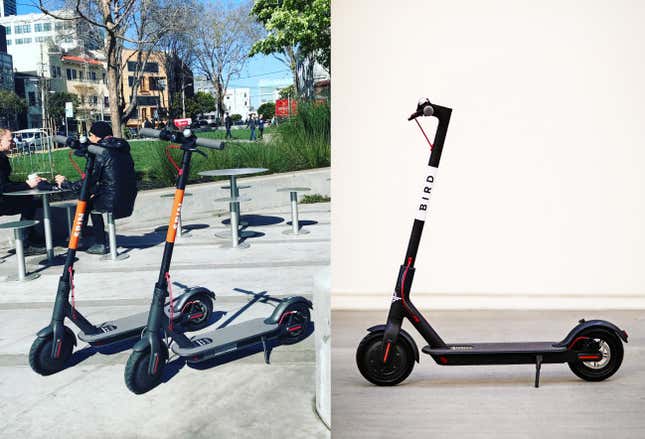 Bird refused to confirm that it's using the Mi scooter, even when Quartz said that it had photos of the scooters showing their model. Spin appears to use the same scooters as Bird, and a spokesperson for Spin confirmed to Quartz that it's working with Xiaomi to produce and customize its scooter fleet. They added that the devices have been certified by UL, a US testing company that sets safety standards for many consumer products. Bird declined to comment on what safety tests its scooters had been through. Assuming the models are the same, though, should mean that both Spin and Bird scooters won't repeat the fate that befell the short-lived hoverboard fad.
The self-balancing boards exploded in popularity in 2015, and then just started exploding. To meet the skyrocketing demand, manufacturers seemed to cut corners, shipping models around the world that caught fire and exploded while people were riding or charging the devices. In many cases, shoddy batteries were to blame, leading Amazon to pull many models from its sites, and the US Consumer Product Safety Commission to request that UL come up with a test for ensuring hoverboard batteries were safe to sell to consumers. By the time the first UL-certified boards hit the market, the fad was dead.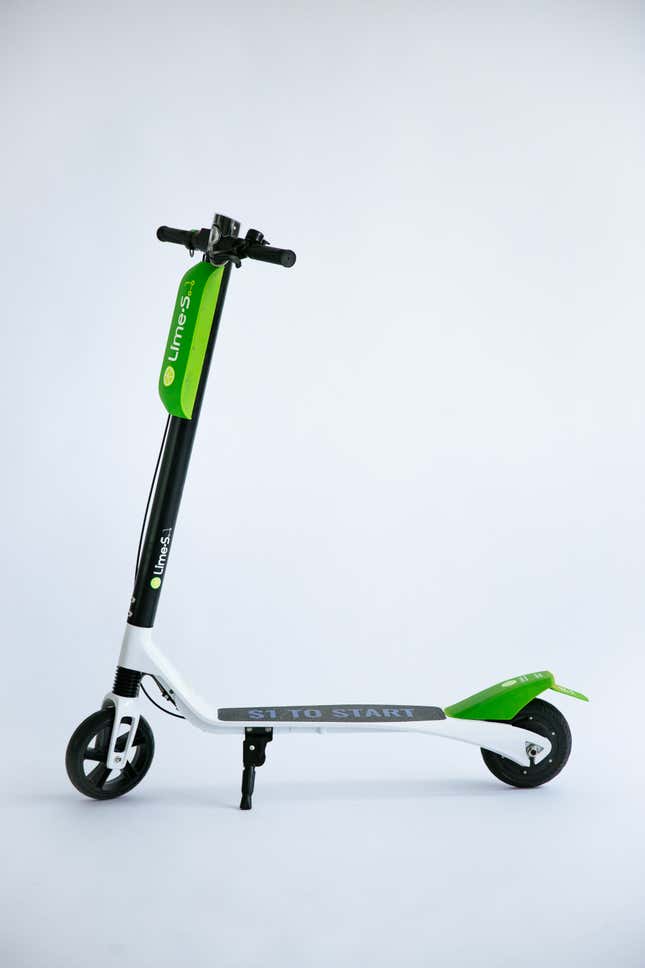 LimeBike told Quartz that its scooters are a proprietary "Lime-S" design, built by a third party overseas. Although it didn't confirm who that was, it appears the company is using a modified version of a design produced by a range of manufacturers—you can find the design on Amazon under the names Haitral, Logisys, Swagtron, and Partu, to name a few—and retail between about $200 to $400. It's unclear what sorts of tests these batteries have been through, and LimeBike couldn't confirm whether its scooters' batteries were UL certified. It has deployed over 35,000 bikes and scooters across the US since last June.
On the surface, there isn't much wildly different between these scooter startups. They all have scooters that can travel at roughly the same speeds, that are connected to apps and can unlock with some combination of Bluetooth, cellular data, and GPS. LimeBike told Quartz that it's building software that can detect if its scooters fall over (so if users are carelessly tossing them on street corners instead of neatly propping them up somewhere, or if they're being stolen, Lime will know), while Bird and Spin claim to have the operational savvy required to run an on-demand transit network. But really, there isn't much that makes one of these companies more special than another, at least not yet. Just as Uber and Lyft notoriously have the same drivers, it's perhaps not surprising that the next wave of mobility startups are using pretty much the same technologies.
Bird has raised $118 million to date from investors including New York-based Tusk Ventures. That gives the company plenty of money to spend on Xiaomi scooters, which it's presumably purchasing for less than the $500 sticker price. On Chinese e-commerce site Alibaba, for example, a minimum of 100 Mi scooters can be purchased for $250 to $299 apiece. At the midpoint of that price range, Bird could buy a fleet of 500 scooters for $137,500, or 0.1% of its total funding. Bird declined to disclose how many scooters it has deployed. (Spin said it has "hundreds" of scooters, and they're mainly concentrated in the SoMa neighborhood of San Francisco.)
On the other hand, at Bird's current rates of $1 per ride plus 15 cents per minute, it would take a long time to recoup the cost of a single scooter. In Bird's hometown of Santa Monica, for instance, a 2016 study of local transit found that 53% of trips were less than 3 miles and 18% were less than 1 mile. At 15 mph, a Bird scooter could make a three-mile trip in about 12 minutes, which means the entire trip would cost $2.80. If Bird were purchasing scooters in bulk at $275 apiece, it would take about 100 of those trips to offset the initial purchase price. Bird said the majority of its rides were less than 2 miles long.
Additional reporting by Matt Quinn.