The hottest toy around in 2015 was the hoverboard, available from nearly any e-commerce website and a growing number of retail stores. An estimated 400,000 hoverboards shipped out of China's electronics metropolis of Shenzhen last October alone (link in Chinese) to satisfy a growing legion of fans around the world.
Nowadays, they're as scarce as a Daisy The Cow Beanie Baby—and about as useful.
The US federal government said Feb. 18 that no hoverboards meet their safety standards, and retail giants from Amazon to Toys R' US have completely stopped carrying them. You can't transport them on dozens of airlines, or on public transportation in New York and many other cities. Riding them is forbidden in public in Britain, on New York City streets and sidewalks, in Disney Land parks around the world, and on dozens of college campuses.
From Dec. 1, 2015 alone, there have been more than 50 fires in the US related to hoverboards, the US government said, and customs is working overtime to keep them out of the country.
Border patrol agents in Houston seized more than 3,500 hoverboards with suspect batteries, amounting to an estimated $1.8 million in goods, on Feb. 22, the latest in a string of busts. In the biggest, agents in Chicago seized more than 43,000 hoverboards in January, some of which had false certification from UL—the private company that acts as a standard bearer for electronic goods in the US.
The hoverboard industry was built on the back of China's manufacturing ecosystem. Both ultra-efficient and ultra-fragmented, these qualities proved both a blessing and a curse. The country's dense supply chain helped take a product from the drawing board to mass market in a matter of months. But the mad rush to fulfill orders and lack of safety standards and regulatory oversight created a sometimes dangerous product, that in turn sparked mass panic, and widespread bans.
While they may have been a hot topic before Christmas, no one is talking about hoverboards now, Google Trends shows.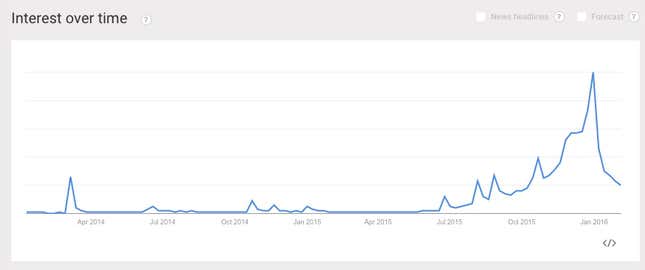 Razor, the company that that had the potential to bring some much-needed standardization to the knockoff-drenched market, can't even sell hoverboards of the US's largest retailers.
The 15-year-old toy company purchased the US patent rights for the hoverboard last Autumn. Afterwards, it quickly began enforcing its IP rights and suing competitors. But the US consumer safety crackdown has once again shifted its fortunes, and the company's sales outlets are limited.  Quartz reached out to Razor for comments in this piece but did not receive an immediate response.
Chinese distributors, meanwhile, feel they got screwed. In preparation for a large Christmas orders, many built up inventories in the US but those devices are either stuck in a warehouse or at customs. Amazon froze the accounts of many sellers preventing them from earning money on the goods they shipped or sold but did not fulfill, and now they're angry.
J.J. Chan, a hoverboard vendor based in Guangzhou, said he saw his monthly hoverboard sales increase more than tenfold before his PayPal account was frozen by eBay. He tells Quartz he doesn't expect the product to rebound anytime soon.
"Right now there are hoverboards with features that are better than previous models, but it will be still hard [for the market] to return to last year's popularity," says Chan.