Anyone looking to buy a two-wheeled personal transportation device known as a "hoverboard" for a Christmas gift is about to find it a lot harder—Amazon has suspended sales of most devices on its websites in the US and the UK.
Following a rash of explosions and house fires connected to hoverboards, Amazon has asked all hoverboard manufacturers to provide documentation they are following all applicable safety standards, as first reported by gadget site BestReviews, and later confirmed by the Verge.
Hoverboard's sudden surge in popularity came in the midst of a patent war, opening the door to dozens of importers who are purchasing shoddy products from manufactures in China, as Quartz has recently reported.
A look at Amazon's US and UK websites confirms there's been a swift cleanup.
Last week, searching "hoverboard" on Amazon in the US yielded hundreds of listings for vehicles: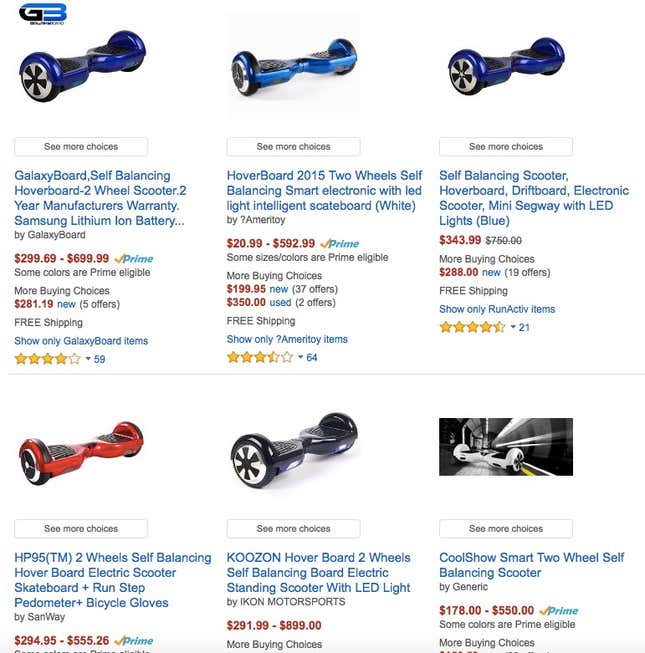 Now, Amazon's US website only lists hoverboards made by Razor or Jetson—all other listings are for accessories. Razor recently purchased the US patents for a self-balancing, handle-free scooter from engineer Shane Chen and investor Mark Cuban.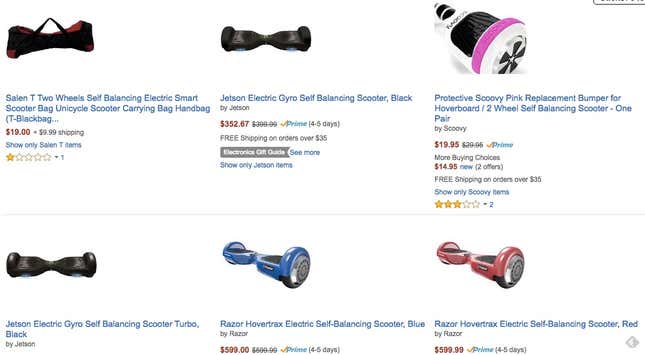 Amazon's UK site has undergone a similar cleanup—the only hoverboard now available is from a company called Smartrax. The safety concerns don't seem to have extended to Amazon's India site, though, where dozens of brands are still available: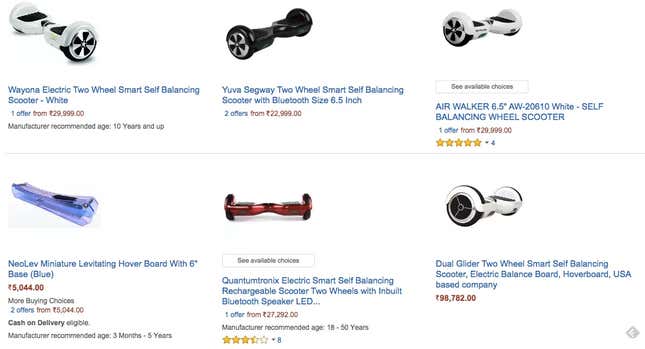 Amazon has told its US hoverboard sellers that they must prove their products have passed certain tests from UL, a private company that tests chargers and batteries (among other things) for safety in the US. Swagway, one of the better-known importers, provided the following statement to the Verge:
Amazon just sent out a notice to all "hoverboard" sellers to "provide documentation demonstrating that all hoverboards you list are compliant with applicable safety standards, including UN 38.3 (battery), UL 1642 (battery), and UL 60950-1 (charger)."

Swagway already meets all those certifications and is happy that Amazon has decided to take steps to weed out the low quality boards. As safety is always on the forefront for Swagway, we're glad that this is taking place, especially in light of recent concerns with the fires with the poor quality batteries.

On that note, we're also in the process of working on measures, to help consumers identify between an authentic Swagway and the many imitation boards that are adding our branded logo to their unauthorized boards. Meanwhile, we ask that consumers only purchase from authorized retailers as an added precaution.
Swagway claims its boards have been UL certified, but a Swagway board caught fire in Westchester, New York. The company did not respond to Quartz's earlier requests for comment after the incident.
A representative for UL told Quartz earlier this month that no hoverboard brand had ever passed its tests.
Amazon isn't the only major retailer to stop stocking the faddish product. Walmart stopped selling hoverboards in its brick-and-mortar outlets earlier this month, although it does sell Razor products online.