In early March, Donald Trump's White House unveiled tariffs on steel and aluminum imports. "Trade wars are good, and easy to win," Trump tweeted at the time. The subsequent tit-for-tat escalation of protectionist measures between the US and China, in particular, are putting that notion to the test.
Another Trump tweet, sent roughly two weeks ago, stands out for another reason.
At the time, the president's market prognostication looked pretty good. Despite the threat of a 10% tariff on aluminum imported into the US, prices for the metal drifted downwards in international markets. White House officials dismissed concerns about potential price rises as "no big deal," worth a fraction of a penny, at worst, on common products like cans of Coke.
And then this happened: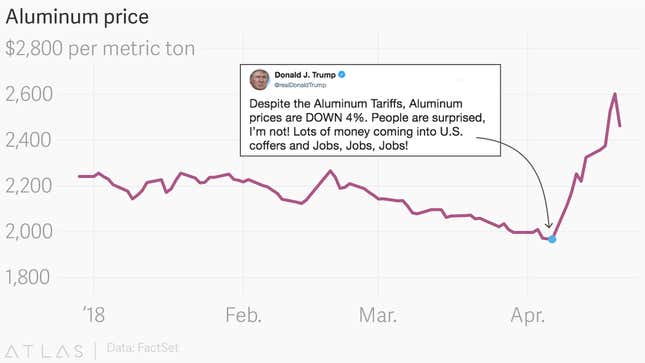 Wholesale aluminum prices are up a whopping 25% since Trump's fateful April 6 tweet, soaring to their highest levels since 2011.
On the same day as the tweet celebrating falling aluminum prices, as it happens, the US Treasury imposed sanctions on a host of Russian oligarchs and related companies in retaliation for meddling by Moscow in the 2016 US presidential election. "We cannot allow those seeking to sow confusion, discord, and rancor to be successful," Trump said in a statement at the time.
Billionaire Oleg Deripaska and the aluminum company he founded, Rusal, were among the targets of the sanctions. At a stroke, the sanctions effectively cut off some 3 million metric tons of aluminum, or roughly 6% of global supply, from the markets (paywall).
Large stockpiles of Rusal-produced aluminum languish in warehouses, as traders cut ties and dump metal linked to the world's second-largest producer for fear of falling foul of US sanctions (paywall). Some analysts think the price of aluminum will continue to climb, as it takes time to untangle such a key supplier of a fundamental material in global supply chains.
Trump has a habit of tweeting about market trends—like stocks or the dollar—when they help make his points, then going quiet when they don't. His long and colorful history on Twitter also reveals his, let's say, evolving views on a wide range of issues before and after he became president. (We built a bot, in fact, to automatically pair Trump's latest tweets with ones on the same subject from the past.)
The incredibly awkward timing of his missive about falling aluminum prices, though, deserves special recognition.