Whether an entree at a White House state dinner or chocolate barbed wire for a pre-Olympics gala, it's not unusual to promote a political agenda through food. What's less common is for a nation that wasn't even invited to the table to send a dish back.
Japan has made a formal complaint to the South Korean Embassy about a mango mousse that will be served at the inter-Korean summit on April 27, which features a map of the Korean Peninsula that includes a disputed group of islands (those two little dots on the right). In Japan, those islands are called Takeshima, and sit in a body of water know as the Japan Sea. In Korea, they're Dokdo and you'll find them in the East Sea. English speakers tend to call them the Liancourt Rocks.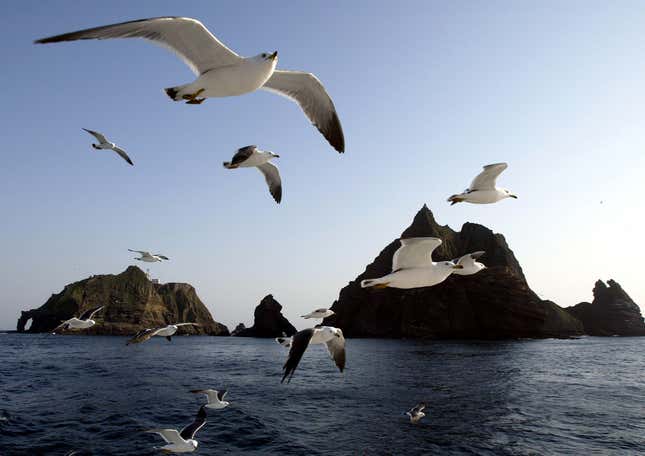 Disputed islands are nothing new, though island is a strong term when it comes to this particular disagreement—it would not be inaccurate to refer to these oceanic protrusions simply as rocks. Still, those rocks have become symbols of the long-standing tension between the Koreas and Japan, a result of close to three decades of colonial rule and an even longer history of aggression. In the past, South Korea has asked for a formal, proper apology for the treatment of South Korean comfort women during World War II. Japan claims that it already said sorry.
Japan shouldn't be surprised that the island issue would arise: The idea that this is Korean, not Japanese, territory is one of the few issues that unites North and South. When US president Donald Trump visited South Korea in November, president Moon Jae-in served him a meal that included a prawn caught in the waters around the Liancourt Rocks, which was widely seen as a pointed remark rendered in crustacean.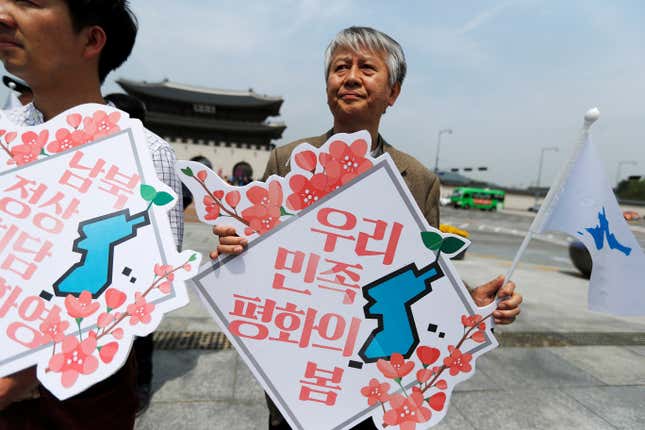 The islands were also an issue during the recent Olympic games in Pyeongchang. The Japanese made a complaint about the unified Korean flag that the two nations intended to fly during the Games, which originally included, and was subsequently edited to remove, the Liancourt Rocks. A South Korean ice-dancing pair also edited a popular folk song for a performance, to remove a reference to the islands.
This is also not the first time Korean identity has been sculpted in pastry. At a pre-Olympics party with leaders from both nations on the peninsula (during which US vice president Mike Pence refused to shake hands with the North Korean delegation, and left the event early), dessert featured a piece of chocolate barbed wire laid over an outline of the Korean peninsula. White chocolate sauce was then poured on top to melt the barrier between North and South.
For the next inter-Korean dining experience, perhaps the pastry chef should practice up on Île Flottante.