Brazil's plummeting currency and rising consumer prices have been making life difficult for its businesses and citizens, and prolonging its economic funk. But there a signs of gradual improvement.
Here are three recent trends in Latin America's largest economy worth celebrating:
1. Inflation is finally cooling off a bit
For the first time in nine months, Brazil's inflation registered below 6%. Consumer prices rose 5.93% in the year ending September 12, according to Brazil's national statistics bureau. Brazil's central bank has instituted a series of measures, including consistent interest rate hikes, in hopes of controlling the country's inflation rate.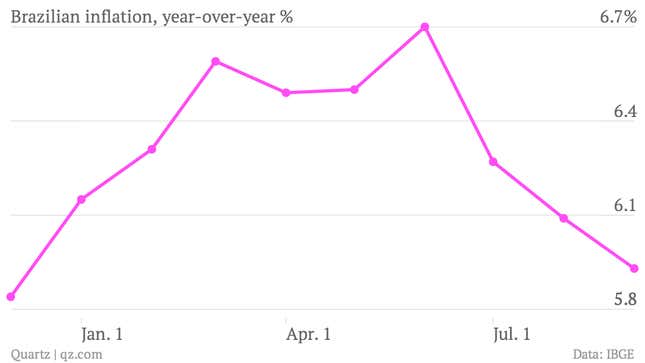 2. Brazil's currency is getting stronger
The Brazilian real took an epic plunge in foreign exchange markets earlier this year, raising the real-to-US-dollar exchange rate to nearly 2.5-to-1. The weak real increased the price of foreign goods further. But since the end of August, the real has taken a turn. Brazil's currency has climbed nearly 11% relative to the dollar since August 22 and now hovers at an exchange rate closer to 2.2-to-1. That's good news for Brazilians, who are seeing the rise in consumer prices taper.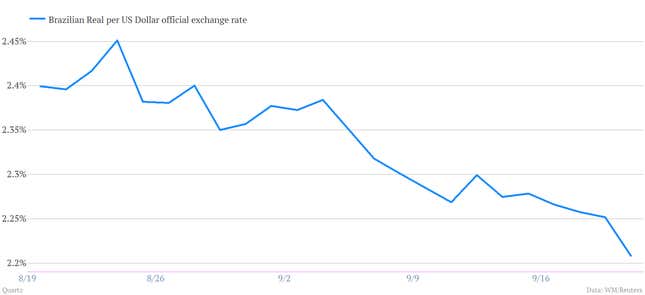 3. Brazil is creating jobs again
After a particularly lackluster July, when the country added a paltry 41,000 payroll jobs, Brazil is creating jobs again. The country added nearly 128,000 jobs in August, well above the 91,000 economists expected.
But there are still headwinds. Brazil has managed to keep its unemployment rate low, but it will need job creation to rise to roughly 100,000 a month to sustain an improving economy. The country's consumer price index will also need to fall to its central bank's 4.5% target. (A weekly economist poll by the central bank forecast an inflation rate of 5.83% inflation for 2013 according to Bloomberg.) Of course, according to Brazil's central bank, speculation about the country's economic downfall is pure exaggeration.