Facebook is playing to its strengths, in front of a loyal audience. At its F8 developers conference today (May 1), the company released a new VR headset called the Oculus Go. First announced in October, it's the first standalone headset Facebook has built—meaning it doesn't need to connect to a phone or a computer to work—since it bought Oculus in 2014.
The company opened F8 with CEO Mark Zuckerberg debuting the Oculus Go onstage in San Jose, California. The conference follows weeks of intense scrutiny on the company after Zuckerberg's appearance before the US Congress to explain Facebook's role in the Cambridge Analytica scandal, which continues to unfold. Last week, Facebook released a contrite new commercial, where it pledged a return to what previously made the site enjoyable: connecting with friends. The crowd at F8, mainly employees and those who make a living building for Facebook's platforms, is likely to be more receptive than lawmakers to Zuckerberg, and his actions, and perhaps his-long held belief that VR is the next great platform.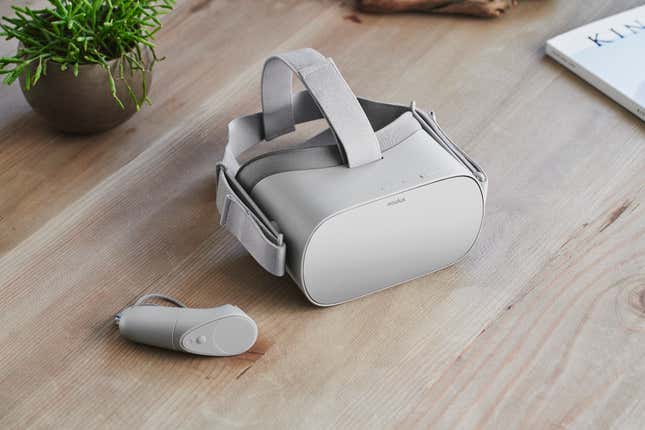 Unlike its predecessor, the Rift, the Oculus Go can run without a wired connection to a powerful computer. On the outside, it resembles some of the VR headsets on the market that rely on a connecting smartphone for their brains and/or screens, such as Google's Daydream View. But the Go is self-contained: all the computing power it needs is inside the device.
The Go can get up to two hours' worth of play from a single charge, Oculus said in a release, and it will take around three hours to fully recharge. The Go can follow the movements of the wearer's head, and comes with a small handheld controller and trackpad. The device doesn't have the ability to track the wearer if they start walking around or even sit or stand up (what's referred to as "inside-out tracking"), meaning they'll have to remain seated to play games or watch content, unlike with the Oculus Rift. While this might make it easier to play with the Go wherever you are, it does mean the experiences will probably be far less immersive than the ones on the Rift, given that you won't be able to physically explore any of the worlds you're playing around in.
Oculus says the device is "hands-down the easiest way for people to get into VR," and claims to have over 1,000 games, movies, and apps that run in its VR app store. The company is also releasing new experiences called Oculus Venues and Oculus TV, which will let users watch live music, sports (including Major League Baseball), and television shows from their headsets on apps like Netflix and Hulu.
It's not clear how many of the fully immersive Oculus Rift games will be playable on the Go, which runs on a processor meant for mobile phones (the Qualcomm Snapdragon 821), rather than the powerful processors and graphics cards required to use the Rift. Oculus said there would be support for "certain games," but only mentioned one, Catan VR. In general, VR games and apps designed for mobile phones are far more simplistic than the ones designed for computer-connected systems.
The headset will come in two models, one with 32 GB of internal storage for $199, and another with 64 GB for $249. Both will be available on Oculus' website starting today in 23 countries, and in the US you'll also be able to purchase them at Best Buy, and on Amazon and Newegg.
Perhaps Zuckerberg will find solace in the virtual worlds he can explore on the Go, far from lawmakers, investors, and Facebook commenters. At least, until he gets nauseous.