Google on Oct. 4 unveiled a wide range of new devices and services at an event in San Francisco, in what the company is calling the largest hardware announcement in its history. The new devices seemingly put Apple's iPhones and Amazon's Echo home hub right in the company's sights.
Here's a quick run-down of everything Google announced today:
AI everywhere
The big winner of today's announcement was Google's artificial intelligence research division, touted by Google CEO Sundar Pichai during his keynote. Pichai made it clear that Google's future rests in features enabled by AI: a true personal assistant that remembers all your information, advanced options for handling images, and useful connections between smart devices.
Most of this is served through Google Assistant, Google's new crown jewel. The assistant lives on any device you use to access Google, and can manage shopping lists, lock combinations, internet-of-things devices, Chromecasts, music, and pretty much anything you would look for with the help of Google or write down in a notebook. Google is also launching tools so developers will be able to integrate Google Assistant into their own devices, starting in December.
It's easy to think of Google's broader AI efforts as a set of tools used by every product in Google's lineup. It powers the speech recognition and generation of responses on both Google's Assistant and the Home. It helps the camera pick the best image in a burst, and recognize faces to make collages of friends and family. If you want the gritty details of how it all works, Google has been talking most of the core research, like translation and image recognition, in the past few weeks.
"Our goal is to build a personal Google for each and every user," Pichai said.
Pixel smartphones
Google released two new phones today, built by HTC, called the Pixel and Pixel XL. Here's a quick rundown of what's inside:
A built-in assistant. Google's newest version of its voice assistant, which it's just calling Google Assistant now, is built into the Pixel phones.
Powerful cameras. Google's 12-megapixel camera packs in a bunch of software to take clear photos in any sort of lighting and 4K videos that are stabilized almost like professional cameras. Google said its camera is the highest-rated smartphone camera ever made, according to photo quality site DxOMark. The camera is said to open quicker than any other smartphone camera.
Unlimited storage. The phones are integrated with Google Photos. All photos and videos are uploaded to the cloud and stored at full resolution automatically. That means you should never again run out of space taking photos.
Battery life. The phone is advertised to last through a whole day and can pack up to 7 hours' worth of charge in just 15 minutes.
Powerful. Both phones have 4 GB of memory, either 32 GB or 128 GB of storage, and a top-of-the line Qualcomm 821 Snapdragon processor.
Big screens. The Pixel has a 5-inch, 1080p screen. The XL has a 5.5-inch screen, which is the same size as the iPhone 7 Plus.
VR ready. The Pixels are the first phones that will be compatible with Google's new sweatpants-inspired VR headset, Daydream. (More on that below.)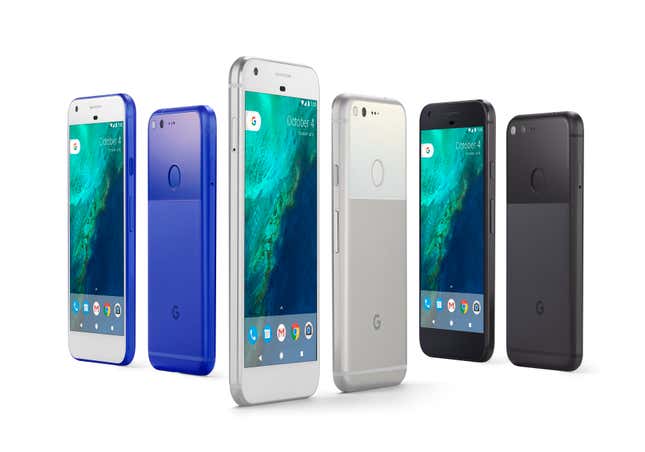 Three colors. Pixel comes in three interestingly named shades: Quite Black, Very Silver, and Rather Blue.
It has a headphone jack. In case you, like most people, still use regular headphones. Sorry iPhone 7 owners.
Verizon-only. If you want to walk into a cellphone store and pick up a Pixel in the US, you'll have to have a Verizon account. But Google will be selling unlocked versions of the phone online through its own store.
Available today. You can pick up a Pixel for $649 and a Pixel XL for $769 from Google's store.
Daydream View VR
Old idea, new design. Google's virtual reality headset serves the same purposes as existing setups like Samsung's Gear VR, and Google's own Cardboard. However, it perceivably has an upper hand in design and product offerings. Google claims that its device is 30% lighter than competitors. It supposedly also fits comfortably over eye glasses. Clay Bavor, who leads the company's virtual reality team, says his group worked with clothes designers to create something "soft" and "comfortable" and "breathable."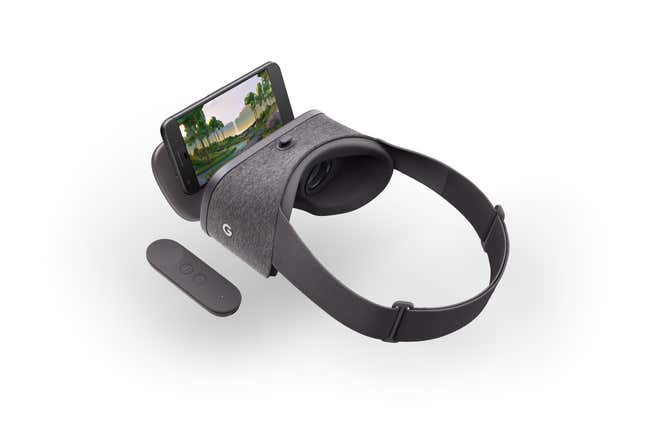 Three colors. The slate-colored Daydream (which looks like it's covered in comfy grey sweatpants material) will be available when the VR headset releases in November, with the colors Crimson and Snow releasing at a later date.
Inexpensive. The headsets will retail at an affordable $79—about $20 less than a Samsung Gear VR, and hundreds of dollars less than more involved headsets like Facebook's Oculus Rift.
Hand-controlled. The device comes with a controller that can be stored right in the headset to reduces the chances of losing the small remote. The controller can double up as objects in VR. For instance, Google has teamed up with Warner Bros for an exclusive "Fantastic Beasts and Where to Find Them" experience in which you're a wizard and "the controller turns into a wand to levitate objects and cast spells," said Adrienne McCallister, who leads VR partnerships for Daydream.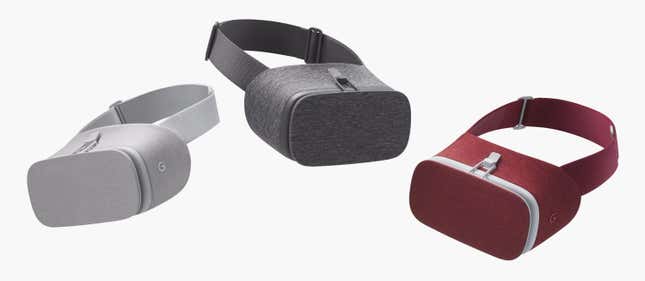 Lots of uses. There are various educational, gaming, and streaming applications. Netflix, HBO, and Hulu are going to bring their entire library to daydream. The company already has more than 50 partners to bring apps and games to Daydream before the end of the year, with hundreds more on the way. Google's own platforms—Google Play, Photos, Street View, and YouTube—will each share content on Daydream, some in VR and 360° video.
Google Wifi
Wifi everywhere. Gone are the days of having ugly wifi routers blocking hallways just so the signal isn't weak in the bedroom in the corner. Google is offering an expandable wifi system, taking on many startups trying to do the same thing, tailored to withstand rigorous use—streaming, gaming, video chatting, and more at once—where multiple routers can be placed in different locations to customize coverage according to your home's shape and size.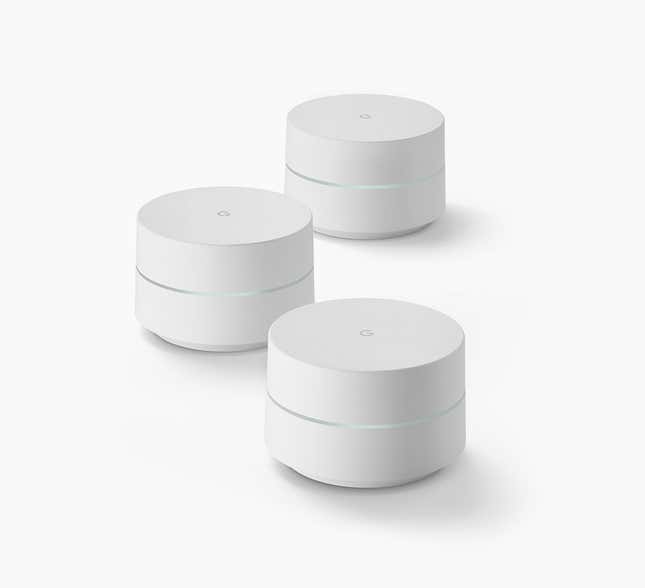 Working together. Not only are the white modular devices subtle and aesthetically pleasing, they are intelligent. A feature called "network assist" actively manages and optimizes network settings like signal strength. However, when you want a little control, you can pause any of the routers through a companion app.
Not cheap. The routers costs $129 each, or $299 for a set of three. Pre-orders start in November and the product will be available starting December.
Chromecast Ultra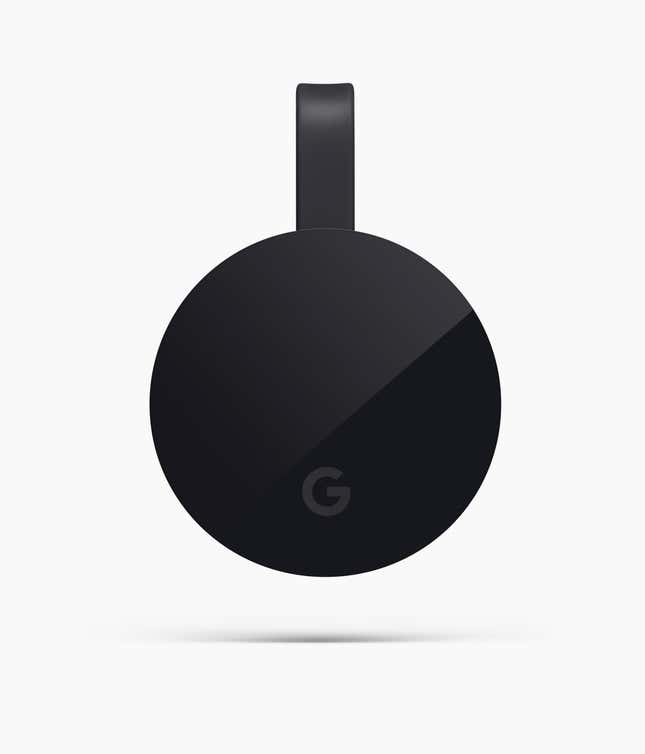 Google said it's sold 30 million of its wireless streaming Chromecast devices to date. It released its newest version today. The update to Google's cheap streaming dongle adds 4K support, with DolbyVision and HDR. The company says it's 1.8x faster, and also has a built-in ethernet port for more reliable streaming of those large 4K files. It will be available in November for $69, about twice the price of the current model.
Google had about 35% market share of streaming devices by the end of 2015—the price jump is a bet that 4K and ethernet are worth the extra scratch in 2016.
Google Home
"OK Google." To activate the speaker, all you have to do is utter the same phrase that has controlled Google's voice assistant on Android for years.
Answers, even if you don't know the questions. If you can't remember the name of a song ("that Shakira song from Zootopia" was the example onstage), Home can do the thinking for you, and find what you're after.
You also can ask it random questions that you might've typed into Google (i.e. "Can dogs eat chocolate?" or "How do you get wine stains out?") and the assistant will tell you what it finds. Rather like Alexa, it also can tell you where the closest stores are, and provide traffic updates to help you navigate your way to those stores. Unlike the Amazon assistant, it can also send directions to your phone's Google Maps app.
My Day. Like a spoken version of Google Now, the Home can give you a quick run down of the day ahead of you, called My Day. It includes your first meetings, the weather, and what your commute's looking like.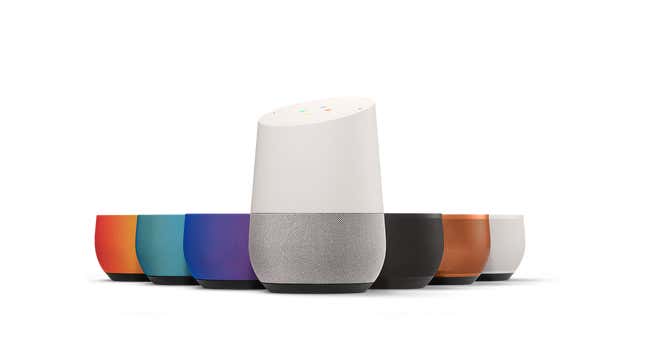 Control your home. If you have smart devices made by Nest, Samsung, or Philips, Home can control them just by talking to them.
Control your TV. If you have a Chromecast—old or new—you can ask Home to pull up anything on YouTube through your TV. Google said Netflix integration is coming soon, meaning you'll eventually be able to say "OK Google, play Stranger Things" and binge to your heart's content. You can also ask Home to show you images from Google Photos.
Music anywhere. You can buy a few Homes and pair them together, allowing you to listen to music around your house.
Multicolored. Unlike the Echo, which just comes in black and white, the Home will come in a range of colors and materials.
Available now. The Home will cost $129, and is available online from Google, Best Buy, Target, and other US retailers today. It'll be available at bricks-and-mortar store locations from Nov. 4.