Recently, my roommate wanted to watch a movie on his Apple TV. I told him that I needed to set up and test a new Wi-Fi router, and his response was, in that case, he probably wouldn't be watching a movie that night. I said, "No, this router is different! It should only take five minutes to set up, and it should work perfectly as soon as it's up." So he set a timer and said "Go."
I had no idea if it would actually take five minutes to set up the new eero router, but it turns out, if you've got an iPhone and a free hand, that's all you'll need. After downloading eero's app, you just turn the router on, follow the instructions on screen, tap a few buttons, and it should be good to go. It was easier to set up than the iPhone I was tapping on.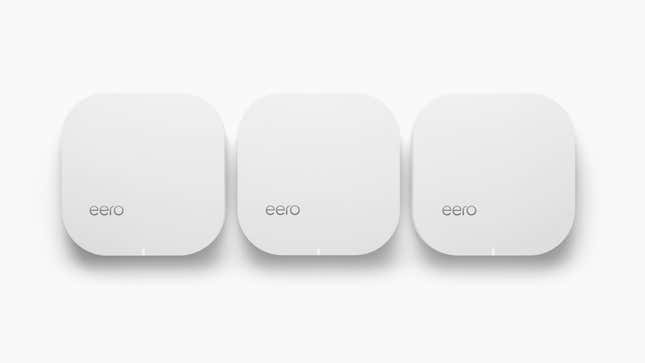 Eero's new router, which we previewed last year, promised to be a simple fix to the headache that is trying to set up a new router, such as the ones that tend to come from cable companies. It was also supposed to solve any Wi-Fi dead-zone issues you had in your house, blanketing every nook and cranny with a fast internet connection. While its release is about six months behind schedule, the router lives up to the promise that founder Nick Weaver offered us a year ago: If you can download an app, you can set up an eero.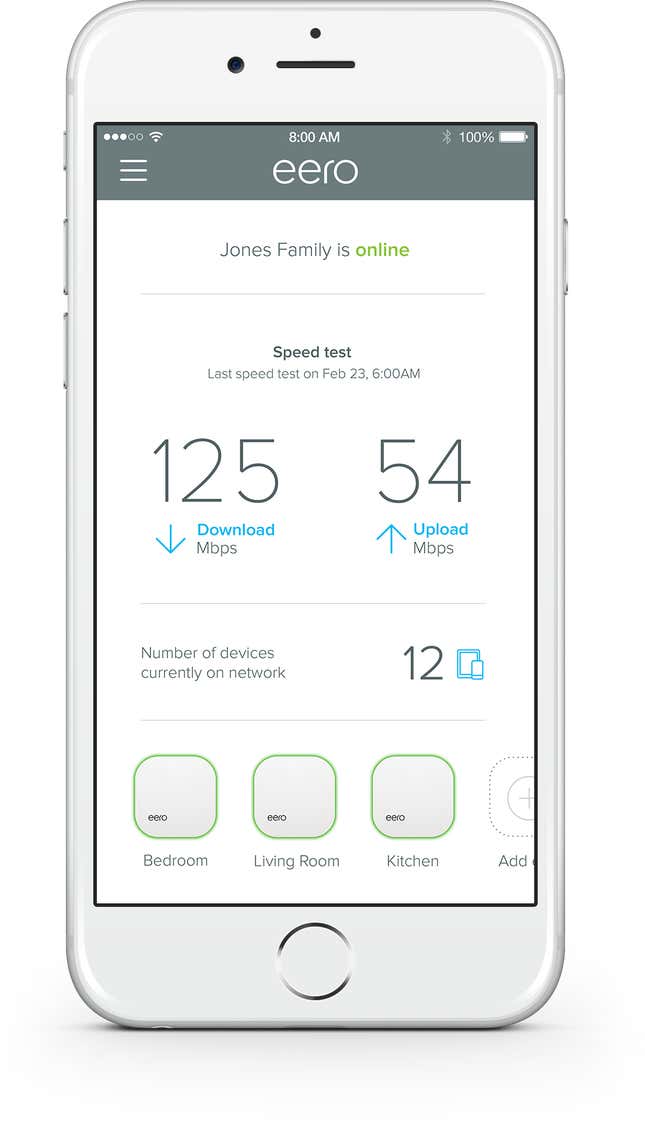 Eero's app also makes it simple to manage your the Wi-Fi network once it's up and running. Unlike routers from the cable company, which tend to have you log into some website that looks like it was designed for Windows 98 to manage passwords and see who's connected to the network, you can check everything from eero's app.
The app tells you how many devices are connected, and runs constant speed tests so you can see if there's any issues with your internet connection. You can also use the app to easily share your Wi-Fi network with visitors. Instead of reading off a seemingly endless string of numbers and letters to your guest, you can message them right from the app with login details. (It's worth noting, though, that the app sends the information as plain text, so if someone were to intercept your email, they might be able to log into your network.)
The company also claims that you'll never have to put up with the frustrating dance of turning the router off and on again when your connection drops.
The router also looks like something that would be at home in a media cabinet, rather than hidden away under a stairwell, like most routers, thanks to a minimalist design by the same agency behind the look of Google's Nest thermostat, and the Roku 3 streaming device.
The device's only knock, however, is price: A single unit costs $199 on Amazon, and a pack of three (which Weaver says you'll need to cover a larger home with Wi-Fi) costs $499. For reference, Google's answer to simple Wi-Fi, the OnHub, comparably costs between $199-$219, while routers from big box retailers tend to start at about $20, if you can stand the hassle.