Samsung just lowered the price of its virtual-reality headset to $99, helping overcome one of the biggest barriers to the technology.
To date, Samsung has been the only company to manufacture and sell a consumer VR headset. At $200, its last-generation headset, the Gear VR Innovator Edition, already undercut Oculus, Sony, and HTC, which are all due to release their more-expensive VR viewers—all targeted at hard-core gamers—in 2016. But the dramatic price cut announced yesterday (Sept. 24) for its next headset, which ships in November, could speed up virtual reality's adoption.
Of course, Google also has Cardboard—a headset made of cheap components, including its namesake material—that's supposed to introduce the technology to the masses. Like Samsung's Gear VR, the headset holds a smartphone, relying on its display and sensors to create an immersive 360-degree experience. Aside from that, there's very little tech in the viewer itself—which makes clear some of the technology's limitations. For example, latency, a delay that causes a disconnect between the user's movement and the picture rendered, can lead to headaches and nausea.
Samsung teamed up with Oculus, which is owned by Facebook, to overcome some of these issues, integrating an accelerometer, gyroscope, and proximity sensors. And because it's geared toward viewing 360-degree videos—and less on processor-intensive games—it's able to render the experiences relatively smoothly. "The reason we're focusing so much effort and energy—and the reason we're doing mobile and video—is because everybody has a mobile phone and everyone watches video," Matt Apfel, vice president of Samsung Media Solutions Center, tells Quartz. His division is in charge of bringing 360-degree content—another crucial component for wide adoption—to the headset.
But one drawback remains the limited number of phones compatible with Samsung's headset. The latest version still doesn't work across multiple platforms, but it will be compatible with four Samsung smartphones—double the previous model.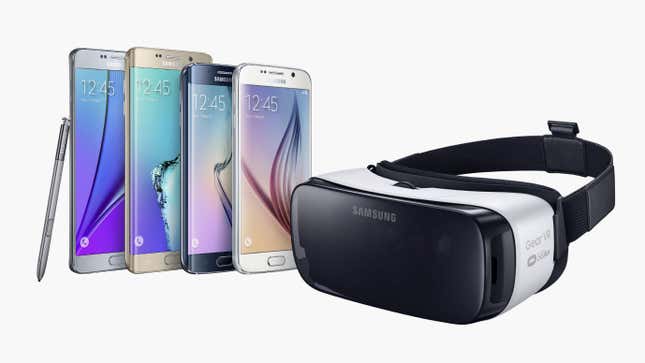 The Gear VR represents a good middle solution for non-hardcore gamers who don't have expensive, powerful desktop computers required for gaming headsets. Still, some, like Andreessen Horowitz's Chris Dixon, believe there's a lot to be desired. "I believe the high end is what you need," he tells Quartz. People "would accuse me of being a VR elitist. I would accuse them of not appreciating finer, fully convincing virtual experiences."
Theres's something to be said about a $99 headset. At that price, the upcoming Gear VR could almost qualify as an impulse buy—for owners of the Galaxy Note 5, Galaxy S6 Edge+, S6, and S6 Edge phones, anyway. Still, it's undeniable smartphones, which Samsung sells more of globally than any other company, will play a major role ushering in the tech. Juniper Research forecasts 30 million shipments and $4 billion in revenue from headset sales by 2020.
"I think these low-barrier, entry technologies are very important," says Adam Levin, who helped found the Virtual Reality Foundation. "Certainly there is a divide between what you can do with a computer-based experience and cell phone-based experience, but the availability of cell phones as a way into virtual reality is very important."