In March, at Barnes & Noble's Union Square New York location there was a shelf just 50 ft. from the Fiction & Literature section marked "LGBT and Queer Identity." It's where you'd find Amanda Lepore's memoir, Doll Parts, Laura Jane Grace's Tranny, Audre Lorde's Sister Outsider, and interviews with Harvey Milk.
There was also a sprinkling of fiction: lesbian romance novels like Love on Call, by Radclyffe; Beijing Comrades, by Bei Tong, a novel published anonymously online in China; and Coils, by Barbara Ann Wright, a lesbian fantasy that draws on Greek myths. But as of May, you'll find most of those books in a section called "Cultural Studies," alongside a shelf with books on feminism. At this Manhattan location, Barnes & Noble's LGBT and Queer Identity shelf is officially no more.
The LGBT bookshelf, a place tucked away in the odd corner of a bookstore or library, might seem like a relic. It might seem, even, like a dangerous practice that makes it easier to hide queer and trans stories, one that could lead to censorship. But a place for these books has existed in the US in various forms over the last half a century—often as a space of refuge and connection for marginalized voices and the people who seek them.
It's a quandary: As US society has become more open, and LGBT people and relationships have become more visible and gained legal enfranchisement, physical corners like bookstores—places where people didn't go just to hide, but to connect and build community—have closed up.
New lights
At the end of the 1950s, the Supreme Court ruled that gay magazines were protected by free speech; 10 years later, the Stonewall riots, which set in motion the US gay rights movement, broke out. During these decades, an underground gay and lesbian book scene flourished, which paved the way for the arrival LGBT bookstores in America. First, in 1969, Manhattan's Oscar Wilde Bookshop opened, followed by Giovanni's Room in Philadelphia, Washington DC's Lambda Rising, and San Francisco's A Different Light. These stores responded to a growing need for community spaces for queer people that were at once liberating and edifying.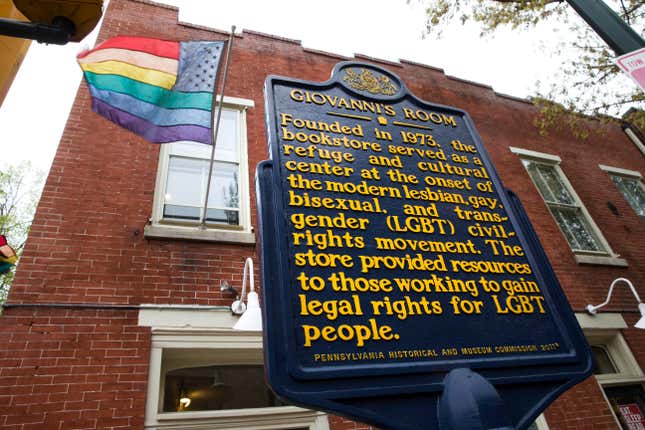 "There weren't many gay books then, but there were lots of gay people looking for a place to go," said NPR's Zoe Chase when Oscar Wilde closed in 2009.
"In the LGBT community specifically, pre-internet, we had no way of finding each other, and we were spread all around," says Thomas Page McBee, author of the upcoming Amateur, and a former Quartz editor, "And books were one way to sort of feel affirmed and feel like we existed."
By the 1980s, the AIDS epidemic was sweeping the US, and it was no longer possible for gay American life to remain a secret. "AIDS transformed everything," says Sarah Schulman, a writer and historian of the disease. "[It] gave an enormous visibility: People are dying, and you can't hide that. … AIDS made it impossible to pretend gay people didn't exist."
Going willingly
AIDS forced gay life and culture into the mainstream. And businesses took notice. Niche marketing toward affluent gay consumers had begun after the Stonewall riots, but in the 1990s, corporate America went all in on targeting this demographic, especially men. Luxury alcohol brands, credit cards, IKEA furniture, phone plans—and books. "That's when corporate publishers started to hire gay publicists to sell gay books in gay bookstores to gay readers," says Schulman.
Barnes & Noble was among the mainstream bookstores that began to include a section specifically for LGBT books.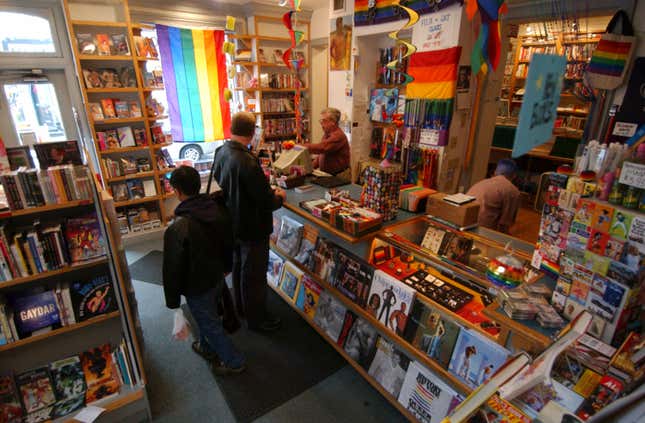 The niche gets wide
In the last 15 years, however, we've seen this space transformed yet again. In the first decade of the 21st century, one by one the big LBGT bookstores closed as they struggled to weather the storm of chain bookstores, online retail, and the financial crisis. Soon, LGBT publishers also followed: Stonewall Inn, a gay imprint of St. Martin's Press, closed in 2002. And one more challenge arose: Gay fiction was going mainstream.
The increasing visibility of gay and lesbian relationships, and later, transgender stories, across mainstream pop culture has challenged the idea of what Americans are willing to consume. The success of shows like Will and Grace, and books and films like The Hours and Brokeback Mountain, made a case that the majority of book buyers—that is, cisgender, straight, white women—would read books about people beyond their demographic.
And that has allowed a greater diversity of characters within all fiction. "In the early 2000s, if a book had a queer character, it tended to be the story told about that book," writes David Levithan, Scholastic editorial director and author of Boy Meets Boy, by email. "Now it's not really a story unless we want it to be—readers expect queer characters in representative YA because that's the way life is. Fiction reflects that."
The proliferation of LGBT stories in the mainstream hasn't affected the L, G, B, and T identities equally. It's been mostly cisgender, white, and male stories. And Schulman believes that stories by other queer and gender non-conforming folks have become collateral damage, as indie outlets for gay stories dry up.
"Just like everything else, politically, certain stories are told first, or are deemed more accessible, more palatable," says McBee. "It's that demographic thing, that the closer something is to the dominant demographic, the more understandable it is. [But] in my experience that's not actually true."
Future facetime
There isn't great historical data on LGBT bookstores in the US, perhaps in part because these spaces were once, by design, underground. But since their peak in the 1990s, with around 40 stores, according to Spectrum South, the numbers have fallen. Of the 13 LGBT bookstores listed on the Lambda Literary site, two have closed since the site was last updated in Feb. 2010. Of the early pioneering shops, Oscar Wilde Bookshop closed in 2009, followed the same year by Lambda Rising, and, soon after, by San Francisco's A Different Light.
Giovanni's Room in Philadelphia, which opened at its longtime location in 1973, was set to close in 2014, but came under new ownership and reopened as Philly AIDS Thrift @ Giovanni's Room. The only one left in New York City is the Bureau of General Services: Queer Division, which opened in 2012 and relocated to a space inside the Lesbian, Gay, Bisexual & Transgender Community Center in 2014.
"There's always this debate when you have a space for a specific group of people, but generally if there's not a need, there's not a need," says cofounder Greg Newton, "But there clearly is one."
Like many US indie bookstores, these shops have to be more than just places to buy books, a service which Amazon already efficiently provides. So the Bureau also acts as an art gallery, holds events, and sells hard-to-find zines. And it's set inside a well-known community center. "It's about providing books, but mainly about providing a space where queer people can gather," says Newton. "They know: the space is for me. It's not a little section on a shelf."
"The store is a retail space but it also functions as a community center, an alternative to the bars," says Giovanni's Room manager Alan Chelak, "Because not everyone drinks; not everyone's old enough to drink."
Indeed, it may be a loss especially for younger queer and trans people. Online book listicles are written once a year or aren't kept up to date, and for LGBT books in particular, Amazon's algorithm is lacking; so good reading recommendations for young people can be hard to come by.
Says Tim Murphy, author of Christodora, a novel about how the AIDS epidemic cuts through a New York family over 40 years, "I'm still very much a fan of the LGBT bookstore." "It reminds me of a time—we were in a ghetto, and we needed 'safe spaces,'" says Murphy. "They were wonderful little literary ghettos!"
This story is part of our series on Global Pride.