The attack on the Westgate shopping mall in Nairobi has officially left at least 59 dead. (The Red Cross estimates that some 200 are injured and 49 more are missing.) And the fighting isn't quite over. Despite officials having claimed the situation was under control yesterday, the latest update is that Israeli forces joined the fighting this morning to root out the attackers. (The mall is part Israeli-owned and popular with Israeli expats and tourists.)
A Somali Islamic militant group, al-Shabaab, has claimed responsibility for the attack, calling it retaliation for Kenya's military's intervention in southern Somalia. While known to the cognoscenti who follow al-Qaeda and its global network of strategic partners, al-Shabaab might not ring a bell for most casual readers. Here's what you need to know.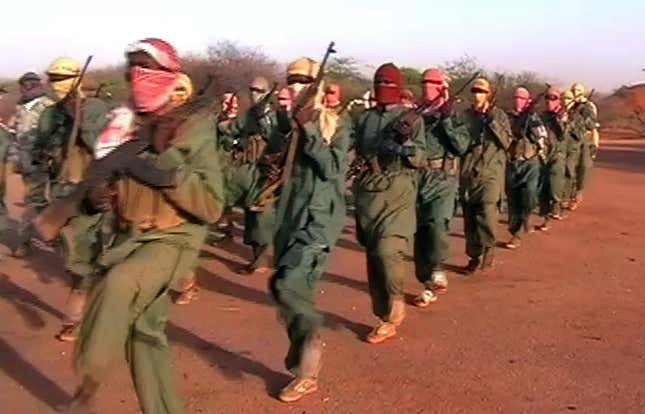 2003—Al-Shabaab emerges as a militant youth wing (shabaab means "youth" in Arabic) of al-Ittihad al-Islami, one of the many Somali extremist groups that formed in the 1980s and 1990s. Al-Shabaab remains relatively inactive and doesn't control any territory in Somalia until 2007-08.

2006—Ethiopia invades Somalia, removing an Islamic group known as the Islamic Courts Union from Mogadishu, the Somali capital, where it had established a modicum of central authority in June of that year. Al-Shabaab—which had served as a military wing of the courts union—begins to rise in prominence as a member of the resistance to Ethiopian invasion.

2007—Al-Shabaab's influence grows thanks in part to material assistance from the government of Eritrea, which uses the group as a proxy against its longtime enemy Ethiopia. The group retreats to the swampy south of Somalia conducting a largely conventional guerrilla campaign that bogs down the advance of Ethiopian forces.
2008—Driven, in part, by an increasing association with al-Qaeda, al-Shabaab signals a new approach to fighting with a coordinated series of suicide attacks hitting government offices, UN agencies and the Ethiopian consulate. The US State Department identifies al-Shabaab as a foreign terrorist organization in February.

2009—Ethiopia pulls back from the Somali capital. Its forces are replaced by an influx of Ugandan and Burundian soldiers serving as part of the African Union's peacekeeping mission, which is largely confined to Mogadishu.

2010—Multiple suicide bombers attack at a rugby club and Ethiopian restaurant in Kampala, Uganda. The death toll rises to 76 people. Al-Shabaab takes responsibility. It's al-Shabaab's first transnational attack, suggesting the group can add to regional destabilization.

2011—Kenya commences military operations in southern Somalia, accusing al-Shabaab of a series of attacks in southern Kenya. Its forces easily push back al-Shabaab fighters.
2012—Kenyan forces dislodge al-Shabaab forces from the strategically important port city of Kismayo, one of the group's few remaining strongholds and a key source of revenue.
In claiming responsibility for yesterday's horrific attack at Westgate, al-Shabaab called it retaliation for Kenya's 2011 incursion into Somalia. For more on the history and development of al-Shabaab check out this report from the Center for Strategic and International Studies, which we relied on heavily for this article.