At Sunday night's Emmys ceremony, audiences endured stilted skits, predictable musical tributes, twerking jokes and disco-inspired dance numbers to catch a glimpse of stars like Claire Danes, Matt Damon and Michael Douglas.
But thousands of miles away, Hollywood A-list stars including Leonardo DiCaprio, Ewan McGregor, Nicole Kidman, and John Travolta were playing to another crowd, walking a red carpet for throngs of Chinese fans at a party for property developer Wang Jianlin's newest venture, a massive movie studio/amusement park complex called the "Oriental Movie Metropolis."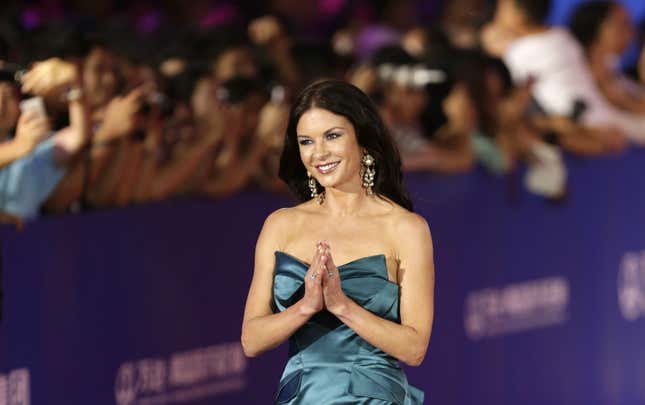 The $8 billion-plus development, in the coastal city of Qingdao, will have seven hotels, a 300-berth yacht club and an underwater studio, Wang said. It's a "major step in China's strategy to become a global cultural powerhouse," Wang told reporters. By 2018, China will have the "biggest film business in the world," he said.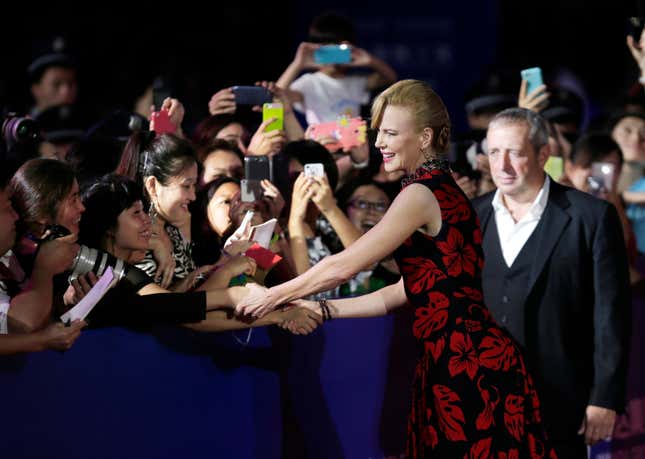 Other attendees Sunday night included Chinese actress Jing Tian, Kate Beckinsale, Nicole Kidman, and Ewan McGregor, who dubbed it a "very exciting project," and said he hoped to be back in the near future to make movies. Here's McGregor's red carpet walk, with subtitles:
That both the Emmys and the Oriental Movie Metropolis happened on Sunday night (albeit about a half-day apart because of time zones) was a coincidence, but the growing influence that China has on the American entertainment business is no fluke. Movies like Pacific Rim were shot with Chinese audiences in mind and studios including Pacific Rim producer Legendary Entertainment and James Cameron's Cameron Pace Group have set up partnerships in China.
Wang, China's richest man according to the most recent list of billionaires, bought North American cinema chain AMC Entertainment last year, and this month donated $20 million to Hollywood's Motion Picture Academy, which will name a new film library for his company Dalian Wanda Group.
One notable outlier to this Hollywood-China love-in, though, is a major Hollywood player.  News Corps' 21st Century Fox has been in China for decades, but the company has been selling off investments and shedding stakes in local companies there, including in Star China and Phoenix Satellite Television.
After former president Jiang Zemin retired, "it became harder to do business there," James Murdoch, the deputy chief operating officer of 21st Century Fox and son of Rupert Murdoch, said during an interview this summer. The younger Murdoch cited the country's "timid approach to investment and to liberalization" as the reasons for getting out.
That timid approach was hard to see in Qingdao this weekend.