Frisco, Texas
Drive.ai wants to be noticed. Unlike companies that have designed driverless cars to look a lot like regular ones, Drive.ai's autonomous vans are a deep tangerine with the words "self-driving vehicle" splashed across each side.
"It's intended to be visually distinct," Drive.ai co-founder and CEO Sameep Tandon said. (Before Drive.ai settled on orange, highlighter yellow was also a top contender.) "If you think of a school bus, you know when you're around a school bus, it's a really bad idea to say, harass it, or to do aggressive maneuvers around it," he said. "The first thing we want to do is make it very, very visibly distinct, so that your expectations around the vehicle also click."
Those vans will soon become the first driverless vehicles to pick up passengers in the state of Texas. In July, Drive.ai, a Mountain View, California-based startup, plans to launch a six-month pilot program in Frisco, a small city in the Dallas-Fort Worth metro area.
The Frisco pilot will use the Nissan NV200, the same boxy van that roams New York City streets as a yellow taxi. Drive.ai is starting small with just four vehicles that will operate during weekday daylight hours, serving an office park complex where about 10,000 people work. Much like hailing an Uber, riders will summon one of Drive.ai's vehicles using an app they install on their phones. For now, rides are free.
Drive.ai was founded in late 2015 by a group of deep-learning experts at Stanford University. It develops technology that can be used to modify various vehicles into autonomous vehicles; the small fleet the company is testing in California includes three Lincoln MKZs, an Audi A4, and three Nissan NV200s. Drive.ai has raised about $77 million, most recently adding $15 million from investors including Grab, the largest ride-hailing firm in Southeast Asia, in September 2017. Andrew Ng, an artificial intelligence guru, sits on Drive.ai's board.
One of the trickiest challenges for driverless car companies is teaching vehicles to navigate human behavior. People are generally unpredictable and bad at following rules. In many incidents involving self-driving cars so far, a human driver was ultimately found to be at fault, such as a crash last week in Arizona where a human-driven Honda sedan ran a red light and swerved into the oncoming lane, hitting a car operated by Waymo, Alphabet's self-driving car unit.
From day one, Drive.ai has positioned itself as the driverless car company that thinks most about these human-technology interactions. Drive.ai co-founder Carol Reiley, who is married to Ng, has said self-driving cars are the "first social robot most people are going to interact with." The vans rolling out in Frisco have LED screens on each side that can display short messages to other drivers and pedestrians, such as "waiting for you to cross."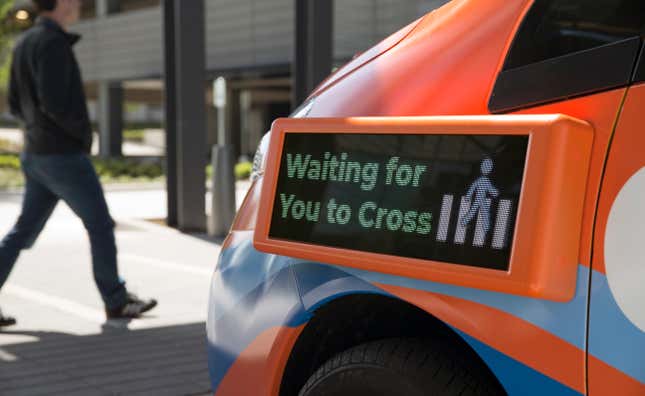 Drive.ai only operates on roads with speed limits of less than 45 mph, but says these can be some of the toughest conditions. The office complex where the pilot program will take place is a mix of parking lots, small roads, and wide intersections. On a short trip through it this afternoon, the van repeatedly slowed to a crawl when approached by other vehicles (a bright yellow delivery truck, a black GMC truck), but never needed the designated safety driver to take control. "Parking lots have notoriously bad human behavior," said Vineet Jain, Drive.ai's head of North America deployment, who chaperoned the ride along with the safety driver and remote "teleoperator." "I personally cut through parking lots all the time, I jaywalk, all of those things."
The race toward autonomous cars is intense, with high stakes. Both technology companies and automakers believe fully self-driving vehicles will eventually replace the cars we operate today—the only question is when. At one end of the spectrum is Elon Musk, who claimed a Tesla would drive in fully autonomous mode from Los Angeles to New York by the end of 2017 (it didn't). Other companies are targeting between 2020 and 2030 to deploy cars that can operate without human intervention.
To date, Waymo is the clear leader. Its self-driving vehicles have driven more than 5 million miles on public roads since 2009 in 25 US cities. In 2017, Waymo reported 63 "disengagements" in California that required a person to assume control of a vehicle, or one for every 350,000 miles driven on public roads. Waymo has been testing a ride-hailing program with autonomous vehicles near Phoenix, Arizona, since April 2017 and plans to launch a commercial version of the service sometime this year.
Uber has poured resources into it own autonomous program, which co-founder and former CEO Travis Kalanick saw as "existential" to the company's survival, but has faced a bumpy road. Uber has frayed relations with local officials in Pittsburgh, the original site of its self-driving efforts. It botched a rollout in San Francisco in December 2016 and this past March suspended all driverless car testing after one of its cars struck and killed a woman in Tempe, Arizona, while in autonomous mode. (Uber said those programs remain suspended.)
Driverless cars are widely believed to be the silver bullet that will make ride-hailing profitable by eliminating the main cost: wages paid to human drivers. In the fourth quarter of 2017, Uber paid about $8 billion to drivers in earnings and bonuses, or about 72% of its gross revenue for the quarter. Uber lost $4.5 billion last year on $37 billion in gross revenue.