The declining number of public companies in the US is worrying as well as confusing. As the number of initial public offerings dwindles, the ranks of listed companies has fallen to almost half what it was at its peak in 1996. Paradoxically, the number of US equity funds has surged ahead during this time, nearly matching the number of listed stocks in the country, according to Callum Thomas, head of research at Topdown Charts.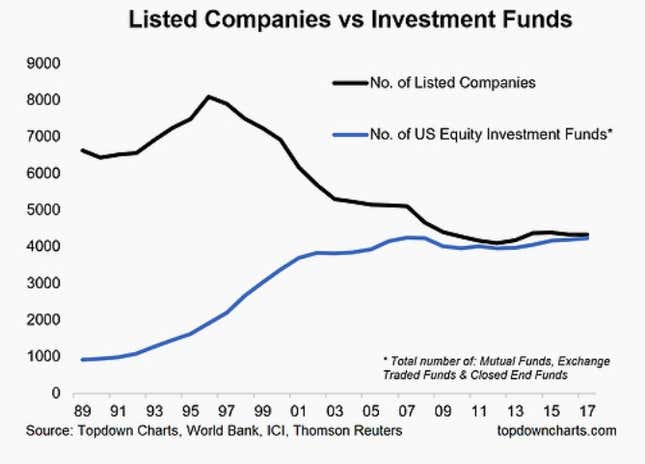 The number of US listed companies dropped to 4,336 at the end of last year, compared with the peak of 8,090. US equity investment funds (including exchange-traded funds and mutual funds), meanwhile, multiplied rapidly in 1990s and the number has been relatively stable at 4,234 as of last year.
The declining number of IPOs—and by extension, listed companies—is worrying for a number of reasons. The size and depth of US capital markets underpin the financial industry, providing a source of funding for companies to grow and create jobs. A smaller public market raises questions about the health of the overall economy, as well as the regulatory and legal climate for starting new companies. And as entrepreneurs raise more capital privately, it's becoming more difficult for regular (not rich) people to invest in the most innovative, promising companies, potentially exacerbating wealth disparities.
The rise in passive investing is another factor to consider. Many individual retail investors have realized—wisely—that it's difficult to pick the right stock directly (or the right money manager who can pick the right stock) and are instead pouring money into broad-based, low-cost index funds. As a result, the number of indexes has soared—globally there about 3.3 million of them, some 70 times more than the number of publicly listed companies, according to the Index Industry Association.
ETFs are increasingly the default way that ordinary investors access the stock market, with a handful of the most popular funds accounting for the bulk of investment inflows. There are unanswered questions (pdf), however, about how this might influence the capital-raising options for growing companies.
While there are many factors at work, Thomas suggests that investors' preference for funds instead of individual stocks could be a reason for the decline in listed companies. This "crowding-out effect" could make it harder for companies to raise capital from retail markets in the future, he said.