Half a century ago, China launched its first satellite, the very first object to be sent into space by the Communist party-ruled country. Now, satellites have become a central part in China's ambitious globe-spanning infrastructure push.
The Belt-and-Road Initiative (BRI), a pet project of China's leader Xi Jinping, aims to build trillions of dollars of infrastructure from Asia to Africa to Europe, and along sea routes too. Involving roughly 70 countries so far, it entails massive spending (and lending) by China on railroads, ports and energy projects, highways—and, increasingly, satellite launches. 
China has been exporting satellites for over a decade, but it's become easier to think of them as "infrastructure" in recent years as capabilities increased without costs going up, according to Blaine Curcio, founder of Orbital Gateway Consulting, a Hong Kong-based satellite market research firm. Apart from providing critical time-keeping and weather forecasts, satellite internet service has become much more viable.

"A single satellite before might have been able to connect, for example, tens of thousands of broadband subscribers, it is now in the high hundreds of thousands or single-digit millions," Curcio told Quartz. China could soon be trying to sell a satellite as part of a package deal to address a specific problem, for example, throwing in related equipment and services to help bring 50,000 schools online within a period of time, he said.
Unlike other infrastructure projects, though, this extra-terrestrial side of BRI advertises China's growing high-tech prowess. Yet the country's increasing influence in the use of space technology globally could also become a security concern for countries like the US.
BRI is a great business slogan
Many Chinese space companies, both state-run and private, are starting to brand their satellite launches and related investments as Belt-and-Road projects, helping to sell made-in-China satellites to countries that are already seeing other spending from the initiative.
"Exporting things that are hundreds of millions of dollars each, and that involve employing highly skilled engineers, is something that China is pretty unequivocally in favor of," said Curcio. 
Early this year, the state-owned satellite manufacturer China Great Wall Industry (CGWIC) struck a deal to allow Nigeria to procure two of its communication satellites, with financing provided by China in exchange for an equity stake. Nigeria separately has at least $25 billion in new infrastructure projects funded by China underway since BRI was announced in 2013. CGWIC has also launched communication satellites for other BRI countries such as Laos and Pakistan (link in Chinese), according to its website.
In May, CGWIC helped launch a satellite for the Hong Kong-based operator APT Satellite to provide telecommunication and broadcast services for BRI countries (link in Chinese), such as Mongolia and Myanmar. APT Satellite, which owns two made-in-China satellites, said it had found many "synergies" between its business and the infrastructure mission, according to its marketing director, Power Pan. Belt-and-Road construction projects are helping the company to grow its satellite business, said Pan. For instance, APT's satellites are helping a Chinese state-owned company building railways in Laos and Thailand to set up communications with its China headquarters, Pan said. 
In late 2016, China's top policy planner and its defense technology development agency jointly laid out how the country sees the space component of its infrastructure push. China said it wants  (link in Chinese) to use satellites built for communication, navigation, and remote-sensing to build a "Belt-and-Road spatial information corridor." The state-directed plan aims to promote the Beidou satellite network, Beijing's answer to the US Global Positioning System, and encourage exports of mobiles supporting the Beidou system. (Smartphones from major Chinese mobile exporters to India like Huawei and Xiaomi support the system.) The Beidou system already covers 30 countries (link in Chinese) including Lao and Myanmar as of 2017.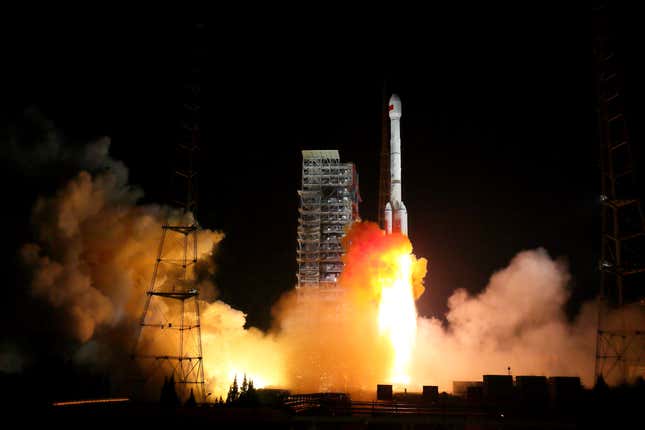 Private firms are also seeking opportunity through BRI. More than 60 Chinese private firms have entered China's space business since 2015, when the government began encouraging private capital in the heavily state-controlled sector, among them the Shenzhen-listed hardware maker Tatwah Smartech.

Tatwah is betting big on telecommunication services through its recent acquisition of satellite operators. The company brands its satellite business as services for BRI (link in Chinese). "Because BRI is bringing facilities and infrastructure to the countries, people generally hold a nice attitude when you brand yourself with BRI," Wang Zhongmin, satellite business director for Tatwah.
The firm acquired two companies in Asia, including Sri Lanka's only satellite operator early this year, and a Malaysian satellite company in 2017, when Tatwah also bought orbital slots (link in Chinese), the parking spot for satellites. In total, the company spent some $100 million on these investments, according to Wang. Tatwah hopes to develop telecommunication services and even payment services in these countries, and may finally launch a satellite—thought he didn't say when.
Political clout and mounting debt
Earlier, countries like South Korea were helping to train engineers in developing countries to build satellites. Russia and the US have also helped launch satellites in South Africa, but the scale envisioned by China's space Belt-and-Road plan is different. As China increasingly offers these services to foreign countries, it could also increase its political influence, notes Curcio.
"If satellites indeed end up becoming a bigger part of telecoms infrastructure due to better economies of scale… this could represent a way for China to gain significant political clout in these regions, by effectively controlling one of the means through which they access the internet," Curcio said. The intermediate-term benefit is to have foreign governments rely on China for internet infrastructure, he said, while, potentially, China could also have a backdoor into the internet systems of countries using these satellites.
The development of China's Beidou satellite project, while providing navigation and communication services for BRI countries, could have implications in the national security realm as the country improves its tracking capabilities and weapons with the system.
For countries using China's technologies, satellites could also become another route to mounting debt—China frequently offers cheap infrastructure loans to smaller economies that then have trouble repaying. In Nigeria's case, it procured two satellites worth $550 million from CGWIC—which helped pay for the satellites and took an equity stake in return. Some have noted the size of the stake CGWIC obtained is unclear. Neither CGWIC nor Nigeria's Nigcomsat replied to Quartz's queries.
The risks are mutual. The political implications some countries see behind the business slogan could become an obstacle for Chinese companies in their overseas expansions. In Tatwah's case, it failed to acquire an Asia-based international telecom operator that uses American satellites because of the US's International Traffic in Arms Regulation, which controls and restricts the export of defense technologies, according to Wang, noting that Tatwah is a completely private company without any state capital.
Finally, of course, there's the issue of whether—and when—these investments can generate profits for Chinese firms, considering the large sums required to build, launch, and operate a satellite.