When Uralkali, the largest producer of the fertilizer known as "potash," pulled out of one of the world's most powerful cartels in July, some likened the fallout to what would happen to oil prices if Saudi Arabia ditched OPEC. And, sure enough, the move caused both Uralkali's share prices and the potash market to crash. Anticipating that the cartels would lose pricing power, potash investors stopped buying, which led to plummeting prices.
Another potash crash may be on its way. China Investment Corporation, one of China's sovereign wealth funds (SWFs), bought 12.5% of Uralkali, making CIC the second-largest shareholder after Suleiman Kerimov, a Russian oligarch (he's got 22%).
It's probably no coincidence that the sovereign wealth fund buying into the world's biggest potash producer happens to hail from the country that consumes 16% of the world's potash (more than any other country). Ownership in large potash producers gives China a leg up in reducing its dependence on imports and controlling potash prices, says Elena Sakhnova of VTB Capital. Fertilizer is integral to Chinese government's agricultural security policies. And CIC answers to China's State Council, via its finance ministry.
"This is a first step towards acquiring a block and then even a control in Uralkali," Sakhnova tells Quartz. "They can now also nominate one director to [Uralkali's board of directors], i.e. [CIC] will get an access to important pricing information."
Sakhnova says CIC's lending to Uralkali has nothing to do with the Russian potash-maker's split-up with Belaruskali, its cartel partner. That would make sense; unlike its Belarusian counterpart, Uralkali, which was losing market share from being in the cartel, has made it clear that it wanted to sell more potash, more cheaply. The company aims to supply 50% or more of China's potash (link in Chinese), compared with its current share of around 24%. Accordingly, it also plans to up its potash sales to 13 million tonnes (14.3 tons) in 2014 as a result, compared with 10.5 million tonnes in 2013.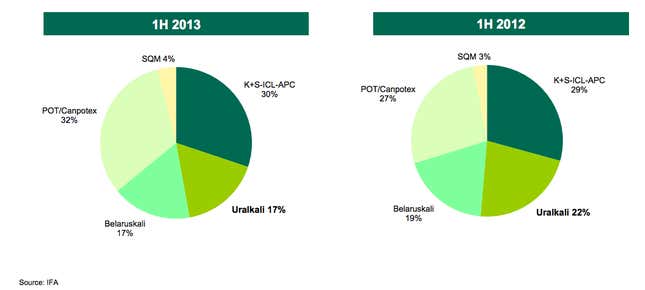 For global potash consumers, the upshot is that the cheap potash era is likely here to stay. After the investment, "power [is] firmly with China," says Danila Yakub of UBS. "We see CIC entering the share capital of Uralkali as proof that more power is shifting to buyers of potash."
Even if Uralkali patches things up with Belaruskali, "potash buyers are not buying until China (or India) signs the contract," which is negotiated on an annual or semi-annual basis, says Yakub. That means prices could fall still further.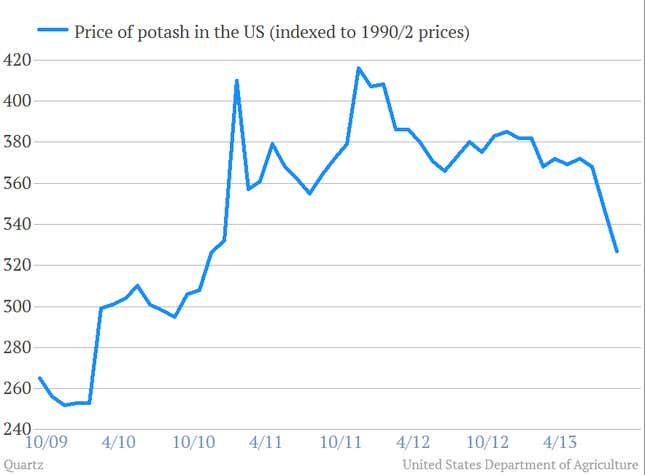 CIC's investment, worth an estimated $2 billion at Uralkali's current stock price, entailed converting its bonds bought in November 2012 to equity (the bonds were due in 2014). The move follows CIC's investments in Russia's Polyus Gold in 2012 Moscow's stock exchange IPO this year. Although the Uralkali investment is probably more motivated by national strategy, it will still likely be profitable for CIC, says UBS's Sakhnova. "I think they were trying to get a stake as cheap as possible and given how the situation has developed, they have succeeded in it," she says.