Last week, US clothing retailer Gap apologized for printing a t-shirt that didn't include China's claimed territories, including Taiwan, South Tibet, and islands in the South China Sea. In doing so, it joined Marriott and Delta, which had previously triggered Beijing's ire for maps-related issues. At the same time, a group of Chinese tourists to Vietnam generated outrage by showing up at a Vietnamese airport wearing t-shirts with a Chinese map including parts of Vietnam.
Maps are complicated in the current geopolitical climate—especially emblazoned across your torso. What is perfectly acceptable in Vietnam can get you stopped at Chinese border control, and vice versa.
Even the United Nations's world map openly states that the represented borders aren't necessarily officially recognized (the map specifically calls out Kashmir and the Falkland Islands as disputed territories.) It also notes that although Taiwan was a UN founding member, it left the organization in 1971, and the UN recognizes China's sovereignty over it.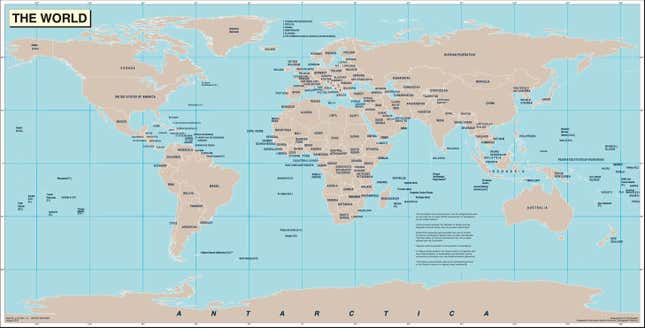 But what if you just really want to wear a map of the South China Sea?
We have a solution for you. Behold Quartz's special-edition, border dispute-proof t-shirt concept: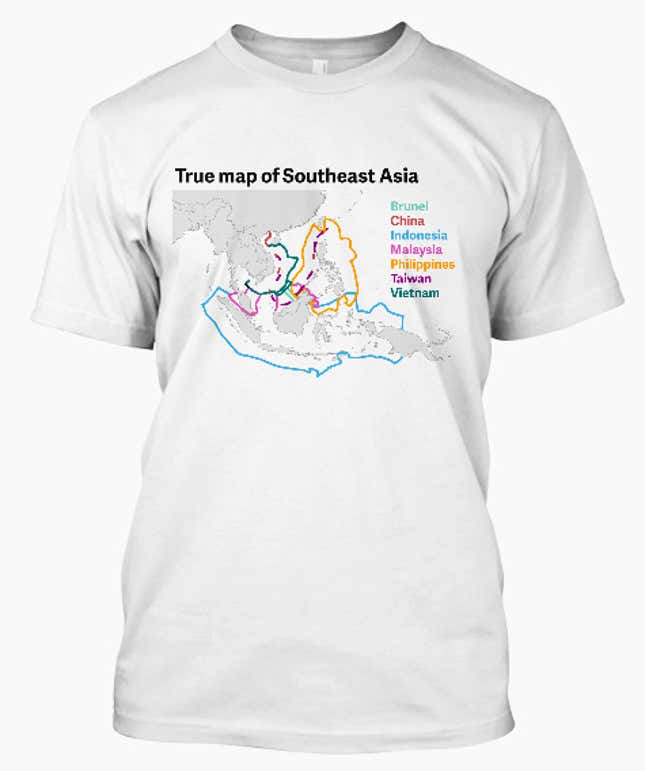 Here's a close-up of that map: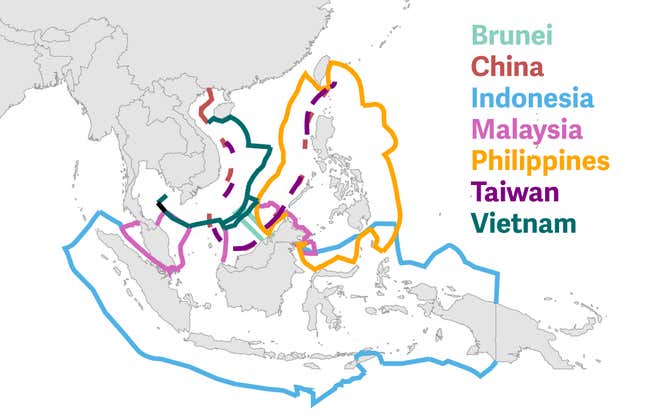 In any country with territorial disputes in the South China Sea, you can feel comfortable and subversive in this slick map shirt. You will be wearing the nine-dash line, China's claim to most of the sea based on a sweeping sketch made by a random Chinese bureaucrat in 1947. But you will also boldly display the parts of that nine-dash area that the Philippines and Vietnam say belong to them.
The shirt even includes Taiwan's slight variation on the nine-dash line, the "U-shaped line." Not to be forgotten are the Exclusive Economic Zones of Indonesia, Malaysia, and Brunei, all of which cut into other countries' claims.
Will these countries like seeing you wear it? Probably not. But they can't say you aren't showing exactly what they claim to own.