If there's been one clear beneficiary of the housing crisis, it's landlords. With people losing or unable to purchase homes, the rental market has been flooded with demand. And though the housing market has improved a lot since 2008, the amount of money the typical American household pays in rent is at an all-time high ($735, see chart below).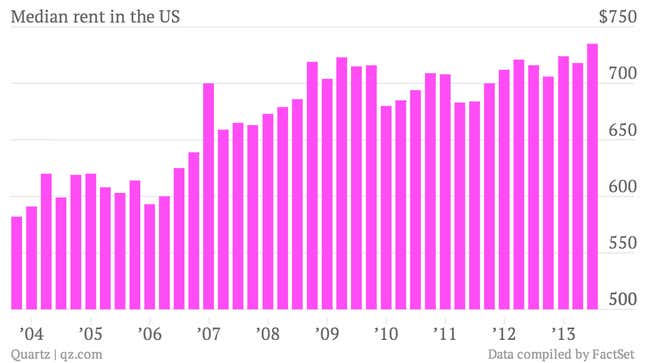 But the high rents aren't enough to satisfy some private equity and asset management firms who have invested in the trend. Private equity shops and massive developers made headlines for vacuuming up cheap homes during the financial crisis to convert them into rentals. But the slowly recovering housing market has led some of those investors to reconsider the moves, even amid signs that the home-buying market may be cooling off somewhat.
Today, Reuters reported that Oaktree Capital is looking to exit that play and sell some 500 homes it has leased to families.
David Yearley, the CEO of Toll Brothers, says his firm has spent $250 million investing in multi-family buildings between Boston and Washington, DC that could be rented out. But he referred to these investments solely as "a hedge" against a US housing market he thinks is on the up.
"We ask our exiting renters why they're leaving if they're not renewing their lease, and right now an overwhelming number are leaving to buy a house," Richard LeFrak, chief executive of mega-property manager the LeFrak Organization, told attendees of the Bloomberg Markets 50 conference yesterday.
Still, other players, like private equity giant Blackstone, have continued to gobble up rental properties. Last month, it bought $2.7 billion multifamily homes around Atlanta, GA from GE Capital, the financial services arm of General Electric.
The number of renters in the market has continued to climb. But if it starts to level off, the era of big-box landlords may soon be a thing of the past.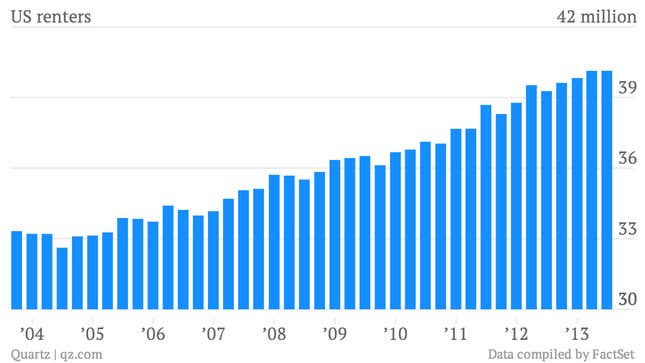 ​