US housing price gains show signs of cooling off. And that's basically a good thing. After all, it's not like we want a repeat of the boom-and-bust cycle that has characterized the US economy for the last 30 years, right?
Anyway, the closely watched Case-Shiller 20-city home price index is holding onto the gains it's made over the last year. But the pace of price increases is slowing down. The index was up 12.4% in July versus the same month last year.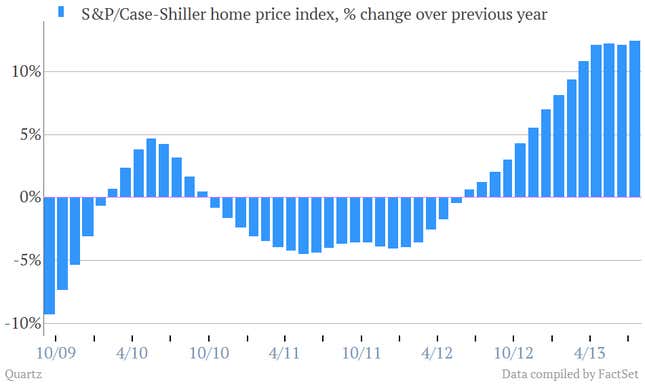 Likewise, another good gauge of house price fluctuations—also released this morning—is the Federal Housing Finance Agency's house price index, which tracks repeat sales prices on single-family homes using data filed with the US housing agencies Freddie Mac and Fannie Mae. And this number also shows the housing gains of the last couple years taking a bit of a breather.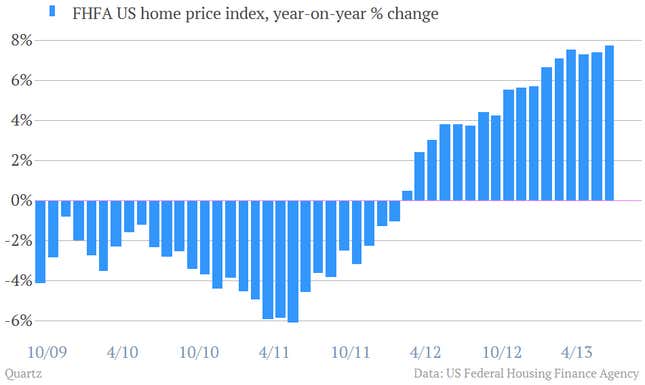 And the recovery of US housing has translated into gains for the real economy. Just check out the rosy results for US homebuilder Lennar Corp. this morning, where revenues rose a better-than-expected 46%.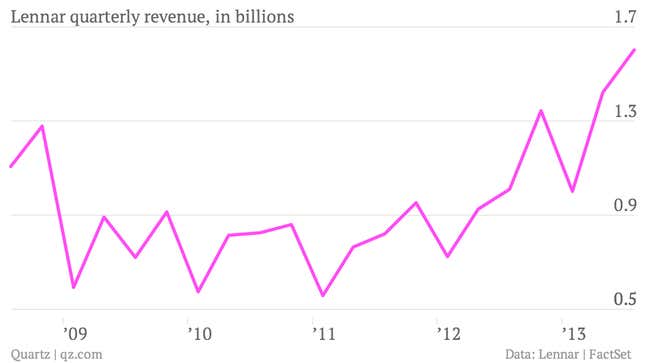 As we mentioned earlier today, all of the sudden the US Federal Reserve seems worried that the recent rise in mortgage rates—which Fed chairman Ben Bernanke set off himself back in May by hinting that the Fed was about start winding down its monetary stimulus program—could start to crimp US economic growth. There are signs that it's already happening. On the other hand, house prices can't keep growing at 13% a year forever. So a period of cooling off for US housing might be welcome.