Today, a big wedding happened in the UK. There were lots of big hats.
If you are reading this, you probably didn't watch it. That's fine. Quartz has your back. We've got all the information you need to act like you were closely following the thing all along. You know, in case anyone asks your opinion about it or makes a reference that would otherwise make you feel left out. Here we go:
Who got married?
Great question. The bride: Meghan Markle, an American actress. The groom: Prince Harry, a prince.
What's their deal?
Markle grew up in Hollywood, and has appeared in various television dramas, most notably "Suits," one of those American shows about professionals who are all very beautiful (in this case, lawyers). Prince Harry is, as we said, a prince.
That's it? Just a prince?
As a young man Harry was considered a mad lad for doing things such as smoking weed and dressing up like a Nazi. Since then he has served several years in the military, including deployments to Afghanistan. Harry is the Queen's grandson, and sixth in line to succeed the British throne, which means he will definitely not become king unless he goes medieval.
How did the newlyweds meet?
On a blind date, apparently.
Will there be a made-for-TV movie about this romantic meeting?
There already is.
Give me some notable factoids about the couple.
Markle is only the second American to join the royal family. The last one married King Edward way back in 1937. How's that for a factoid? Also of note is that Markle is biracial—her mother is African-American, and her father is white. It is also notable that this is notable, given the various colors of peoples subsumed into the British Empire over the centuries.
Oh, and yes: She does not become a princess. The couple will be now known as the Duke and Duchess of Sussex.
How do people in the UK feel about living in a monarchy?
Not too bad, it seems. Only 15% of them want to get rid of it, compared to 37% in Spain. That's still higher than the 4% in Japan.
Is it true that Americans care a lot about this wedding, despite having fought a bitter war not too long ago to free themselves from the very family involved?
Oddly, yes! A recent Huffington Post poll found that 28% of Americans were interested in the event, just a smidge less than the 30% figure in the UK.
So why do they care?

The next question might help explain.
Who were some of the "who's who" who attended?
In no particular order:
Oprah
Sir Elton John
Amal Clooney and her actor husband
Serena Williams and her husband
Priyanka Chopra
James Blunt
James Corden
Idris Elba
Victoria and David Beckham
Members of the "Suits" cast
Two of Prince Harry's ex-girlfriends
Who designed the dress?
Clare Waight Keller, the British artistic director of French couture house Givenchy.
What did the dress look like?
This.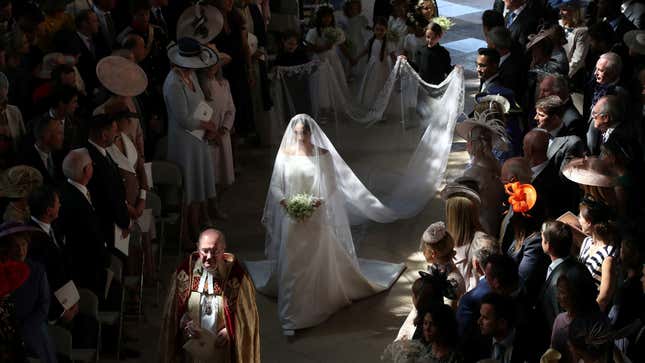 What did Prince Harry wear?
A military uniform.
What is the origin of the word "royal?"
Glad you asked. It is a very old word, coming all the way from Proto-Indo-European, the hypothetical ancient language that ties together everything from Dutch to Hindi. That would help explain the similarity between the words "regal" and "raja," a common word for "king" in Indian languages.
Did you watch the wedding?
Yep… I… sure did.