A painting by Kerry James Marshall was sold last week for $21.1 million, the most ever paid for a work by a living African-American artist.  Marshall's gallerist ended a day of suspense following the sale of "Past Times," by revealing to the New York Times (paywall) that the hip-hop producer and entrepreneur, Sean "Diddy" Combs, was the buyer.
The record-setting purchase highlights the career of Marshall, 63, who has said he was inspired by 16th century Italian Renaissance painter Paolo Veronese and Rembrandt. Marshall is known for his large-scale paintings of figures and portraits, in pitch black, that capture working-class African-American life. He was born in Birmingham, Alabama and grew up in Watts, Los Angeles at a time when the recognition of widespread discrimination against blacks and other minorities was growing, and the civil-rights battle in America was especially pitched.
"You can't be born in Birmingham, Alabama, in 1955 and grow up in South Central [Los Angeles] near the Black Panthers headquarters, and not feel like you've got some kind of social responsibility," he told Art21 in 2008. "You can't move to Watts in 1963 and not speak about it. That determined a lot of where my work was going to go."
Marshall discovered his keenness for art while he was growing up, according to a 2016 New Yorker profile (paywall). He won a placement at a summer drawing course at Otis Art Institute in 1968, which he eventually attended and then graduated from a decade later. His focus on African-American subjects started there. One of his best known works, "A Portrait of the Artist as a Shadow of his Former Self," a painting about an existence that's real but unseen, was inspired by Ralph Ellison's "Invisible Man."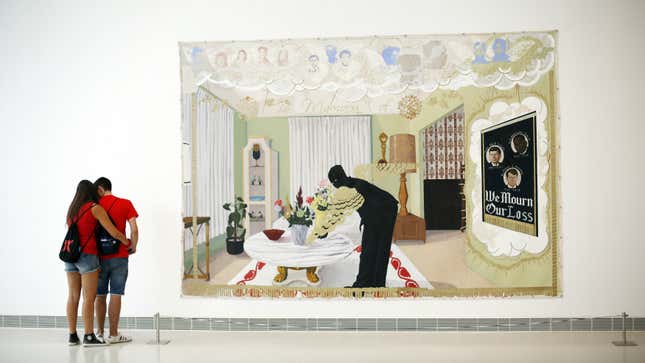 Marshall's acclaim and accolades have grown steadily over the years. He won a MacArthur genius grant in 1997, and his work has been shown at the biggest galleries in the world, from New York's Museum of Modern Art to the Tate Modern in London. Marshall has remarked that he has achieved much of what he hoped to accomplish as an artist.
His career is, of course, much more than a personal success. As Marshall told the Guardian, if people go to major museums like the Louvre and don't see black people, then they will think black people don't belong there: "It reaffirms their idea of what real art is supposed to look like," he said. Marshall's work is helping change that.