In Saudi Arabia, the weather is always warm. That means the air conditioner is always on.
Saudi Arabia uses more than 70% of its electricity on air conditioning and cooling, according to a paper (paywall) published in 2017 by researchers at King Abdulaziz University in the city of Jeddah. And in the summer months, when temperatures regularly exceed 100°F (38°C), electricity use for air conditioning roughly doubles compared to winter use.
Another 20% of Saudi Arabia's electricity is used to desalinate sea water for drinking. About 60% of the water people use in their homes comes from the country's 30 desalination plants (the rest comes from groundwater). Desalinating sea water is an extremely energy-intensive process, making it very expensive, but demand for desalinated water in Saudi Arabia continues to climb at a rate of roughly 14% per year according to the researchers (paywall), who called that upward trend "unsustainable."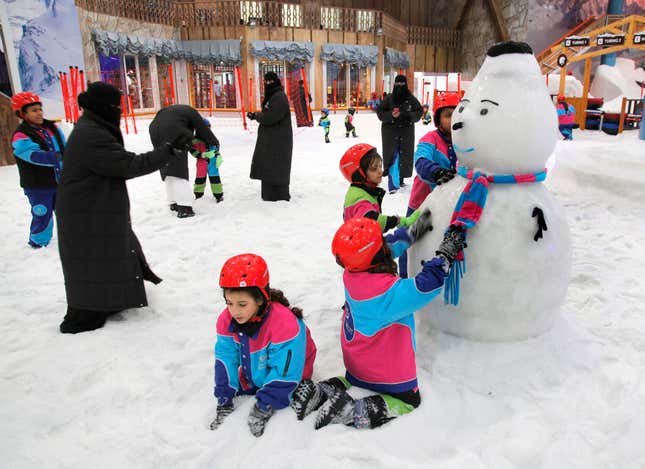 The problem is literally all of Saudi Arabia's electricity is generated by burning fossil fuels, according to the researchers. The country is reportedly plotting a shift towards renewables, particularly solar, since it gets direct sunlight in abundance. But that's still in the future. As of 2017, 100% of its energy came from fossil fuels; 59% from oil and 41% from natural gas.
As average temperatures go up globally and countries continue to develop, global demand for air conditioning is projected to triple by 2050, according to the intergovernmental organization International Energy Agency.