Amazon and Whole Foods are about to shake up the US seltzer market.
Whole Foods is currently offering steep discounts on 12-packs of flavored sparkling water by 365 Everyday Value, its private label, at stores in the San Francisco area. The $3.99, buy-one-get-one-free deal is exclusive for Amazon Prime members who download the Whole Foods app and sign in with their Prime accounts. It's also a clear shot at LaCroix, a popular seltzer brand among American millennials, a 12-pack of which retails for $5.99 at Whole Foods stores in San Francisco.
The deal highlights how Amazon is using Whole Foods, which it bought for $13.7 billion in June 2017, to go after some of the hottest brands in consumer-packaged goods. Whole Foods introduced 365-branded canned sparkling water in September 2017, a month after Amazon closed the acquisition. The drink is available nationally in five flavors—lemon, lime, orange, grapefruit, and "pure"—with a new ginger flavor set to launch this September, a Whole Foods spokesman told Quartz.
"I've got to laugh when they do grapefruit," said Barry Joseph, author of the forthcoming book, Seltzertopia. "LaCroix made grapefruit a standard flavor for seltzer. If someone's putting out seltzers that include grapefruit, they're clearly going after the market that LaCroix developed, even if they don't call it pamplemousse."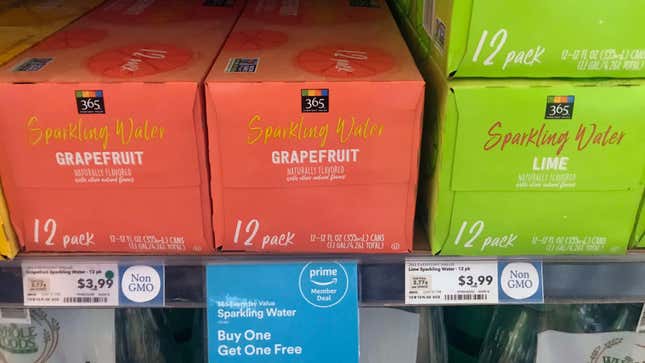 More Americans are drinking seltzer than ever before. From 2008 to 2017, sales of unflavored carbonated water more than doubled in the US to 770 million gallons, according to data from industry research firm Euromonitor.
The frothiest company in the market is National Beverage Corp., LaCroix's parent, which reported $827 million in sales during its 2017 fiscal year, up 17% over the previous fiscal year. Once a favorite of Midwestern moms, LaCroix has been reborn a millennial status symbol whose shiny pastel cans fill the fridges of Los Angeles screenwriters and Silicon Valley startups, and have even inspired a line of T-shirts.
"WOW… what a year!" declared Nick Caporella, National Beverage Corp.'s 81-year-old chairman and CEO, in the 2017 annual report. The company's stock price (ticker: FIZZ), rose 90% in the 2017 calendar year, hitting an all-time high of $126.40 in September.
Amazon and Whole Foods aren't the only ones challenging LaCroix. Pepsi in February introduced Bubly, a zero-calorie sparkling water in eight flavors that, with its brightly colored cans and modish slogans ("Hey u," "hiii"), is an obvious play for the LaCroix consumer. Sparkling water is also one of the fasting growing product lines for Coca-Cola, which sells flavored seltzers from brands Dasani, Smartwater, and Topo Chico. Coca-Cola's sparkling water portfolio grew more than 20% by volume in North America in 2017.
Whole Foods' 365 seltzer line was in the works before the Amazon acquisition, a spokesman told Quartz. Late last year, Whole Foods named sparkling water as a "top food trend" for 2018.
"Some people say LaCroix was the peak of seltzertopia," Joseph said. "When we see things like Bubly from Pepsi and this from Amazon, it's clear that we're just moving up toward the next stage of the national battle over flavored seltzer."
Additional reporting by Elijah Wolfson.