Lyft wants half of its rides to be shared by 2020, up from about 35% now, an effort it says will reduce congestion and carbon emissions. To get there, the company has redesigned its rider app with shared rides in mind.
The refreshed app, which Lyft unveiled today, starts by asking, "Where are you going?" When riders input a destination, the price quote for a "Shared Ride," formerly known as a Lyft Line, appears above the estimate for a regular private Lyft. The new app also alerts riders when there's a shared ride without a detour available for their trip, meaning the driver won't go out of the way to make any additional pickups and drop-offs. It will also suggest pickup spots riders can walk to in order to minimize circuitous routes.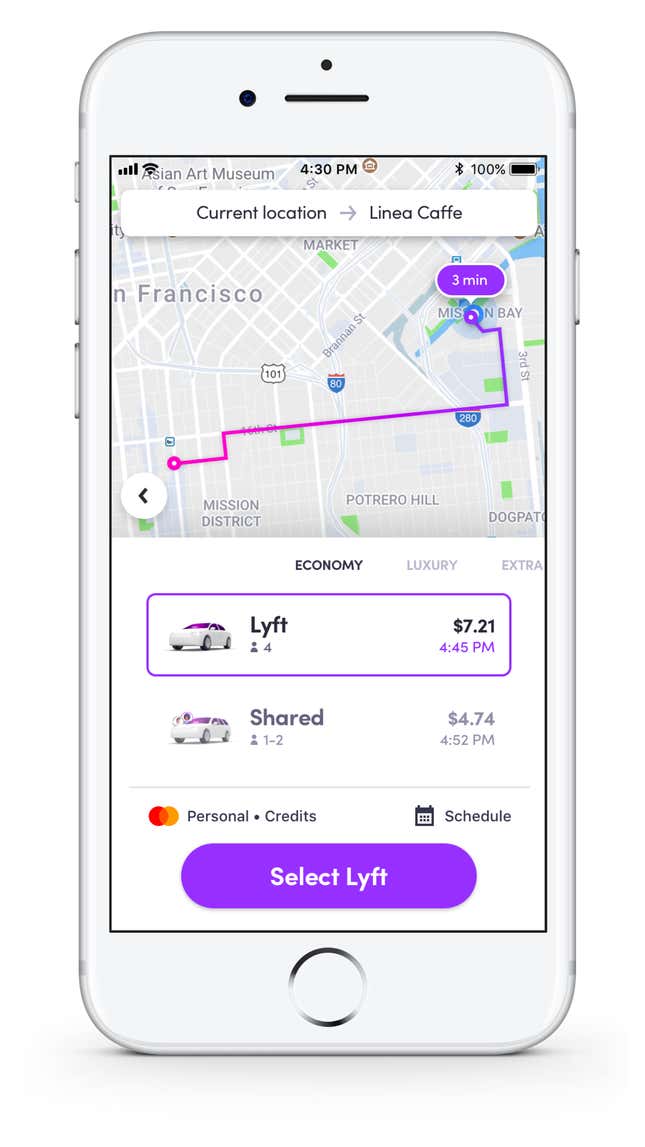 "We have to continue to improve this to make it the new norm, if we're going to get to 50% of rides by 2020," Katie Dill, Lyft's vice president of design, said in an interview. Already, Lyft has seen up to a 5% increase in shared rides among passengers who were selected to test the redesigned app. "It's a smashing success," Dill said.
Lyft's redesign follows similar changes made by Uber in 2016. At the time, Uber simplified its rider greeting to, "Where to?" and made it easier for passengers to compare price quotes for different services, like a private UberX or a shared UberPool. Uber hasn't publicly set a target for shared rides, but said UberPool accounts for about 20% of trips in cities where Pool is available, and 50% in San Francisco, its most mature Pool city.
Ride-hailing companies are increasingly focused on shared rides, reflecting a consumer shift to caring more about carbon footprints and city-level concerns about emissions and congestion. Lyft offers shared rides in 19 US cities and Uber in 40 cities globally; both companies launched the product in August 2014. The goal, Lyft executives have said, is to put "more people in fewer cars." In April, Lyft pledged to make every ride carbon neutral by purchasing carbon offsets.
Whether the advent of ride-hailing and shared rides are actually achieving these goals is another question. It's unclear, for example, whether companies like Lyft and Uber are taking cars off the road by encouraging people to give up their personal vehicles, or putting more cars on the road by making the price of a ride competitive with public transit. Various studies have suggested that the latter is happening, because people are choosing ride-hailing services over walking, biking, or public transit.
One feature in Lyft's app is focused specifically on reducing congestion. The company will now identify highly trafficked intersections and ask riders to choose a pickup spot on a nearby side street. Lyft said it did this for a particularly busy intersection on Valencia Street in San Francisco after being approached by city supervisor Hillary Ronen to help reduce congestion around that point
Both Lyft and Uber are also competing to win contracts from local governments to provide or supplement their public transit systems. In December 2017, for example, Lyft started operating a commuter program for residents of Summit, New Jersey, that was originally set up and run by Uber. Lyft has more than 25 such transit partnerships in the US, it said today.