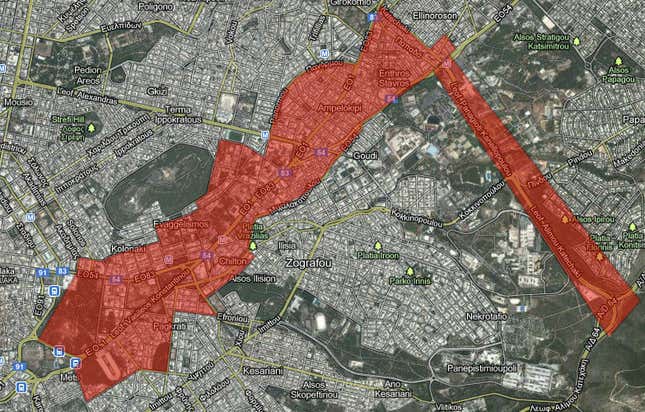 Angela Merkel arrives in Athens tomorrow, amid widespread protests, to face government officials desperate to close in on tens of billions of euros in bailout funds. The German chancellor's visit could prove a chaotic affair, but it's unclear what it accomplishes.
Citizens, furious after years of austerity, have planned an unpleasant reception. Two big unions have called for a walkout to mark the visit, while a rally is planned for the city center. Some Greeks view Merkel as a bully who has forced them into austerity and is unsympathetic to their plight. Alexis Tsipras, leader of the Syriza opposition alliance said:
She does not come to support Greece, which her policies have brought to the brink. She comes to save the corrupt, disgraced and servile political system. We will give her the welcome she deserves.
Merkel is unlikely to see many protestors, however, with some 7,000 police signed up to guard her, and an official police ban on public gatherings and demonstrations anywhere near her (see map) on Tuesday. Planned also for the day are road closures and a massive security operation involving sharp-shooters on rooftops, all unlikely to enhance feelings of good will between the two nations.
Merkel's first stop is at the presidential palace where, at the very least, she'll hear about the hard-hit Greeks from president Karolos Papoulias. The 83-year-old is an outspoken critic of the severe austerity measures that have triggered a rise in unemployment and poverty—hitting poor Greeks the hardest. He's also expected to outline concerns over the rise in popularity of the neo-Nazi Golden Dawn party, and their threat to social stability in Greece.
Next Merkel heads off to meet for a few hours and then make public statements with Prime Minister Antonis Samaras. Not surprisingly, they're likely to discuss Greece's financial woes—Samaras has said the country will be broke by the end of November.
Samaras has hailed the meeting as significant as his country negotiates €13.5 billion ($17.6 billion) of budget cuts in exchange for billions in bailout funds not yet delivered by international creditors (the European Commission, the European Central Bank and the International Monetary Fund, known as the "troika"). A Greek government spokesman called the visit "an important step towards future European decisions," while a spokesman from the Merkel camp said: "We see that the reform efforts have increased under the Samaras government and we want to support that."
The soft language suggests the day's events are unlikely to yield anything concrete. Tomorrow is more of a goodwill exercise. It's Merkel's first visit to Greece since the crisis started in 2009 and signals to the rest of Europe that Greece will not be left out in the cold. "I think it can be seen as an expression of support by Merkel for the new Greek government, and as a public commitment on the part of the Germans for Greece remaining in the eurozone," says Tolek Petch, a lawyer and eurozone crisis specialist with Slaughter and May in London.
In case there were any question, however, that her visit would yield something more definitive, German Finance Minister Wolfgang Schäuble said on Sunday the answer is no. "The chancellor will not discuss with Greece a matter which the troika must report on first," he said.