The Vatican's first step towards financial transparency was rather eye-catching.
The Vatican Bank—officially the Institute for Religious Works, or IOR—published its first annual report this morning, an exhaustive 100-page document (pdf) which lays bare the extent of the Catholic institution's vast holdings. The numbers are indeed large—the bank's balance sheet, for example, includes €5 billion ($6.8 billion) with some €769 million in equity alone. But the bank's profit last year is perhaps what's most impressive. The IOR raked in a net €86.6 million in 2012, more than four times its €20.3 profit from 2011.
How? Interest rates.
The jump in profits came largely due to the institution's "favorable trading results and higher bond values, resulting from the general decrease of interest rates in the financial markets throughout the years," the report said.
The Vatican holds nearly €3 billion in trading securities, the bulk of which is tied to government and index bonds. Its Italian, German and Euribor bonds, specifically, have appreciated quite a bit on the heels of falling interest rates across the euro zone. (Yields and prices move in opposite directions, so falling yields in the chart below mean the bonds are getting more valuable.)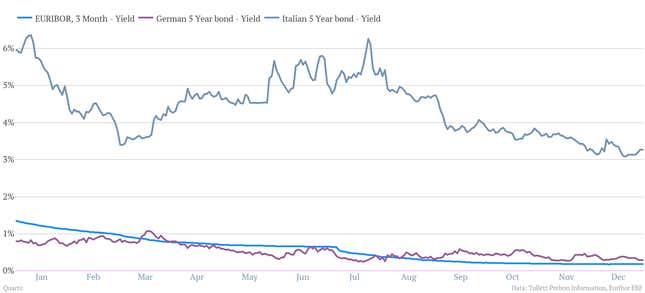 In this case, the value of Vatican's fixed income holdings is up by over €50 million.
The Vatican has long insisted that the IOR isn't like other traditional banks, and focuses its efforts on managing assets of religious and charitable foundations and projects. But the report shows that it functions much like any other bank. In the past year, the IOR has offered asset management services to its 20,000+ clients, collecting over €12 million in fees and commissions. It even enjoyed nearly €26 million in profit made from loans in 2012.
The IOR's €5 billion balance sheet also includes over €41 million in gold, metals and precious coins, a real-estate company, and two investment properties worth just under €2 million.
The Vatican's decision to share the IOR's financial details with the public comes after the bank's former heads, Paolo Cirpiani and Massimo Tully, were investigated for violating Italy's anti-money laundering norms, before both resigning in July. Pope Francis has since tasked a commission with investigating every inch of the IOR.
Despite the Vatican's investment wins in 2012, it would be unwise to expect a similar return in 2013. "Overall, we expect 2013 to be marked by the extraordinary expenses for the ongoing reform and remediation process, and the effects of rising interest rates," the bank admitted in the report.