For the 25 million people living in North Korea, the stakes of the negotiations between Kim Jong Un and Donald Trump are incredibly high. Not only would the course of the talks impact the likelihood of military conflict, they will also in large part determine the future of their country's economy.
The NASA photograph below of the Korean peninsula in 2014 shows that the nighttime sky was almost entirely dark in North Korea, while neighboring China and South Korea shone bright. Though the North Korean economy has grown since 2014, the country still remains incredibly poor. In 2017, North Korea's GDP per capita was under $2,000 per person, while South Korea's was close to $40,000.
If the negotiations lead North Korea to open up its economy to trade and foreign investment, North Korea could experience an explosion in economic growth, Marcus Noland, an economist at Washington-based Peterson Institute for International Economics believes. The nation could see improvements in living standards similar to that experienced by China in the 1990s.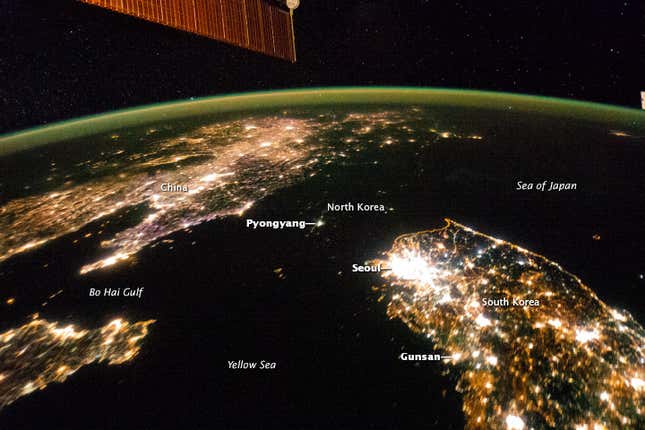 During Kim's visit to Singapore for his meeting with Trump—where he did a night-time tour of downtown Singapore, visiting sights such as the Marina Bay Sands casino resort—the North Korean leader expressed a desire to learn from Singapore's economic development (paywall), according to website NK News. This would be a good thing. Singapore's strategy of becoming an export oriented manufacturing hub and attracting investment from multinational corporations is exactly what North Korea needs, Noland argues.