NASA can get nasty when it comes to moon dust. The US space agency believes all lunar material held by private citizens is contraband, and it's willing to go to great lengths to secure even a rice-sized grain of space stuff. Now, a new lawsuit is challenging its claims of ownership.
Laura Murray Cicco of Tennessee has filed suit (pdf) in Kansas federal court seeking a declaratory judgment that she is the rightful owner of a vial of moon dust she received from Apollo 11 astronaut Neil Armstrong via her parents. It's a preemptive strike—NASA hasn't tried to take it yet.
The space agency does have a record of seizing similar gifts from the same astronaut. The plaintiff in Cicco v. NASA wants the court to declare in advance that her moon dust isn't contraband. Her filing argues:
The National Aeronautics and Space Administration or NASA has taken the position that all lunalogic material is the property of NASA. There is no law against private persons owning lunar material. Lunar material is not contraband. It is not illegal to own or possess.
NASA hasn't responded to the filing yet. Its stated position, articulated in the 2014 case Davis v. United States, is "that private persons cannot own lunar material."
The issue arose from a 2011 NASA sting operation targeting 74-year-old Joann Davis. A NASA criminal investigator, posing as an ally, pretended he was interested in facilitating a sale of lunar materials that Armstrong—the first man on the moon—had given Davis's deceased husband, an engineer at aviation and space contractor manufacturer North American Rockwell who had worked on the Apollo project. Davis, who had fallen on hard times, needed the money. Still, she insisted she didn't want to do anything illegal.
NASA's secret agent met Davis at a Denny's restaurant, where he arrested her and seized her "contraband" under a general statute about illegal possession of government materials. It was a rice-sized grain in a paperweight, a mere speck of lunar material.
Davis was questioned for two hours in the restaurant parking lot. She was terrified and urinated on herself. Federal agents and the NASA investigator wouldn't let her clean up, change, or sit down, and every time she shifted in place during her interrogation, she was prodded or shoved and admonished, according to a 9th Circuit Court of Appeals ruling granting Davis permission to sue the investigator.
Cicco wants to avoid such troubles. She argues that she received her moon dust from her father, Tom Murray, when she was 10 years old and should now be declared the rightful owner. Murray was a pilot who became friends with Armstrong. He secured the material for his child when they, and Armstrong, lived in Cincinnati in the 1970s. It came with a note scribbled on the back of one of Murray's business cards, saying: "To Laura Ann Murray—Best of luck—Neil Armstrong Apollo 11."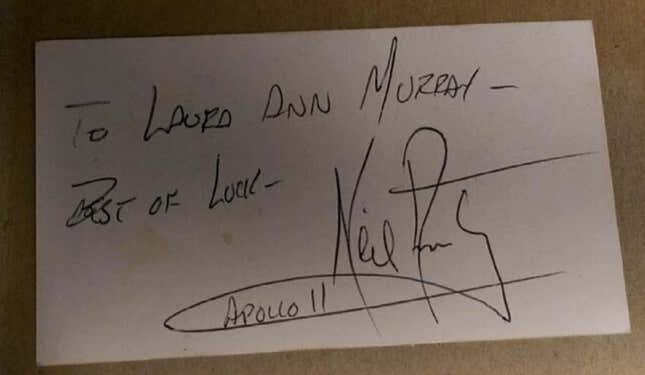 Tests have authenticated Armstrong's handwriting and signature. But the vial appears to be impure—the supposed moon dust is a mix of both lunar and terrestrial materials, according to the lawsuit. The filing posits, "One possible explanation is the contents of the vial were vacuumed or otherwise collected from the space suit of an astronaut who operated on the moon."
Regardless, Cicco seeks unfettered ownership and has requested a jury trial in the matter.