Visiting hours for Seoul's Bukchon Hanok Village will be strictly 9 to 5.
That's part of a new slate of rules recently proposed by the Seoul Metropolitan Government for the neighborhood, known for its well-preserved traditional Korean houses known as hanok, which date back to the Joseon dynasty (1392-1897). Visitors will only be allowed to go to Bukchon between 9am and 5pm Monday to Saturday, and Sunday is strictly off-limits to non-residents. The new rules are expected to come into effect next month following consultation with local residents.
The move comes in response to protests by Bukchon residents, who have been complaining about invasion of privacy, excessive noise, and littering due to the throngs of tourists—numbering an estimated 10,000 a day—visiting the area. A recent academic study even found that the tourism boom in Bukchon contributed to a 14% decrease in the number of residents in the village in the previous five years. Residents told the Chosun Ilbo newspaper in May that some tourists wandered into private homes without permission, or urinated in the narrow alleyways dividing the hanok because of a lack of public bathrooms.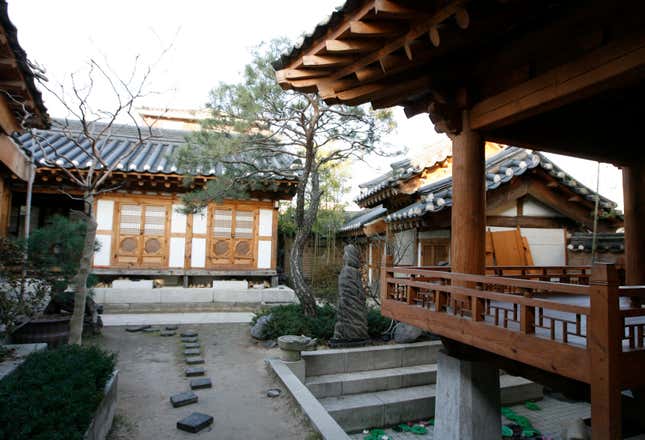 The pushback from Bukchon's residents is the latest in growing backlash against excessive tourism in hotspots around the world, ranging from New Zealand's Queenstown (paywall) to Maya Bay in Thailand, which has been closed entirely by Thai authorities. In Japan—which is seeing an unprecedented boom in foreign visitors—local residents' complaints about the influx of tourists staying in Airbnb-style listings led in part to recently implemented new laws that severely restrict short-term holiday rental businesses, with thousands of tourists left scrambling for accommodation after their bookings were taken off Airbnb.
The city of Seoul decided to preserve and restore the hanok of Bukchon after many of these traditional houses were destroyed as a result of South Korea's rapid modernization in the last century. Since the 2000s, the city government has actively encouraged residents to renovate their hanok with government support.