Forty years ago, the architect of China's economic reforms Deng Xiaoping adopted the philosophy of "crossing the river by feeling the stones" in his approach to opening up China's economy. That idea—which refers to cautiously testing out new methods before expanding them—shaped the reforms that turned China into an economic giant and has been directing China's development since.
If eastern Anhui is where China experimented with for-profit farming, then Shenzhen was one of the earliest pilots for attracting foreign investment. Now it's the turn (again) of Hainan—sometimes known as China's Hawaii for its tropical vibe—which president Xi Jinping aims to turn into a more liberal economy any other part of China.
Last week, the province announced a three-year plan (link in Chinese) to boost international tourism, with controversial plans to bring in over 50,000 foreign workers, including from the Philippines and Vietnam, in the following two years to work in the hospitality industry. It also mulled partially taking away the Great Fire Wall in tourism zones to allow foreigners to use social media sites Facebook and Twitter, which are blocked in China. Some Chinese citizens (link in Chinese) said that the scheme treated locals unfairly.
It isn't the first time that Hainan has served as a test bed in China—and some of its past experiments might provide a clue to how things will play out for the island this time around.
"A window for observing contemporary capitalism"
Deng's reforms started in southern China in the late 1970s, when he pinpointed four cities as special economic zones (SEZ) that would embrace a more market-oriented economy and attract foreign capital.
When the trial run quickly showed results—the very first SEZ, Shenzhen, saw its economic output go from $20 million to more than $600 million (paywall) in less than a decade—it was extended to Hainan, which in 1988 was turned into a province and become the largest SEZ yet.
But things didn't turn out so well for the South China Sea island. At the time it was much poorer than the other SEZ areas (link in Chinese), had little local manufacturing it could rev up, and local authorities also failed to execute the new policy well. While Shenzhen has become China's Silicon Valley and a global gadget manufacturing hub, Hainan's GDP ranked 22nd among 31 Chinese provinces and regions in 2017. It took Hainan more than a decade to recover from its SEZ hangover, which led to property speculation followed by a crash when interest rates rose in 1993.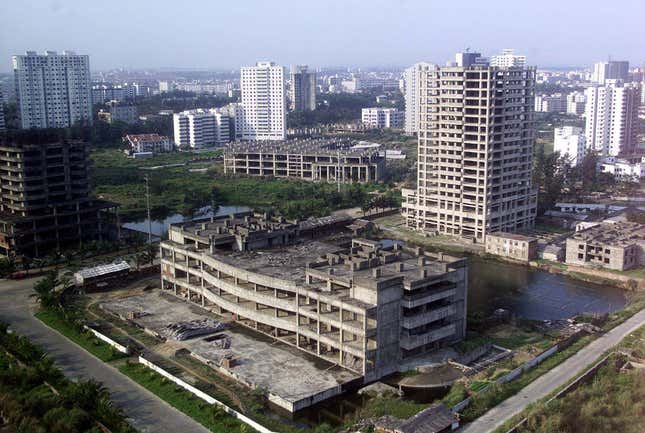 China's Davos
Boao, a small fishing town on the province's east coast, has been the location of the Boao Forum—Asia's answer to Davos—an annual gathering for business and world leaders since 2002. According to the forum's official website, some leaders of Asian countries suggested choosing Hainan for the setting of the forum, because its focus on ecological development and its status as an SEZ could help foster international cooperation.
The forum was one of Beijing's earliest moves to initiate some kind of counterpart to Western pow-wows, and has become more prominent as Xi carves out a bigger leadership role for China in global affairs such as climate change and global trade.
Forget Hawaii, Hainan's where it's at
Hainan, which has some of the country's best beaches, was the earliest place in China to adopt a visa-free policy for foreign visitors in tourist groups (link in Chinese).
Since May, tourists from 59 countries, including the UK and the US, no longer need a visa to enter Hainan and can stay for 30 days. That's an improvement from 2010 (link in Chinese), when China adopted the policy for visitors from 26 countries. Hainan is particularly popular among Russian tourists.
Other places like Beijing and Tianjin only allow foreign visitors to stay for six days without a visa while in transit to a destination outside of China.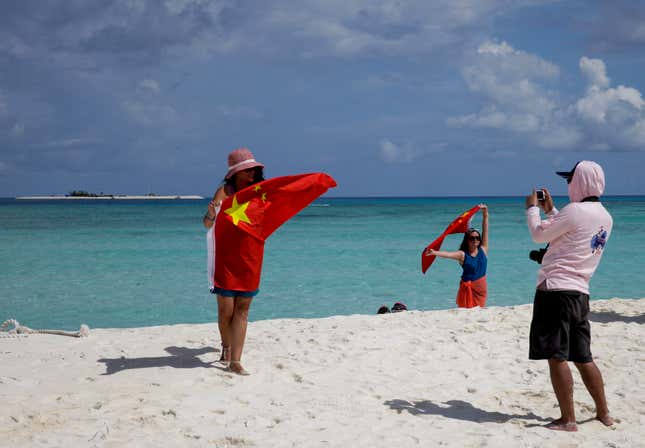 China's Cape Canaveral
The province established the country's first coastal launch center for satellites and rockets in 2014, the country's fourth launch-center, after Jiuquan, Taiyuan, and Xichang—all of which are located in on the mainland. Wenchang Satellite Launch Center, where the launch center is based, said it wants to become a global aerospace industry city.
The new launch site is integral to China's space ambitions. It is so far the only site that can launch China's latest and largest rocket, the Long March 5. China will launch the third Long March 5 later this year, paving the way to carry the Chang'e 5 lander for lunar exploration in 2019. Being close to the equator makes rocket launches more efficient (paywall) because the faster rotation of Earth gives more lift. Long March 5 is also the key to China's Mars exploration plan in 2020.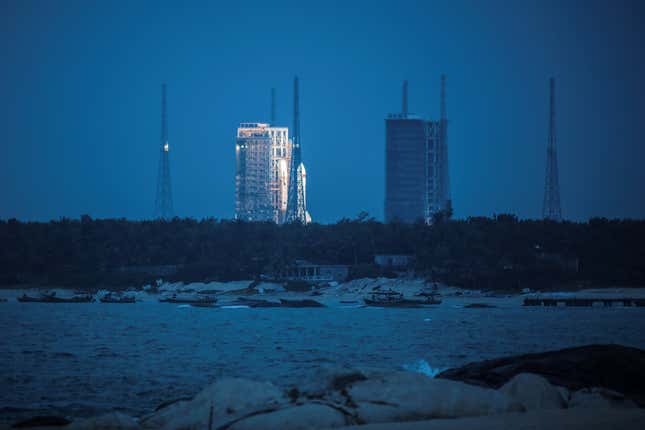 Drug haven (no, not that kind)
It isn't just space. In 2013, China's State Council approved a plan to build a medical pilot zone in Boao, which extended work permits to foreign doctors. Currently, foreign doctors are allowed to work in the country for a year (link in Chinese), according to China's health ministry. The island now also allows foreign drugs to be prescribed more quickly than in other parts of the country. Usually foreign drugs that have secured regulatory approval abroad still have to go through time-consuming clinical trials in China. That may help Hainan become a medical tourism hub (paywall).
A new Hong Kong… or Macau?
Showing that China can build a global trade hub on the order of Hong Kong—that's really what's at the crux of the latest plan for Hainan. In April, shortly after Xi said the country would grant foreign firms more economic freedom in Hainan—and as trade tensions with the US ratcheted up over that very issue—the State Council announced a plan to make Hainan a free-trade zone in two years' time, and a free trade port in 2025.
Authorities in Hainan are considering a bunch of ideas to foster those aims, including a wishlist of the global firms they hope to woo, plans to attract more foreign tourists, and a controversial goal to bring in tens of thousand of foreign workers. For example, Hainan is reportedly considering allowing online gambling and a lottery, which could pave the way for casinos, according to Bloomberg (paywall) in February—Macau is the only place in China where casinos are legal. Hainan could be a second.