I love my Macbook Pro.
Since shipping off to college in 2010, a Macbook Pro has always been banging around in my backpack. Then in 2014, I told myself all the familiar lines when that laptop died and I needed an upgrade: "I need a Macbook because I do creative work," and, "Apple's operating system is just so easy to use compared to Windows."
But after a few years, the number of apps in my computer's dock began to dwindle. Word and Excel were subsumed by Google Docs and Sheets. Apps normally on my phone, like Twitter, worked better as a website than a Mac app. Mail was inevitably replaced by Gmail.
Now my $1,800 machine is effectively used as a web browser. It's a super nice web browser, cased in aluminum and sporting a retina display, but its core functions are checking the internet and occasionally editing photos of my cat.

I'm now doing the same things I would be doing on my Mac, but on a humble Acer Chromebook 11. It's not been too much of a jump, as shocking as that might sound. I'm playing music from the Android app for Spotify, as I type into my text editor of choice, Notion, running in a web page. I have Slack and Gmail open in tabs. My Bluetooth headphones connected effortlessly, and if they die there's a headphone jack, as well as two USB-C ports, one regular USB port, and an SD card slot.
I've been testing three Chromebooks over the past month across a range of prices: Google's $999 Pixelbook, Samsung's $599 Chromebook Pro, and Acer's $250  Chromebook 11. Since their launch in 2009 by Google's future CEO Sundar Pichai, Chromebooks have traditionally been seen as a tool for teachers and students in the classroom, with a massive market share inside education. But for those of us out of school, Chrome OS has also evolved into an entirely functional operating system that's streamlined and versatile.
It just works
For years, the answer to buying a costly Mac has been the vast menu of cheap Windows laptops available. Since the 1990s, consumers typically lived in this dichotomy: Adapt to the laptop that Apple put out that year—as hard as that may be—or do the research to buy the Windows laptop that might best suit your needs.
On software, the Mac has always boasted its simplicity. They're laptops that anybody could use, from their simplified app installation process to the user-friendly gestures on the touchpad. On its website, Apple boasts, "When it's simple to do everything, you can do anything."
Windows, on the other hand, isn't as simple. I own a Windows desktop PC, but Windows 10 is still clumsy and overly complicated, with settings buried deep in Control Panel menus and a labyrinthine file system. The design of the operating system and confusing cloud storage options make it difficult to keep track of where your things actually are.
Chromebooks are a middle ground between these two traditional options. Using the operating system for even a short amount of time makes it clear that the Mac and Windows operating systems were designed before the smartphone. Chrome OS can run Android apps, has a simple notifications interface that mirrors a smartphone, and doesn't put too much else in front of you— just like your phone.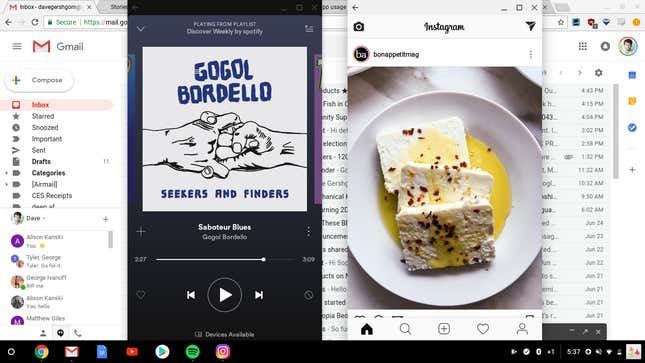 Chromebooks use Google Drive cloud storage, meaning you have access to all of your files in the cloud when you're connected to the internet. There's also a small amount of storage on the devices themselves, but that's used for files you need to access on the go and downloads like GIFs or images from the internet.
Photo editing and organizing is easy in the Google Photos app, and naturally other Google apps like Docs and Sheets are built-in. Chrome OS is perfect for looking at the internet, text editing, and writing. The laptops also work fine when not connected to the internet, and automatically sync when they're back online.
And if you're a coder and don't see the editing software you want, Chrome OS is built on the Linux framework, so the hardware is compatible with any Linux version that you might want to run in addition to Chrome OS.
More than a laptop
Apple, Google, and Samsung aren't just in the business of making phones or computers anymore. These tech giants have realized that robust software and services ecosystems can generate even more revenue by locking users into their platforms. I might want to get rid of my iPhone, but then I look at the $350 Apple Watch on my wrist which would be useless if I got rid of my phone. My Mac also factors into that equation, with features like shared cloud storage and synced passwords. Like millions of other consumers, I've bought into Apple's universe.
But you've likely already been living in Google's ecosystem for years. If you've ever had an Android phone, a Gmail account, used Google Drive, or browsed the internet with Chrome, you're in Google's web. With any Chromebook, the setup is immensely simple. Just log into your Google account, and everything you've used is on your laptop. Even Android apps like Instagram or Snapchat can be downloaded to Chrome OS, though on lower-powered laptops like the Acer Chromebook 11, apps can be a bit slow.
While Google's software is well-integrated, like photos on your Android phone automatically showing up on your Chromebook's Google Photos, it doesn't have some offerings that have kept me in the Apple ecosystem up to now. Android's answer to iMessage that lets you text from your computer, Android Messages, only recently launched and doesn't have the same level of polish as Apple's service. Google's wireless Pixel Buds headphones are fairly lame compared to the AirPods.
Hardware play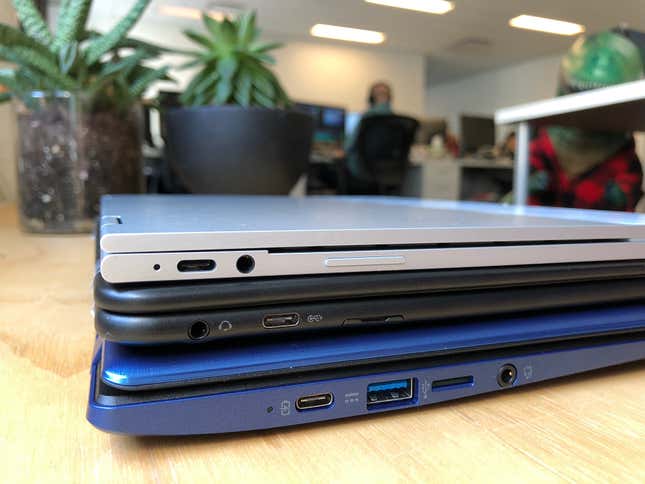 There are more than a dozen laptops available with Chrome OS right now. The most expensive option comes from Google itself, the $999 Pixelbook. The laptop has a touch-screen and flips into a tablet. It's thin, light, and angular, with soft, rubberized hand rests on the keyboard. It's also the only Chromebook right now with access to Google Assistant, which can help manage smart homes, as well as the things any other virtual assistant, like Siri, can do. It has a minimalist perspective on ports, only sporting two USB-C ports and a headphone jack. But, it's a luxury device and the best-feeling Chromebook to use that I've tested.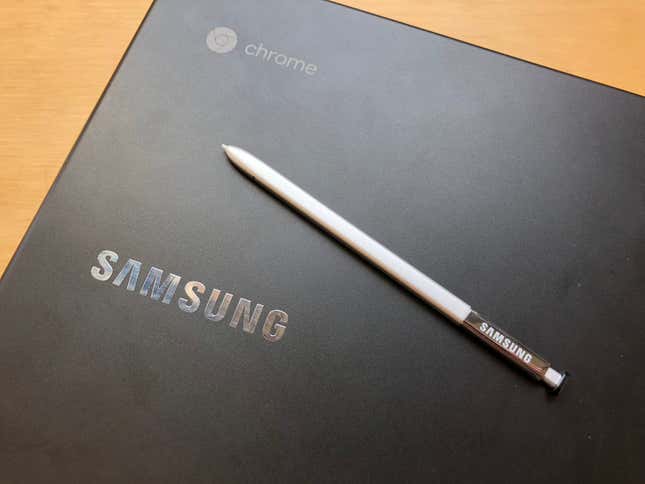 A mid-range option is Samsung's Chromebook Pro. It comes with a stylus that slips into the body of the laptop, and a touch-screen that also flips into a tablet. It also has two USB-C ports and a headphone jack, plus an SD card slot. Since each of these PCs have flexible hinges allowing them to convert into tablets, the laptop screens do have a tendency to jiggle a bit when typing especially fast or using the touchscreen. You could reasonably buy the Samsung's Chromebook Plus model for $100 less, and not see much of a difference.
The Acer is outfitted with a litany of ports and looks a lot more like a traditional laptop. The thick plastic around the display looks slightly out of place next to the two more modern computers, but the hinge connecting the screen to the laptop's base is sturdier, meaning no matter how hard you type, the screen won't jiggle like the others. 
For my money, I'd buy Samsung's Chromebook, but if you're looking to buy a PC for a high-schooler who just wants to surf the internet, the Acer is a solid purchase. The Samsung is bigger, has a nicer screen, and a stylus for taking notes: Definitely a pick for a college student. The Pixelbook is for the professional who has the money to spend on a laptop but wants the mobile-first features of Chrome OS.
Final verdict
If you want a simple laptop, own an Android phone, or just can't stomach the $999 starting price tag of a Macbook, the Chromebook is now a strong alternative to Windows and Apple. And I've found that nearly all the reasons we've told ourselves that a Mac is a simpler, stronger alternative to a Windows laptop are present in Chromebooks, and often for a far more palatable price.